Smith Digital-First Network
Smith Digital-First Network
Join our exclusive hub for executive collaboration with the world-class faculty and students at the Robert H. Smith School of Business. The Smith Digital First Network (SDFn) offers education, research, community and mentoring opportunities to help businesses transform their operations to adapt to the new digital-first era.
Come Join Us for an Open House
Friday, Nov. 10, 2023 | 12–3:30 p.m.
Robert H. Smith School of Business
Executive Dining Room (VMH 2517)
Lunch is included!
Transform Your Business' Digital Strategy
With today's companies investing trillions in digital strategy, you need an effective, comprehensive plan to keep pace. Smith faculty members have years of experience producing smart, data-savvy leaders who steer innovative and effective tech-forward teams. Become a part of a dynamic, collaborative community where our team of experts will work with you to create a customized, actionable plan to put your business on the path to success.
The Smith Approach
Our mission is simple – to provide you with an effective plan you can apply to get on the right track. Partnering with Smith can offer you a realistic path forward – informed by data – to help get you where you need to be.
Education
Long-term change is more likely when teams possess the right knowledge. We'll curate our top-tier educational resources to help your team adapt to new developments based on your company's unique circumstances. Options include:
A residency program giving you full access to faculty-led, specialized workshops on emerging topics.
Discounts on executive education courses.
Access to Business Decoded workshops – MBA-level seminars exploring special topics and new developments in business.
In-Depth Research
Smith faculty are a valuable resource for in-depth research on data analytics and emerging digital technology. Through our research, we'll teach you the knowledge, concepts and latest digital trends that will enable your team to tackle future challenges they may encounter. Options include:
Reports of the latest industry developments most relevant to your business challenges.
Customized and comprehensive research on the topics of your choosing.
Community Connections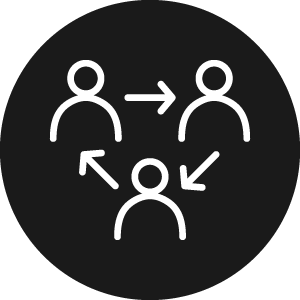 Immerse yourself into our vibrant community of learners. Tap into our pipeline of emerging talent and innovative thinkers, specially trained to excel in a digital-first business world.
Leverage the knowledge of our graduate student body through action learning projects.
Network with new talent prepared to succeed in today's data-focused business landscape.
Get discounted registration rates for Smith conferences and workshops.
Mentor students and other business leaders interested in the data-driven economy.
How the Smith Digital-First Network Works
Step 1: Contact Us
Fill out the form to get connected with our team. We will discuss your challenges and come up with a combination of strategies to guide your transition.
Step 2: Assemble Your Team of Participants
Depending on your approaches you'll need to decide which leaders from your business will participate in the activities.
Step 3: Take Advantage of Membership Benefits
As a member, you and your business' participants will take advantage of a body of resources created to address your business' unique challenges. Once your challenges are addressed, you'll present the solutions developed over the period of membership to your company.
Make a Reservation for the Open House Today!
Contact Us
Tejwansh (Tej) Singh Anand
Clinical Professor
Academic Director, MS in Information Systems