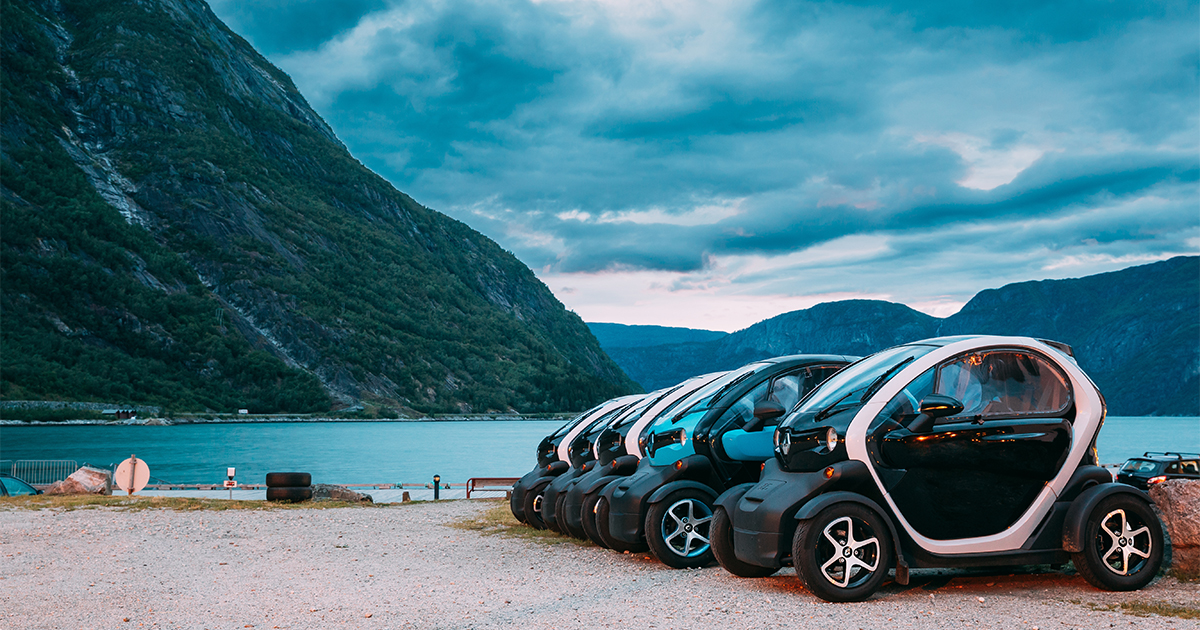 In May 2022, 79% of new passenger vehicles sold in Norway were battery electric powered. With plug-in hybrids accounting for an additional 8 percent, only about 1 in 8 new cars sold in Norway were traditionally configured gasoline cars.
Indeed, Norway leads the world in electric vehicle (EV) adoption with 17 percent of its passenger vehicle fleet currently consisting of electric vehicles, says Maryland Smith's David A. Kirsch. However, the total vehicle fleet in Norway is only a few million vehicles in a distinctly wealthy and small Nordic country and perhaps not representative of the world at large.
But there's a different way to look at this, he adds. "As sci-fi writer William Gibson famously wrote, the 'future is already here; it's not very evenly distributed.' For the future of electrification of mobility, the future is already here, and it's in Norway." Kirsch, associate professor of management and entrepreneurship at the University of Maryland's Robert H. Smith School of Business, shared this observation in a Twitter thread after attending the 35th International Electric Vehicle Symposium in Oslo, Norway.
This was the first time attending the symposium for Kirsch, author of The Electric Vehicle and the Burden of History (2000) and co-author, with Smith colleague Brent Goldfarb, of Bubbles and Crashes: The Boom and Bust of Technological Innovation (2019).
"Why Norway?" was answered by several speakers at the symposium, Kirsch says: "The country enacted clear, behaviorally focused incentives, and put them in place before advanced EVs were introduced. According to the locals, the market preceded the vehicles." Without an incumbent, domestic automobile industry to protect, Norway was able to create a market that strongly tilted in favor of alternatives to internal combustion, like electric vehicles."
Along with demand-side interventions, Norway has moved to shore up the infrastructure to support electrification of automobility. The country has more than 17,000 charging stations including 3,000-plus fast chargers, which means drivers go no further than 30 miles between rapid-charging points. And per capita, Norway has well over 300 charging stations per 100,000, compared to around 30 per 100,000 people in the United States.
More recently, Norwegian authorities are reviewing the details of their subsidy scheme in recognition of the fact that most of the benefits have accrued to upper-income buyers of high-priced EVs. People paying the equivalent of $100,000 USD or more for a new vehicle probably do not need the same level of subsidy as someone buying an entry-level EV. "Norwegian policymakers are tinkering with the incentive scheme to focus benefits on lower-income buyers," Kirsch says.
Meanwhile, in the U.S., EV adoption continues to lag not only Norway but many other vehicle markets in Europe and China. Toward closing the gap, the White House recently announced a $5 billion National Electric Vehicle Infrastructure program and subsequently proposed a supporting groundwork for states to build federally funding stations.
However, an anti-EV backlash is now beginning, Kirsch cautions, referring to a recently proposed North Carolina law. It includes prohibiting free charging at any state-owned or leased location unless the DOT or the site's leasing operator "provides gasoline and diesel fuel for motor vehicles through a pump to the public at no charge."
The proposed North Carolina bill reflects that "Norwegian political unity is a striking contrast to what we observe in the U.S., where EVs threaten to become the latest instance in our culture of polarization," Kirsch says.
Media Contact
Greg Muraski
Media Relations Manager
301-405-5283  
301-892-0973 Mobile
gmuraski@umd.edu 
Get Smith Brain Trust Delivered To Your Inbox Every Week
Business moves fast in the 21st century. Stay one step ahead with bite-sized business insights from the Smith School's world-class faculty.