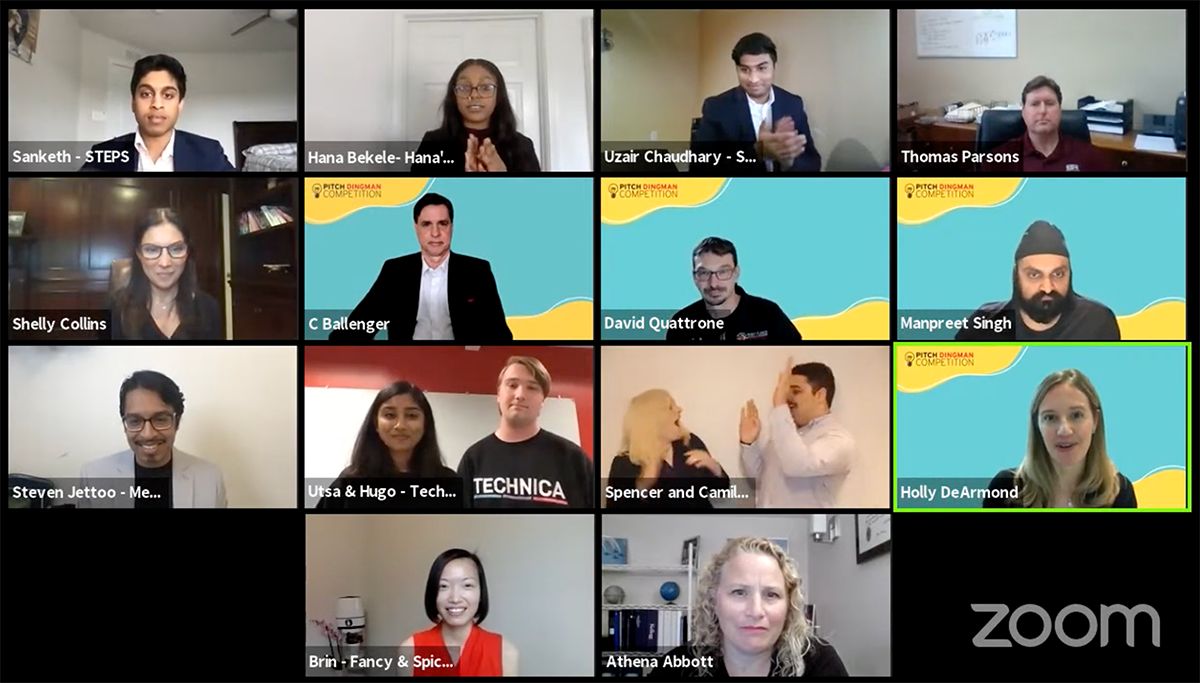 From Food to Tutoring to Technica (or Online Events), Student Entrepreneurs Take Home More Than $70K in Seed Funding
Drones helped two University of Maryland undergrads fly away with the grand prize at last night's 2021 Pitch Dingman competition.
Camilo Melnyk '21, an aerospace engineering major, and Spencer Yaculak '23, a mechanical engineering major, took home $30,000 for their startup, Blimp Logistics, which aims to develop a drone delivery system to alleviate issues of last-mile delivery services in suburban and rural areas for businesses shipping packages under 30 pounds.
"Winning the Pitch Dingman competition has taken the sparks and kindling that helped us work through starting this company and turned them into a roaring fire. We plan to play our cards right and to use the extra fuel to grow bigger and brighter faster than ever," Yaculak said.
Now in its 11th year and hosted by the Dingman Center for Entrepreneurship at the Robert H. Smith School of Business, the competition drew more than 50 applicants. Six teams were selected to compete in the finals for three competition tracks, with prize money doubled to over $70,000 in startup funding.
"It's been a tough year for everyone, but we're so proud of our entrepreneurs for committing to both their schoolwork and their business aspirations," said Holly DeArmond, managing director of the Dingman Center. "We continue to support and provide the university's most talented entrepreneurs with the platform to earn seed funding and resources to help them grow their businesses."
At the semi-finals, in April an alumni panel selected the final six teams for last night's final round, where students showcased their business models, backgrounds and growth potential in six-minute pitches to a panel of entrepreneurs and UMD alums.
Teams with scalable ventures that have demonstrated traction through revenue, users, investment or grants competed in the new David and Robyn Quattrone Venture Track. Blimp Logistics, winner of that track, plans to use the funds to lay the groundwork to conduct tests in rural and suburban areas of Maryland, gain FAA approval and launch the business.
The Quattrone Venture Track's second-prize winner Technica, led by Hugo Burbelo '22 (computer science and philosophy) and Utsa Santhosh '22 (computer science), won $10,000 for an online event platform for hackathons and tech events. Named for the world's largest all-women and nonbinary hackathon, held at UMD, it also took home the $1,000 audience choice prize.
The Main Street Track showcased small businesses with revenue and initial customers but was less focused on scale. Winners included:
First prize, $15,000: Fancy and Spicy, founded by doctoral student Brin Xu '22 (sociology), an online cooking class platform where users get ingredients and shopping lists ahead of time and can follow along in a live class.
Second prize, $5,000: STEPS (Student Teachers Enriching Proficiency Through Service), launched by Sanketh Andhavarapu '23 (neuroeconomics/individual studies and biological sciences), Uzair Chaudhary '23 (bioengineering), which connects high school and college student volunteers with paying K-12 families seeking personalized, long-term tutoring.
Audience choice, $1,000: Hana's Cake Bar, a bakery specializing in customized goods created by Hana Bekele '21 (community health).
The Fearless Ideas Track featured entrepreneurs whose ideas have not yet become ventures. These ideas also tackle systemic racism in the fields of business, technology and mental health. First-year MBA student Mathew Parsons was awarded the $5,000 grand prize and guaranteed admission to the Terp Startup summer accelerator program for his pitch, Modern Toy Company, a learning resource that helps create dolls with a real-world range of skin tones and complexions.
David Quattrone MBA '05, co-founder and chief technology officer of CVENT, and his wife, Robyn, helped fund this year's competition, along with Chris and Vidya Ballenger '89, Tom Parsons '93, MBA '10, and Amazon Web Services. Quattrone and Chris Ballenger, founder and CEO of APEX Strategies, also served on the judges panel, along with Shelly Kapoor Collins, founding partner, Shatter Fund; Athena Abbott, MBA '91, director of pharma data product strategy, CVS Health; Manpreet Singh '03, chief investment officer, Singh Capital Partners; Tom Parsons '93, MBA '10, president, Parsons Ventures; and Danny Wright, chief operating officer of 1863 Ventures.
"Congratulations to all of the competitors. You've worked so hard to get to this point, and to the Dingman Center team which works tirelessly to educate and empower our student entrepreneurs from all across campus with the business skills needed to succeed," Smith School Dean Prabhudev Konana said during the event. "We thank them, and our donors who support the center's mission and invest in our students' futures, as well as the judges for giving back with their time and financial contributions."
–Correction: An earlier version of this article incorrectly referred to Hugo Burbelo and Utsa Santhosh as co-founders of Technica. They are co-executive directors.
Media Contact
Greg Muraski
Media Relations Manager
301-405-5283  
301-892-0973 Mobile
gmuraski@umd.edu 
About the University of Maryland's Robert H. Smith School of Business
The Robert H. Smith School of Business is an internationally recognized leader in management education and research. One of 12 colleges and schools at the University of Maryland, College Park, the Smith School offers undergraduate, full-time and flex MBA, executive MBA, online MBA, business master's, PhD and executive education programs, as well as outreach services to the corporate community. The school offers its degree, custom and certification programs in learning locations in North America and Asia.