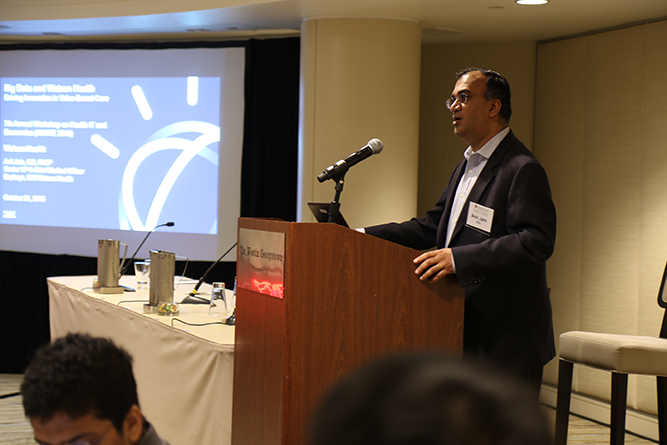 Information technology belongs in health care, but humans need time to figure out the best ways to work with machines like IBM's Watson, participants said Oct. 21-22 at the 2016 Workshop on Health IT and Economics (WHITE) in Washington, D.C.
Integration will require input from diverse players across the health care ecosystem, said keynote speaker Anil Jain, Explorys and IBM Watson Health senior vice president and chief medical officer. "Progress will be incremental," he said. "We have a lot of smart people engaging with think tanks and other organizations."
Such engagement ranges from genomics and cancer-risk research with oncologists from academia to working with Under Armour to analyze data from health-tracking sensors in apparel.
More than 120 health care industry stakeholders gathered for the seventh annual workshop, hosted by the Center for Health Information and Decision Systems (CHIDS) at the University of Maryland's Robert H. Smith School of Business. Participants represented leading experts in policy, research and business.
"The complete pivot in healthcare has finally occurred," said Ritu Agarwal, senior associate dean of research at the Smith School and conference chair. "We are no longer talking about if technology and data are useful — that problem has been solved. Now, we are talking about how we can better use these capabilities and what innovations can we harness to truly transform quality in healthcare."
The WHITE mission "is to deepen the understanding of heath IT design and its impact and to stimulate new ideas for both policy and business implications," AcademyHealth President and CEO Lisa Simpson said in the opening keynote addresss. "Right now the Affordable Care Act and MACRA (Medicare Access and CHIP Reauthorization Act of 2015) are stressing the system, but hopefully pushing us in the right direction."
Research often requires four to five years to produce results, but Simpson said new methods are needed for time-relevant research that still maximizes rigor. "The pace of change and transformation of innovation has accelerated to such an extent that the traditional health services academic research model is very much challenged and threatened," she said. "We need answers much more quickly. It's really pushing the field to think differently about its approach to research."
She said the private sector response to such a push is reflected by "a health IT big data arms race" led by four prime players: Google Alphabet, with its intelligent medical search engine; Optum Labs; Merck with its Global Health Innovation Fund; and IBM Watson Health.
Such action shows a shift from a dominantly academic field to one that's much more diverse, Simpson said, noting the 4,000-member composition of AcademyHealth. About 45 percent of the network comes from the academic sector, about 45 percent comes from the private sector and about 10 percent come from government agencies.
Also reflecting this trend is government-supported networks, like the Affordable Care Act-spawned Patient-Centered Outcomes Research Institute, which takes a patient-centric approach to fostering evidence and innovation. "It's a bold attempt to do science differently," Simpson said. "But all bets are off" in terms of the institute's survival past the coming national election.
A third keynote speaker, Harvard Medical School health economics professor Richard Frank, noted the evolution of market competition in the industry and its emphasis on the quality-over-quantity in care and outcomes.
"We're seeing that organizations are figuring out how to manage care and pay attention to quality outcomes, while making money," Frank said. But there's an opposite side to this: The likes of managed care organizations, which are traditionally linked to employer-based health insurance arrangements where underwriting is the name of the game, are losing money and beginning to fall by the wayside.
"We're going to see this evolution continue," Frank said. "They are going to branch into the health insurance marketplaces and the employer-sponsored plans are going to play a lesser role or adapt quickly."
Other featured speakers included Optum Labs' Data Science University Vice President Marc Paradis; Anuj Desai, New York eHealth Collaborative vice president of market development; Pete Celano, director of consumer health initiatives for MedStar Institute for Innovation; and StartUp Health Chief of Staff Jennifer Hankin.
Research sessions involved faculty from leading academic institutions such as University of Pennsylvania, University of Michigan, Carnegie Mellon University, New York University, Cornell University, Johns Hopkins University, and over two dozen other research institutions. Additional government agencies represented included AHRQ, FDA and ONC, plus the Brookings Institution and Tenet Healthcare.
The participants shared their latest findings in areas including "machine learning in healthcare," "how health IT affects provider behavior," "healthcare quality information," "predictive analytics," "mobile health," "EHR and HIE," and "online provider reputation and competition." Smith School information systems professor Anand Gopal reported on his research into New York City restaurant hygiene inspection data plus Yelp reviews of the same eateries. He described both findings and a crowd-sourcing strategy to help inspectors counteract restaurateurs who routinely game a hygiene inspection system the city launched in 2010.
"We're seeing the power of big data in reshaping the care delivery model, and several excellent studies using machine learning are presented in this year's WHITE, tackling issues from predicting inpatient admissions to diagnosing cancer and detecting fraud, said workshop co-chair and CHIDS co-director Guodong (Gordon) Gao. "This is really cutting-edge work. The coming years will be even more exciting, with more data available in healthcare and the rapid adoption of machine learning techniques by researchers."
WHITE also included recognitions for Best Paper, Does Hospital Electronic Medical Record Adoption Lead to Upcoding or More Accurate Coding? by Jianjing Lin (Tulane University), Gautam Gowrisankaran and Keith Joiner (both University of Arizona's Eller College of Management); Best Young Researcher lead-authored paper, Classification in the Presence of Anchoring Bias A Model and an Application to Breast Cancer Diagnosis by Mehmet Ayvaci, Srinivasan Raghunathan (both University of Texas at Dallas' Naveen Jindal School of Management) and Mehmet E. Ahsen (Icahn School of Medicine at Mount Sinai, New York City); and, Best Student lead-authored paper, The Effect of Online Reviews on Physician Demand: A Structural Model of Patient Choice by Yuqian Xu, Mor Armony and Anindya Ghose (all from NYU Stern School of Business).
WHITE is partially supported by a grant from the United States Agency for Healthcare Research & Quality (AHRQ).
For more information on engaging with the Center for Health Information & Decision Systems, please contact chids@rhsmith.umd.edu
About CHIDS
The Center for Health Information and Decision Systems (CHIDS) is an academic research center that collaborates closely with industry, government, and other key health system stakeholders. The research at CHIDS seeks to understand how digital technologies can be more effectively deployed to address outcomes such as quality, efficiency in healthcare delivery, patient safety, and a reduction in health disparities. As a unit of the Decision, Operations & Information Technologies (DO&IT) department in the Robert H. Smith School of Business and drawing upon the expertise of the University of Maryland School of Medicine, A. James Clark School of Engineering, School of Public Health and other assets in the University of Maryland network, CHIDS offers the benefit of a world-class research staff and renowned scholars in healthcare analytics and modeling, design, adoption, implementation, and evaluation. The pool of talent, knowledge and expertise in DO&IT is acknowledged by several publications as a top-5 performer in research production worldwide; the Information Systems group is ranked in the top-10 worldwide in Business Week and U.S. News and World Report. CHIDS is a pioneer in the study of digitally enabled health system transformation, widely known for its thought leadership and research collaborations.
Media Contact
Greg Muraski
Media Relations Manager
301-405-5283  
301-892-0973 Mobile
gmuraski@umd.edu 
About the University of Maryland's Robert H. Smith School of Business
The Robert H. Smith School of Business is an internationally recognized leader in management education and research. One of 12 colleges and schools at the University of Maryland, College Park, the Smith School offers undergraduate, full-time and flex MBA, executive MBA, online MBA, business master's, PhD and executive education programs, as well as outreach services to the corporate community. The school offers its degree, custom and certification programs in learning locations in North America and Asia.