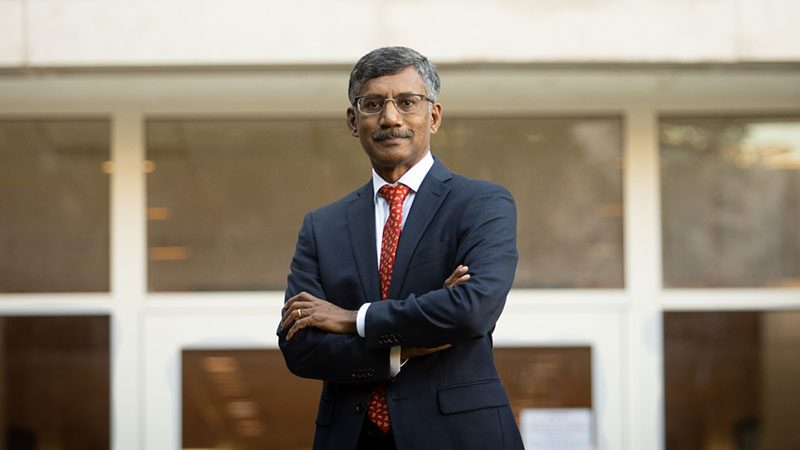 With the start of 2021, the University of Maryland's Robert H. Smith School of Business is welcoming its new dean, Prabhudev Konana. Konana joins Maryland Smith from the University of Texas at Austin's McCombs School of Business, where he served as associate dean of Instructional Innovation.
Konana has described business education as rapidly changing with current social, political, technological and market trends, and says he has creative ideas to engage with faculty and the community to meet the challenges – and take advantage of the numerous opportunities – at Maryland Smith. 
He says the school's goal is to provide students with the greatest opportunities for upward mobility, to have a global brand and reputation for world-class thought leadership, scholarship, and engaging and experiential pedagogy, and by doing so fundamentally transform both students and society.
"This is a time for action. We want our students to achieve their dreams, drive the future of work, and be prepared for the jobs of the future in a technology-driven world," says Konana. "We want to be the preferred school for top, diverse students and a preferred destination for recruiters."
He is devoted to helping students realize their full potential. For Konana, actions speak louder than words, and he's particularly passionate about investing in students and their future. At Maryland Smith, Konana has already pledged $100,000 to create an endowed scholarship fund as part of the Maryland Promise program, a university-wide challenge to provide needed financial support to undergraduate students from Maryland and the District of Columbia.
"We are here to impact lives, and no worthy undergraduate student should ever be turned away for lack of financial resources," said Konana.
He plans to build on many Maryland Smith initiatives already in place to give students the greatest opportunities and to spread new knowledge from Smith's world-class faculty. "I am thrilled to be part of this community of extraordinary researchers and scholars, some of whom are in the top 2 percent of world scholars and are influential in the worlds of policy, healthcare, technology and the digital economy," said Konana. 
He says he hopes to lean on and strengthen the Smith community of faculty, staff, students, advisory board members, donors, alumni, recruiters, partners and others.
While at UT Austin, he championed innovative specialty programs, technology-enabled instruction and experiential learning, most recently guiding the school's entire faculty to online hybrid and synchronous teaching amid the COVID-19 pandemic. He also forged strategic partnerships with businesses to support transformative research and learning experiences for students. He served as chair of UT's Department of Information, Risks, and Operations Management. He developed several master's degree programs and he improved teaching teaching standards in various programs. 
Konana is a recipient of the National Science Foundation CAREER Award, an accomplished researcher with several best paper awards pertaining to the value of social networks and IT, and an outstanding teacher with numerous teaching awards.
Konana holds a bachelor of technology degree from the University of Mysore in India, and a master of business administration degree and PhD from the University of Arizona, Tucson.
Media Contact
Greg Muraski
Media Relations Manager
301-405-5283  
301-892-0973 Mobile
gmuraski@umd.edu 
About the University of Maryland's Robert H. Smith School of Business
The Robert H. Smith School of Business is an internationally recognized leader in management education and research. One of 12 colleges and schools at the University of Maryland, College Park, the Smith School offers undergraduate, full-time and part-time MBA, executive MBA, online MBA, specialty master's, PhD and executive education programs, as well as outreach services to the corporate community. The school offers its degree, custom and certification programs in learning locations in North America and Asia.