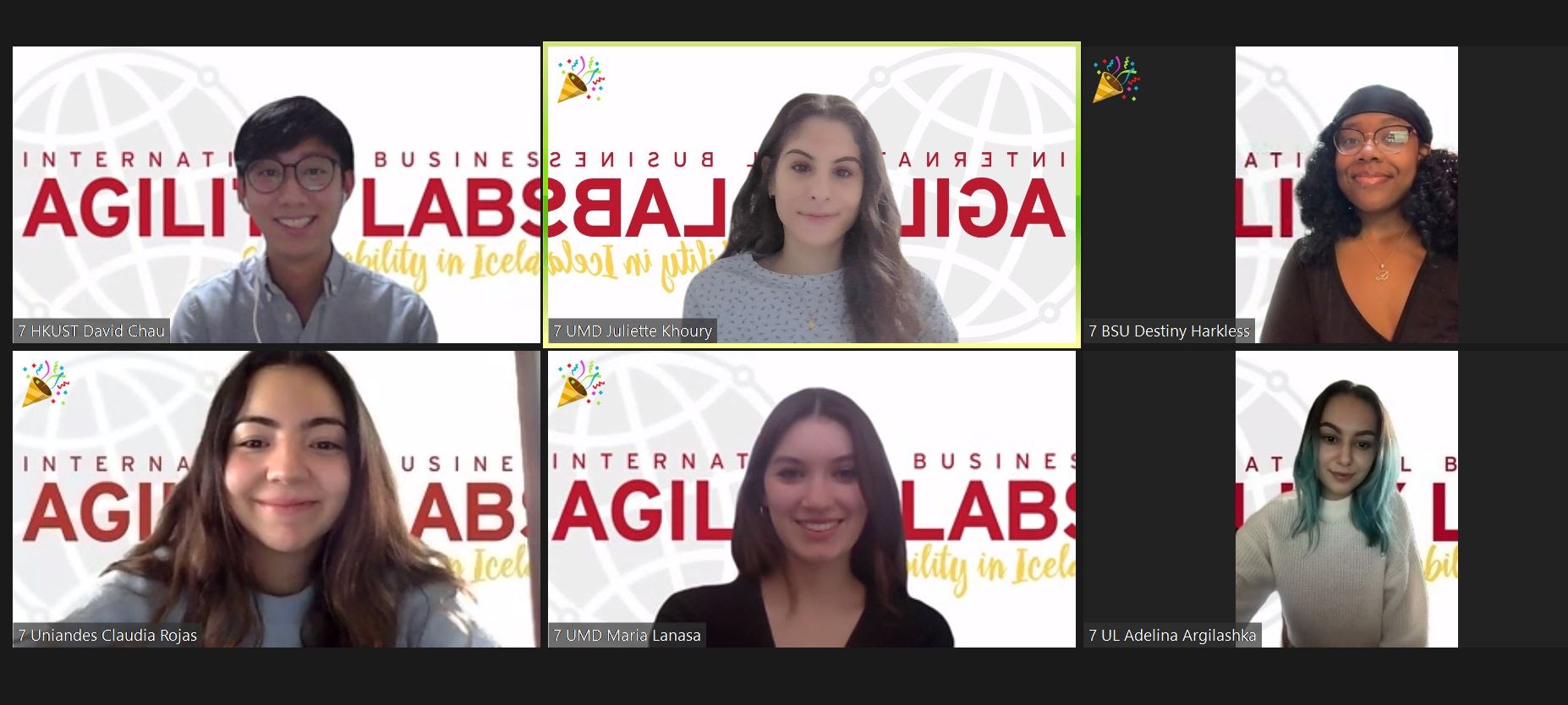 The Center for Global Business held the International Business (IB) Agility Lab: Sustainability in Iceland, November 4 –19, 2021. The IB Agility Labs are short-term virtual case challenges that allow undergraduate students to learn from global business leaders, collaborate with international peers, and focus on business resilience.
Maryland Smith partnered with Bowie State University (BSU), Morgan State University, Solvay Brussels School of Economics, Universidad de los Andes (UDLA), Vienna University of Economics and Business, University of Leeds, and Hong Kong University of Science and Technology (HKUST).
The case was presented by Carbfix, an Iceland-based company dedicated to reducing global CO2 emissions by turning CO2 into underground stone by accelerating the natural process in which carbon dioxide dissolves into water and forms stable minerals. Carbfix challenged students to create a global scaleup strategy for the next 5-10 years, including brand development ideas and potential partnerships with other corporations and start-ups.
Considering the growing popularity of the triple bottom line, which maintains that companies should focus not only on financial but also social and environmental impact, this case was timely as students were able to apply their business knowledge to a pressing current environmental event.
Of 55 students competing on 10 mixed multinational teams, four-team finalists presented their global expansion solutions live to the Smith community as well as a judging panel including UMD Smith alums Rahul Shah and Ansa Edim, Smith professors David Kirsch and Humberto Coronado, and Carbfix representative Kristinn Larusson.
Conratulations to Juliette Khoury (UMD), Leong Kit Chau (HKUST), Adelina Argilashka (Leeds), Claudia Alejandra Rojas Hernandez (UDLA), Maria Lanasa (UMD), Destiny Harkless (BSU) of team seven for winning the competition. Winners will receive a certificate of achievement.
IB Agility Labs focused on e-commerce and innovation will be offered in the spring 2022 semester. More details, including country of focus and application information, will be announced soon.
This event was supported in part by a Title VI grant program known as CIBE (Centers for International Business Education) administered by the U.S. Department of Education.
Media Contact
Greg Muraski
Media Relations Manager
301-405-5283  
301-892-0973 Mobile
gmuraski@umd.edu 
About the University of Maryland's Robert H. Smith School of Business
The Robert H. Smith School of Business is an internationally recognized leader in management education and research. One of 12 colleges and schools at the University of Maryland, College Park, the Smith School offers undergraduate, full-time and flex MBA, executive MBA, online MBA, business master's, PhD and executive education programs, as well as outreach services to the corporate community. The school offers its degree, custom and certification programs in learning locations in North America and Asia.