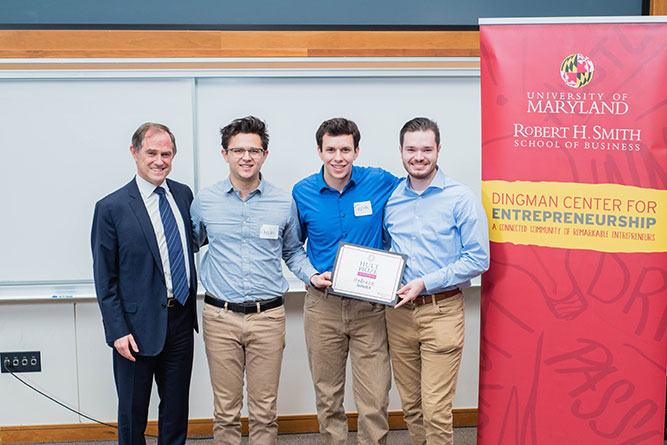 On December 6, 2019, the Dingman Center for Entrepreneurship hosted its second annual edition of Hult@UMD as part of the global student social entrepreneurship case competition. The Hult Prize asks participants to explore ideas that answer a specific social challenge. This year's challenge was to build a startup that has a positive impact on our planet with every dollar earned. Winners of Hult@UMD advance to a regional round to compete for a spot in the summer accelerator and ultimately an opportunity to pitch to the United Nations for the grand prize of $1 million to fund their idea.
"The Hult@UMD case competition is a great way for students to go beyond learning about social entrepreneurship in class.  They get invaluable experience attempting the venture creation process and receiving feedback from potential customers and investors."
Out of 27 teams who registered and 10 teams that pitched at the event, the winner of Hult@UMD was Hydraze, a startup with a patent-pending solution that prevents auto-flushing toilets from generating  "phantom flushes." This innovation would save 27 million gallons in water per year at University of Maryland alone, and has the potential to serve a $4 billion market of commercial buildings nationwide. Co-founded by three seniors, mechanical engineering major Charles Grody '20, computer engineering major Jack Sturtevant '20 and aerospace engineering major Tuvia Rappaport '20, Hydraze received a grant from the UMD sustainability fund to do a pilot installation of their product at The Clarice Performing Arts Center. They won the 2019 Do Good Challenge and will also be competing in the 2020 Pitch Dingman Competition Finals. As the winners of Hult@UMD, the Dingman Center will provide them with a travel stipend and advising resources for the regional Hult Prize competition.
Along with Hydraze, three other teams pitched in the final round of Hult@UMD: 
Jacques Marais '21 pitched his product Banana, an automated system for users to grow their own microgreens, reducing overall food waste.
As part of professor David Kirsch's Social Innovation Fellows program, Maria Castellanos Vaquero '20, Toshiki Aburaki '21, Usha Konduri '21 and Andrew Liu '21 pitched an idea for a social app, Broad World, which would incentivize a more sustainable lifestyle by scoring a user's environmental impact, comparing it with their friends and giving monetary rewards for high performance.
DHL Farms, co-founded by Hifza Sarwat, Daisy-Noel Ndofor and Leon Stevenson, wants to solve the problem of food deserts by installing aquaponic farms in urban areas.
The winner was announced after a speech by UMD's Dean of Public Policy, Robert Orr. Dean Orr is the United Nations under secretary-general, and special advisor to the UN secretary-general on climate change. He also serves as president of NASPAA, the global association of public policy, affairs and administration schools. In his remarks, Dean Orr called upon the students of Hult@UMD to unite as a generational force against climate change.
"We need you to be the solutions. We need all your ideas," Orr said.
The student presentations were reviewed by an all-star judges panel of seasoned investors, sustainability experts and social entrepreneurs, including:
Jitin Miki Ahuja '97, MBA/MS '02, founder of SpaceJet Media
Bill Boyle '81, founder of FiberGate, angel investor and chair of the Dingman Center board of advisors
Julia Hofmeister, former Director of Membership and Product at Mercaris
Monique Maley, President and Founder of Articulate Persuasion
Andy Shallal, MBA '19, Founder and CEO at Busboys & Poets
Media Contact
Greg Muraski
Media Relations Manager
301-405-5283  
301-892-0973 Mobile
gmuraski@umd.edu 
About the University of Maryland's Robert H. Smith School of Business
The Robert H. Smith School of Business is an internationally recognized leader in management education and research. One of 12 colleges and schools at the University of Maryland, College Park, the Smith School offers undergraduate, full-time and flex MBA, executive MBA, online MBA, business master's, PhD and executive education programs, as well as outreach services to the corporate community. The school offers its degree, custom and certification programs in learning locations in North America and Asia.