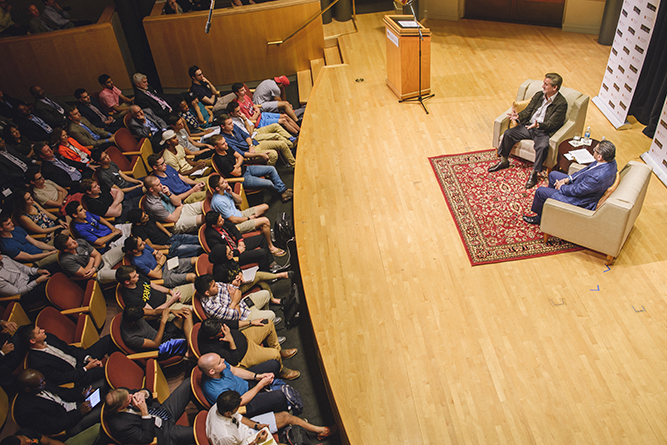 Washington has monuments, museums and power centers for three branches of government. But the region's most important real estate for residents might be Capital One Arena, sports business leader Ted Leonsis said Sept. 19, 2017, at the University of Maryland. "Sports plays now this outsized role in your community and in media," said Leonsis, the inaugural featured guest in the Robert G. Hisaoka Speaker Series, made possible through a gift from Robert G. Hisaoka to the Dingman Center for Entrepreneurship at UMD's Robert H. Smith School of Business.
Leonsis is the founder, chairman, majority owner and CEO of Monumental Sports & Entertainment, which owns and operates Capital One Arena, formerly known as Verizon Center. Leonsis also owns the Capitals in the National Hockey League and the Wizards in the National Basketball Association, among other sports teams.
"Capital One Arena might be the most important business building in D.C.," Leonsis told a packed auditorium of about 300 faculty, staff, students and community members. "It's because we innovate, we're entrepreneurs, and we bring people into the city."
The arena and its affiliated sports franchises host about 300 events per year, employ about 4,000 people and generate significant tax revenue. Leonsis said the district also benefits indirectly. "We're the most activated Uber pickup and dropoff destination," he said. "We're this portal where people come in and then they go to restaurants and bars and shopping. And we're a magnet for renters."
Leonsis said Capital One Arena also serves as an engine for philanthropy and community revitalization. In recent years his focus has turned to Ward 8, a Washington neighborhood with limited economic and educational opportunities. "We want to use sports and the facility as a way to uplift the community," he said.
Other sports venues, such as Nationals Park and FedExField, also drive economic growth, but Leonsis said indoor facilities have advantages. "Indoor sports right now are ascendant," he said. "You take the Metro, you walk, and you have air conditioning, integrity of lighting and flat screen TVs that you can see."
He said trendy gathering places like Capital One Arena have helped the metropolitan area from Richmond to Baltimore emerge as one of four U.S. "supercities," along with Los Angeles, Chicago and New York. To qualify as a "supercity," an urban hub must be at least 250 miles long, have three international airports, 10 million residents and a growing population under age 35.
Leonsis said supercities are also marked by quality higher education institutions like the University of Maryland, iconic green spaces like the National Mall, sports teams like the Wizards and Capitals, and a defining industry like the federal government. "In this new world, our area is the No. 1 magnet for millennials and now Gen Z," he said.
The discussion was moderated by Hisaoka, a Smith School alumnus and philanthropist who transitioned from public accounting to the auto industry, where he co-owned and ran some of the largest dealerships in the country. Hisaoka previously served on the Smith School's Board of Advisors and was named a UMD Distinguished Alumnus in 2013. "He's truly had an impressive career, and we feel very lucky that he's a Smith Terp," Smith School dean Alexander Triantis said.
Triantis said the Robert G. Hisaoka Speaker Series will give students a new way to explore entrepreneurial pursuits and connect what they learn in the classroom with the real world of business. "This is the type of outside-the-classroom experience that we hope to create for all of our Smith students," he said.
Media Contact
Greg Muraski
Media Relations Manager
301-405-5283  
301-892-0973 Mobile
gmuraski@umd.edu 
About the University of Maryland's Robert H. Smith School of Business
The Robert H. Smith School of Business is an internationally recognized leader in management education and research. One of 12 colleges and schools at the University of Maryland, College Park, the Smith School offers undergraduate, full-time and flex MBA, executive MBA, online MBA, business master's, PhD and executive education programs, as well as outreach services to the corporate community. The school offers its degree, custom and certification programs in learning locations in North America and Asia.