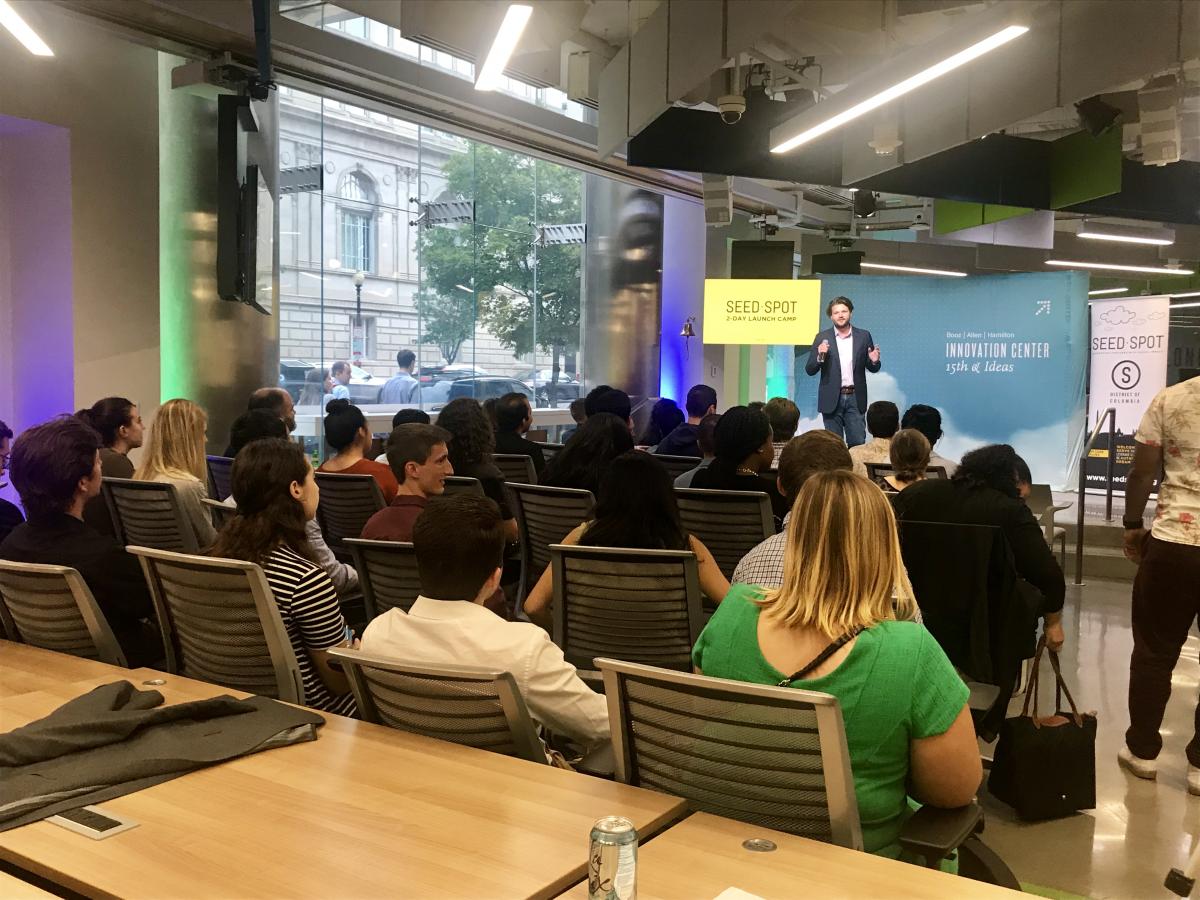 Undergraduate student, Kelsey Talley, class of 2019, marketing and international business major and global poverty minor, writes about a field trip with the Social Innovation Fellows program on September 13, 2018, at the Booz Allen Hamilton Innovation Center in Washington, D.C.
The Social Innovation Fellows (SIF) program kicked off their academic year by attending the wrap-up, demo day event hosted by SeedSpot DC and Booz Allen on September 13, 2018. The event showcased the progress-to-date of 20 different entrepreneurs who had participated in SeedSpot DC's two-day venture accelerator program.
"I learned from this trip that no matter where you are in life or what you have, you can always start a new venture to help out the community or even just volunteer helping others," said Micaela Franks, a finance and marketing double major.
"Networking was also an important part of the evening," said David Kirsch, SiF's faculty champion and associate professor of management and entrepreneurship at the University of Maryland's Robert H. Smith School of Business. "The SIF students had the opportunity to meet with some of the entrepreneurs, sparking questions and ideas that will carry over into our classroom conversations and back out into our community-oriented activities."
"Something that stood out to me the most is how many of these businesses arose from personal experiences," said Shawn Linzer, a double major in information systems and operations management & business analytics.
Kirsch highlighted the focus points from each of the presenting companies:
Spiraling Up Solutions: Professional development through coaching, training, and consulting
Grassroots Fund: Peer-to-peer fundraising
3 Blocks: Supporting activists in DC
Layover USA: Resources & community building for international students
Citizen Ex: Helping individuals such as veterans navigate government resources
Women in Data Science: Promoting data science careers among women
Preserve Present Solutions: VR tech to preserve history
Barbershop Embedded Education: Tackling mental health disparities
Fist Bump: A better network of resources for children with disabilities
Transparent Cause: Help corporations with donations through a reporting system
Snowflake: Personalized recommendations (better than Yelp!)
Creative Incubator: Documenting impact
Edge Enablement: Technology specialized for individuals with physical disabilities
Seraphim: Financial security for the unbanked
Malo Business Center: Training, resources, & connections for youth
Social Health Registry (SHR): Eliminating stigmas surrounding STDs while increasing testing & transparency
Capitol Corps: Localized political news
Wikigirl: Promoting tech careers among women
Home Farm: Resources and information about maintaining gardens
Revive Recruiting: Matching candidates and employers
Amulya Uppala, a junior finance major, added "I learned the importance of public speaking skills and conveying meaningful information in a short period of time to compose an effective pitch. The ideas that I connected to most were the ones that appealed to my compassionate side, but also provided solid numbers or statistics for their current accomplishments and future goals."
Learn more about the Social Innovation Fellows program at the Smith School.
Media Contact
Greg Muraski
Media Relations Manager
301-405-5283  
301-892-0973 Mobile
gmuraski@umd.edu 
About the University of Maryland's Robert H. Smith School of Business
The Robert H. Smith School of Business is an internationally recognized leader in management education and research. One of 12 colleges and schools at the University of Maryland, College Park, the Smith School offers undergraduate, full-time and flex MBA, executive MBA, online MBA, business master's, PhD and executive education programs, as well as outreach services to the corporate community. The school offers its degree, custom and certification programs in learning locations in North America and Asia.