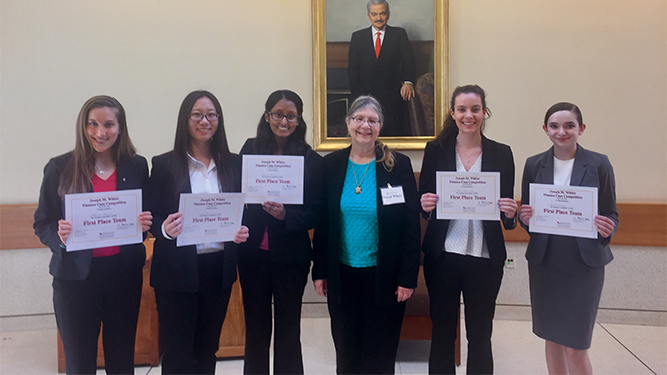 The prestigious Joseph Wikler Memorial Finance Case Competition continued for the fourteenth year on April 28, 2017, with a solid participation of finance students and what Finance Fellows Faculty Champion and Professor Sue White called the most challenging case yet.
"The competing teams were very impressive. Several judges who have been involved with the competition for over a decade thought that this year's case was the most challenging one we've ever had. The teams stepped up and prepared detailed financial models as well as sound advice for the protagonist in the case," said White, who has coordinated the event for the Wikler Family since its inception.
Student Calvin Hou agreed. "Both the merger case itself and being grilled by a panel of experienced professionals required our team to think critically and dig deep into our business skillsets. By participating, however, I developed valuable presentation, analytical and teamwork skills, which undoubtedly will help me in my career. The encouragement and feedback from people like David Kass and Norm Oremland made the experience that much more rewarding."
Thirty-five students, divided into eight groups, were given a case titled, "Berkshire Hathaway's Acquisition of Precision Castparts." The case was written by Smith Finance professors White, Kass and Ryan Guttridge. Each group offered its ideas and solutions via a PowerPoint presentation and supportive financial data analysis for 20 minutes and then answered questions from the panel of five judges for 10 minutes. The judges' panel consisted of Smith professor Haluk Unal, and experienced finance professionals Oremland, Jay Gouline, Cris Parcelles and Barbara Maffei.
Kyle Brown, a junior Finance and Accounting major said, "My team was asked a lot of tough questions during the presentation, as were all teams, but that kind of experience is what builds students up and prepares them for internships, careers or graduate school."
Although not a Smith alumnus, Joseph Wikler lived in the area and served on the board of the Lemma Senbet Fund. He wanted to provide Smith students with real-world, hands-on experience, so he and White created this competition to challenge the best finance students. The competition has continued, thanks to Wikler's wife, Madeline. She was unable to attend the event this year, but continues to be generous and supportive.
Smith School Dean Alexander Triantis, who joined the group for a post-competition reception, awarded the $1,000 winning prize to the team of Lalitha Cheruvu, Melissa Horovitz, Rachel Isaksen, Jody Morrissey and Lin Xu. The $500 second-place prize went to Farhan Bader, Joe Cardelli, Calvin Hou and Rahul Sitaram. The $100 third-place prize went to George Lee, Desmond Morrison, Kevin Salmeron, Nandan Vithlani and Elvira Zinnatova.
Triantis and the judges congratulated all the participants for their hard work and professionalism.
Two graduating Smith seniors spoke with appreciation of the event and other opportunities provided during their respective Smith journeys. 
"The Wikler Case Competition was a wonderful experience. Not only were we able to gain real world experience in financial consulting, we were also able to receive feedback on our work from Finance professionals. I was lucky enough to have teammates that were extremely driven and hardworking, which allowed us to create something we were all proud of," said senior Isaksen, a Finance Major/Classical Mythology Minor and member of the winning team.
"I had a wonderful experience analyzing the case with my teammates. As a senior, graduating in May, I believe this opportunity would greatly benefit me in my future career as an analyst. I would like to thank Ms. Wikler for providing this wonderful opportunity to the Smith school students and the real-world exposure we have encountered by participating in this competition" added Finance major Zinnatova, a member of the team that placed third.
For more information about the undergraduate program at Smith, visit www.rhsmith.umd.edu/undergrad.
- Claudia Donnelly, Undergraduate Program
Media Contact
Greg Muraski
Media Relations Manager
301-405-5283  
301-892-0973 Mobile
gmuraski@umd.edu 
About the University of Maryland's Robert H. Smith School of Business
The Robert H. Smith School of Business is an internationally recognized leader in management education and research. One of 12 colleges and schools at the University of Maryland, College Park, the Smith School offers undergraduate, full-time and flex MBA, executive MBA, online MBA, business master's, PhD and executive education programs, as well as outreach services to the corporate community. The school offers its degree, custom and certification programs in learning locations in North America and Asia.