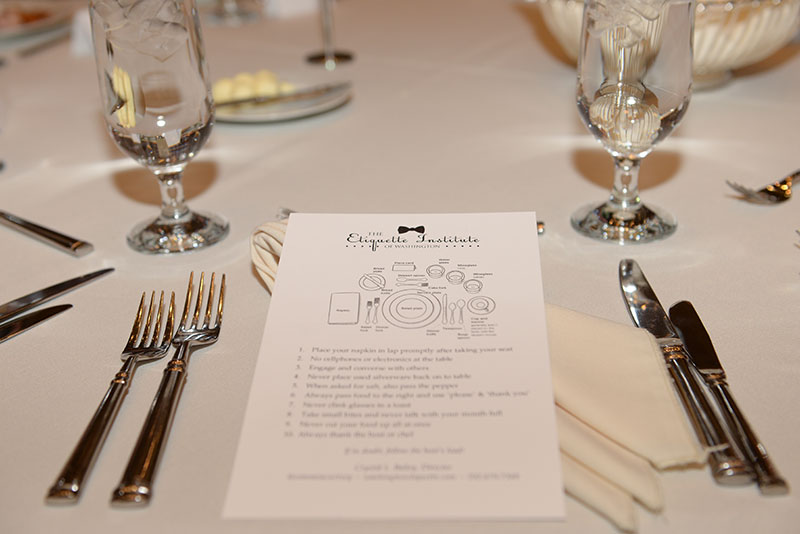 Philip Peker, Smith Class of 2018, writes about the Smith Start Etiquette Dinner
As hundreds of polished freshman Smith students filed into the Riggs Alumni Center on a brisk April evening for their final Smith Start event, there was a celebratory feeling of accomplishment shared by all. On Thursday, April 23, 2015, the University of Maryland's Robert H. Smith School of Business partnered with The Etiquette Institute of Washington to give business freshman students a taste of the professional world through the Smith Start Etiquette Dinner, a culminating occasion to round out the Smith Start program. The event was designed to give a short workshop on how to network and conduct oneself in a professional dining setting, but it ended up being much more than that. I, along with many other students at the event, came in excited about the food, and left excited about the future.
As Crystal Bailey, director of The Etiquette Institute of Washington, took the stage, loud talking turned to murmurs turned to a sweeping silence. Crystal, a graduate of Howard University and a former successful attorney, carried herself in a sophisticated but approachable way. She began the evening with a few words about how important it is to be mindful of etiquette, and how useful it is in the professional world. The workshop was taught side by side with the meal. Starting with a zesty spring salad, Crystal went over some ground rules about sitting, posture and breaking the ice with fellow guests. As the main course was rolled out, a tantalizing chicken over seasoned asparagus and rice creation, Crystal covered topics such as utensil signaling, difficult foods, and international eating customs. Come dessert-time, she finished it off with some last minute tips and tricks on how to sell yourself, be presentable, and keep cool in front of big names. "The dinners aren't about the food, but about building connections," she said. The food for the evening ended up being too good to ignore. Afterwards, she opened up the floor for a question and answer session, and several students stood up to pose questions that, in other circumstances would seem awkward, but thanks to Crystal's humility, no one was afraid to ask.
I must admit, the formality of the event made for an intense evening with my peers, many of whom longed for a meal that was relaxing, fun and what everyone was used to. But after the event wrapped up, I walked up to Dean Victor Mullins to thank him for providing us with a delicious dinner, and he gave me some insight as to why these events are so special and important.
"This isn't formulaic," Dean Mullins explained. "It's not like you drop your fork and you lose your job. It's about having the right mindset, and finding the right balance between your personal self and your professional self." Going in to a professional dinner with a lazy and careless attitude will set you up for failure. Au contraire, going in with a confident elegant sway creates a gravitational force of attraction around you, and this is what the event was instilling in the young minds of the talented business students.
"We know that to most students this event was uncomfortable, but as freshman, it's about learning to go out of your comfort zone," Dean Mullins stated, with a buoyant smile. The students may not realize it now, but the tools and opportunities the Smith School of Business is providing them, is unparalleled, even if it includes a few uncomfortable moments, because that's life, and the better students are able to adapt, the more successful they will be.           
For more information about the undergraduate program at Smith, visit www.rhsmith.umd.edu/undergrad     
Media Contact
Greg Muraski
Media Relations Manager
301-405-5283  
301-892-0973 Mobile
gmuraski@umd.edu 
About the University of Maryland's Robert H. Smith School of Business
The Robert H. Smith School of Business is an internationally recognized leader in management education and research. One of 12 colleges and schools at the University of Maryland, College Park, the Smith School offers undergraduate, full-time and flex MBA, executive MBA, online MBA, business master's, PhD and executive education programs, as well as outreach services to the corporate community. The school offers its degree, custom and certification programs in learning locations in North America and Asia.