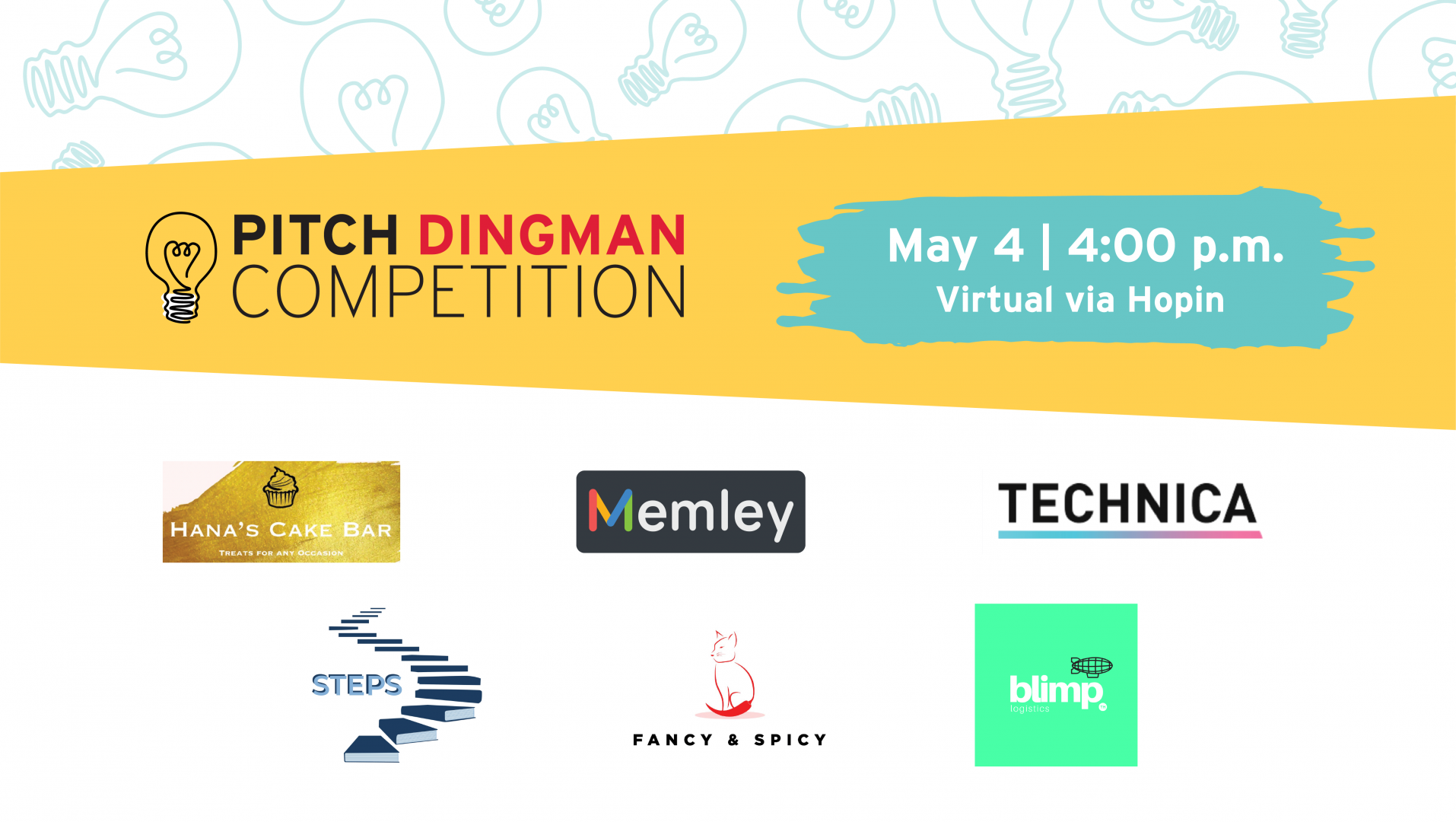 On April 16, 2021, the Dingman Center for Entrepreneurship at Maryland Smith hosted the virtual semifinal round of the Pitch Dingman Competition, featuring 12 student-run businesses from across the University of Maryland, College Park. Each team who advanced to the semifinals was vetted through a quarterfinals round by a panel of alumni judges. All semifinalists have been participating in workshops and advising sessions throughout the past weeks, to help strengthen their business pitch.
Congratulations to the six teams who will be advancing to the final round of the competition.
From the Main Street Track, the teams advancing to the finals round are as follows:
Fancy & Spicy – Brin Xu '22
Fancy & Spicy started from a popular Chinese Sichuan food blog, providing authentic Chinese food recipes, cookbooks, cooking events, and cooking consultation.
Hana's Cake Bar – Hana Bekele '21
Hana's Cake Bar is a bespoke bakery that tailors to every customers' needs for baked goods.
STEPS Inc. – Sanketh Andhavarapu '23, Uzair Chaudhary '23
STEPS connects volunteers with paying K-12 families seeking personalized, 1 on 1, and long-term tutoring. Volunteers are compensated with service hours, and profits are invested into the STEPS grant foundation to address education disparities.
From the Quattrone Venture Track, the teams advancing to the finals round are as follows:
Blimp Logistics– Camilo Melnyk '21, Spencer Yaculak '23
Blimp Logistics is developing a drone delivery system that will provide last-mile delivery services to businesses shipping packages under 30 lbs in both suburban and rural areas.
NuroSTREAM/Memley – Steven Jettoo '21
NuroSTREAM/Memley is a SaaS company offering digital learning services for disadvantaged students struggling with building successful learning habits in conventional and digital school environments.
Technica – Hugo Burbelo '22, Utsa Santhosh '22
Technica sells an innovative online event platform that is custom-built for hackathons to other technology events and corporate partners in order to improve the experience and engagement of their attendees in a virtual format.
Each of the six finalist teams will receive $500 in seed funding and $6,500 in AWS Activate Credits. They will all go on to participate in Pitch Dingman Competition Finals to compete for the rest of over $70,000 in prize money available for this year's winners. The Finals event will take place on May 4th at 4:00 p.m. and will be broadcasted to the online audience via Hopin.
The Dingman Center would like to congratulate the rest of the semifinalists for making it this far in the competition. The caliber of pitches at the semifinals event was a testament to UMD's recent rise in the Princeton Review and Entrepreneur magazine rankings to #6 in the country in undergraduate entrepreneurship education and made it very difficult for our panel of judges to decide which teams should advance.
Congratulations to all of the semifinalists who competed on Friday:
Main Street Track
Camp Segal LLC – Max Segal '21, Jacob Nelson '21
Camp Segal provides the support and infrastructure for college-aged individuals to open up small summer camps, with a focus on safety, proximity, and flexibility.
JMakes3D – Jacob Garnett '21, John Fitzell '20
JMakes3D is a startup design firm that does 3D design, 3D printing, and physical product development.
Omega 3 LLC – Edwin Djampa '22, Virgil Ulric Sermon '22
Omega 3 LLC is a food company producing granola bars that improve and maintain mental health.
Quattrone Venture Track
Athenus Financial Group – Cameron Williams '21, Damian Shaw '24
Athenus enables young, amateur investors to engage with and trade foreign exchange. Features such as algorithms and a built-in social media community help new traders navigate the market and manage risk without needing to learn the market.
Ionic ST/Ion Global Industries, Inc. – Kyle Fruth '21, Maya Ransom '24
Ionic ST is a sports technology company focused on merging A.I, robotics, and analytics together to not only improve the way athletes and coaches train but also how they track and analyze practice or game data.
MARS Technology LLC – Xiaohui Li '21, Dongxia Liu
MARS Technology LLC is commercializing a novel gas-to-liquid technology that can convert low-value, greenhouse gas methane into high-value specialty chemical feedstock. The technology is valuable to biomethane generators as well as hydroprocessing operators.
Each semifinalist was required to perform a five-minute venture pitch followed by a four-minute Q&A session from a panel of alumni judges, including:
Ngozi Azubike '82, Chief Operating Officer, OBAN Corporation
Mia Chae Reddy PhD '12, Founder and CEO, Dehiya Beauty
Stephen Ferber '90, CEO & Founder, Golden Gate BPO Solutions and PAYDIRT Sports Law
Bunmi Emenanjo '02, Founder, Atlas Book Club
Rob Runett '95, Vice President, Motley Fool Ventures
Register to attend the Pitch Dingman Competition 2021 finals event.
Media Contact
Greg Muraski
Media Relations Manager
301-405-5283  
301-892-0973 Mobile
gmuraski@umd.edu 
About the University of Maryland's Robert H. Smith School of Business
The Robert H. Smith School of Business is an internationally recognized leader in management education and research. One of 12 colleges and schools at the University of Maryland, College Park, the Smith School offers undergraduate, full-time and flex MBA, executive MBA, online MBA, business master's, PhD and executive education programs, as well as outreach services to the corporate community. The school offers its degree, custom and certification programs in learning locations in North America and Asia.