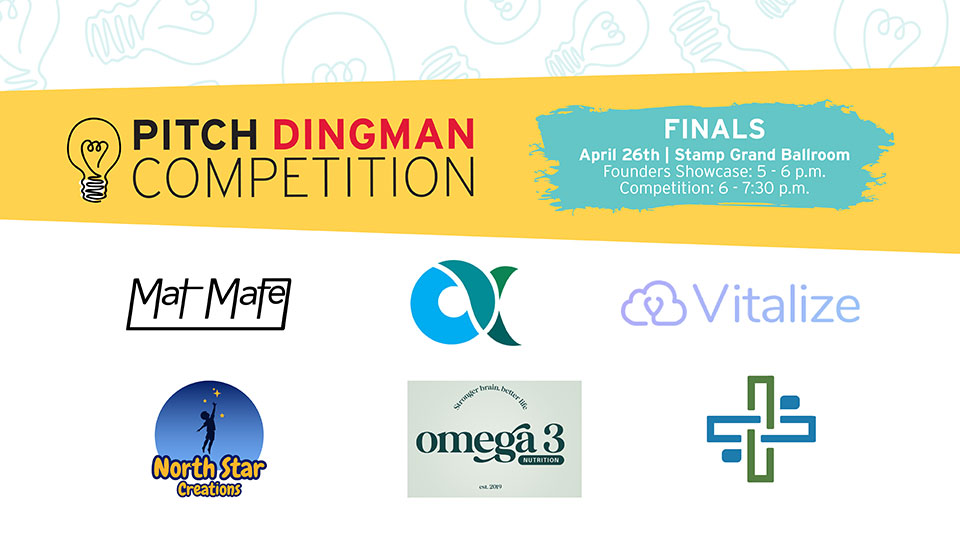 On April 8, 2022, the Dingman Center for Entrepreneurship at Maryland Smith hosted the semifinals round of Pitch Dingman Competition in the Tyser Auditorium of Van Munching Hall. Twelve student-run businesses from across the University of Maryland, College Park campus each had five minutes to pitch their startup, followed by four minutes of questions from a panel of alumni judges. These twelve companies had already made it through the quarterfinals round to get to this point, where they were selected by a panel of alumni judges from a pool of over 60 original applicants. All semifinalists have been participating in workshops and advising sessions throughout the past weeks to help strengthen their business pitch.
Congratulations to the six teams who will be advancing to the final round of the competition.
From the Main Street Track, the teams advancing to the finals round are as follows:
MatMate – James Dawson '24 (Business Management)
The MatMate is a novel, patent pending protective device that stops the driver's heel from wearing through their car's floor mat. It attaches with carpet safe adhesive, making it a risk-free, totally unobtrusive solution to this issue.
North Star Creations – Mat Parsons, MBA '22
North Star Creations creates products for parents to teach their children how to recognize and understand emotions. These tools will equip their children with self awareness and relationship skills to navigate through life.
Omega 3 LLC – Edwin Djampa '22 (Nutritional Food Science)
Omega 3 is the nutritional food brand pioneering the use of brain-boosting, organic ingredients without compromising quality, taste, or sustainability.
From the Quattrone Venture Track, the teams advancing to the finals round are as follows:
Chat Health – Aishwarya Tare '22 (Human-Computer Interaction)
Chat Health is a digital health assistant that closes gaps in the healthcare-seeking process for university students and helps users access those resources through an empathetic design.
Quandry – Bryan Houlton '23 (Computer Science), Ryan Downing '22 (Finance and Computer Science)
Quandry gives small-cap retail traders tools for researching, developing, and deploying automated trading strategies.
Vitalize – Sanketh Andhavarapu '23 (Health Decision Sciences)
Vitalize improves well-being and reduces burnout among healthcare providers. We offer a clinician-centric cognitive behavioral therapy mobile app and web-based dashboard with robust analytics and actionable insights for hospital leadership.
These six finalists will go on to participate in Pitch Dingman Competition Finals to compete for over $75,000 in prize money available for this year's winners. The Finals event will take place on April 26, 2022. The Founders Showcase will begin at 5:00 p.m. and the main competition will begin at 6:00 p.m.
The Dingman Center would like to congratulate the rest of the semifinalists for making it this far in the competition. The caliber of pitches at the semifinals event was a testament to the University of Maryland's current ranking at #10 in the country in undergraduate entrepreneurship education and made it very difficult for our panel of judges to decide which teams should advance.
Congratulations to all of the semifinalists who competed on Friday. Although the remaining teams will not be advancing to our finals round, they will receive a cash prize of $500 as well as $6,500 in AWS Activate Credits for making it this far in the competition:
Main Street Track
Crys & Co Cosmetics – Crystal Pinckney '22
Crys & Co is a marketplace for women to enhance their natural beauty with eyelash extensions. Crys & Co provides a directory of qualified lash technicians and accessories.
Fusion100 – Ilan Orgel '22
Fusion100 is a clothing company shipping orders across the globe with unique designs that catch the attention of consumers.
SIERRASINVOGUE – Sierra Sesay '24
"SIERRASINVOGUE" or shortly known as "SIV" is a slow fashion clothing brand that custom creates clothing pieces such as crewnecks, pants, and shorts made from woven blanket material.
Quattrone Venture Track
Athenus Financial Group, LLC – Cameron Williams '21, Damian Shaw '24
Athenus is the first fintech app focused on amateur foreign exchange traders. Athenus simplifies the market in a way that is more digestible and by using machine learning AI to analyze the market so that users can make informed decisions.
Shellter Co. - Daniel Park '24, Zach Zhao '24
Shellter is a mobile platform that allows college students to find and join course group chats simply by entering their course schedule.
WISE Cities, LLC – Marie Brodsky '24, Katherine-Aria Close '23
WISE Cities designs accessible technology to address social isolation among the elderly. Our first app allows seniors to form local groups, and gives community centers and local businesses the opportunity to connect with this hard-to-reach audience.
Thank you to our panel of alumni judges for being a part of our semifinals competition:
Quattrone Venture Track:
Jasmine Snead Ferguson '18, MBA/MPP '21, Co-Founder, Aurora Tights; New Ventures Specialist, M&T Bank
Sara Herald, MBA '11, Director, Southern Management Leadership Program
Mike Ravenscroft MBA '21, Startup Success Manager, Dreamit Ventures
Ryan Swann '06, Chief Data Analytics Officer, Vanguard
Main Street Track:
Steve Freishtat '81, Founder, Next Day Blinds Corporation
Kendall Holbrook '02, CEO, Dev Technology Group, Inc.
Abby Malchow MBA '17, Sr. Business Development Manager, Small Business Empowerment, Amazon
Max Weiner '96, Owner, Max Weiner Jewelers; Founder & CEO, Budge Technology Inc
Register to attend the Pitch Dingman Competition 2022 finals event.
Media Contact
Greg Muraski
Media Relations Manager
301-405-5283  
301-892-0973 Mobile
gmuraski@umd.edu 
About the University of Maryland's Robert H. Smith School of Business
The Robert H. Smith School of Business is an internationally recognized leader in management education and research. One of 12 colleges and schools at the University of Maryland, College Park, the Smith School offers undergraduate, full-time and flex MBA, executive MBA, online MBA, business master's, PhD and executive education programs, as well as outreach services to the corporate community. The school offers its degree, custom and certification programs in learning locations in North America and Asia.