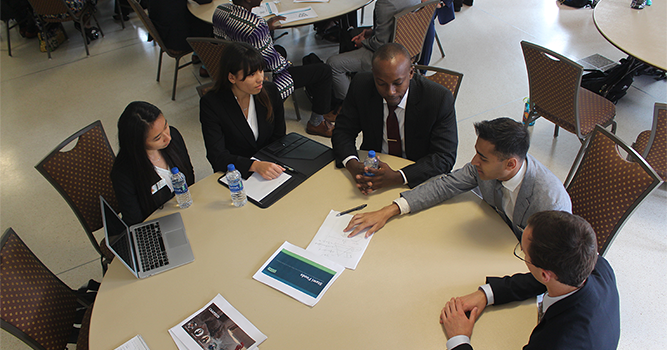 Connecting smallholder farmers with low-income consumers creates a range of challenges for Stawi Foods, maker of instant fortified porridge in Kenya. A team of student consultants at the University of Maryland studied the case in spring 2019 and presented recommendations to company founder Eric Muthomi on May 9, 2019.
Muthomi came to College Park, Md., with entrepreneurs from nine other African startups to hear deliverables following a semester-long project in the Designing Innovative Systems class taught by professor Joseph P. Bailey, director of the QUEST Honors Program.
The experiential learning activity, organized in partnership with the United States African Development Foundation, paired multidisciplinary teams of undergraduate QUEST students with companies in the Democratic Republic of the Congo, Ghana, Kenya, Nigeria, South Africa and Uganda.
The Stawi team, which called itself "Goldilocks' Four Bears," included students from UMD's Robert H. Smith School of Business, the A. James Clark School of Engineering and the College of Computer, Mathematical and Natural Sciences.
The group made four specific recommendations: Raise product prices incrementally, find international suppliers, increase grain storage and open new product lines.
Muthomi, a lawyer turned food entrepreneur, launched Stawi in 2012 as a commercial enterprise with a social mission. "People wonder why I left a career in law to start a food company," he says. "I believed through this I would have a bigger impact."
He said the name for his company, a variation of the Swahili word for "prosperity," signals nutrition and quality — especially important when making products for infants. "If you're weaning your child from breastmilk to solid food, you're mostly concerned about nutrition," he says.
Following the presentations, the African entrepreneurs attended an evening QUEST conference with Maryland Smith dean Alex Triantis.
QUEST, a hands-on program for select students from three participating schools, has produced more than 1,200 graduates in 27 years.
The Goldilocks' Four Bears were Neil Jakhete '21, an international business and economics major; Alec Lahr '20 and Quinn Wandalowski '21, mechanical engineering majors; and Grace Zhang '21, an operations management, business analytics and computer science major.
Media Contact
Greg Muraski
Media Relations Manager
301-405-5283  
301-892-0973 Mobile
gmuraski@umd.edu 
About the University of Maryland's Robert H. Smith School of Business
The Robert H. Smith School of Business is an internationally recognized leader in management education and research. One of 12 colleges and schools at the University of Maryland, College Park, the Smith School offers undergraduate, full-time and flex MBA, executive MBA, online MBA, business master's, PhD and executive education programs, as well as outreach services to the corporate community. The school offers its degree, custom and certification programs in learning locations in North America and Asia.