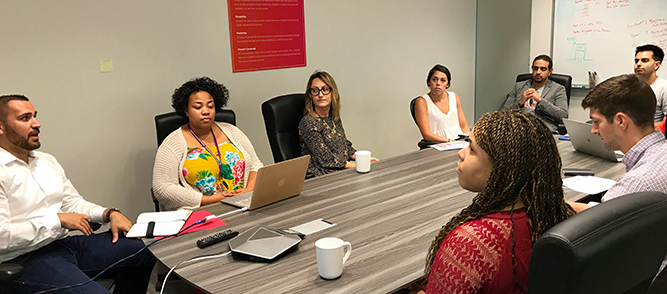 This summer, part-time MBA students at the University of Maryland's Robert H. Smith School of Business consulted with HUNGRY Catering, a sharing economy based platform in Washington, D.C., that is revolutionizing office catering by providing exclusive access to top chefs making incredible food.
Student team members – Margarita Murphy, Erika Thompson, Ciara Scott, and Ryan McDonald – worked with faculty mentor Nicole Coomber, a lecturer in management and organization at Smith, on the project, which was titled: "Help a Fast-Growing Food Service App Replicate Success in Other Regions and Prepare for a Series A Fundraising Round."
Students recommended an expansion process after thoroughly understanding the market and the competition while being cognizant of the company's internal competencies. A three-tiered approach was suggested for the expansion strategy. A deep dive into the launch campaign followed the expansion strategy, which helped the company tie all the recommendations together.
"Students get a real sense of startups and develop a great learning experience. It teaches them to be ready to switch gears because of the fast pace of the project," said Coomber.
The Smith School uses Capsource, a project sourcing company, to help find companies to consult with and scope projects. "CapSource provides a great platform that immerses students into a real-life work environment to work through problems and provide solutions, which I much prefer to the general classroom setting," said McDonald.
The students impressed the team at HUNGRY with not only their recommendations but also their keen eye for details and dedication to the project. HUNGRY was so happy with the conviction the students showed that they want to do a follow-up project with Professor David Kirsch.
"The students were great and were very engaged throughout the project. The final recommendations gave well thought and solid options that showed they had gained an intimate understanding of the company and the problems we were trying to overcome. By utilizing the students to work on projects that were already in our pipeline we were able to speed up our timeline dramatically," said Chris Baugh, director of Legal & Strategy at HUNGRY.
Smith's Office of Transformational Learning facilitates the business consulting projects, which provide students with a foundation to apply the concepts they learn in the classroom to real-world problems. This approach helps students improve their knowledge about new industries and also helps them polish their interpersonal skills by working with different stakeholders.
The course starts with classroom discussions on learning the frameworks commonly used in consulting and developing a strategic thinking mindset. Student teams are formed based on a skill and interest matching session. Once acquainted with the "consulting process" students are paired with clients that help provide specific learning that caters to their interests.
For more information about transformational learning at Smith, visit: www.rhsmith.umd.edu/otl.
- Bhrugi Badheka, Smith MBA Candidate 2018
Media Contact
Greg Muraski
Media Relations Manager
301-405-5283  
301-892-0973 Mobile
gmuraski@umd.edu 
About the University of Maryland's Robert H. Smith School of Business
The Robert H. Smith School of Business is an internationally recognized leader in management education and research. One of 12 colleges and schools at the University of Maryland, College Park, the Smith School offers undergraduate, full-time and flex MBA, executive MBA, online MBA, business master's, PhD and executive education programs, as well as outreach services to the corporate community. The school offers its degree, custom and certification programs in learning locations in North America and Asia.