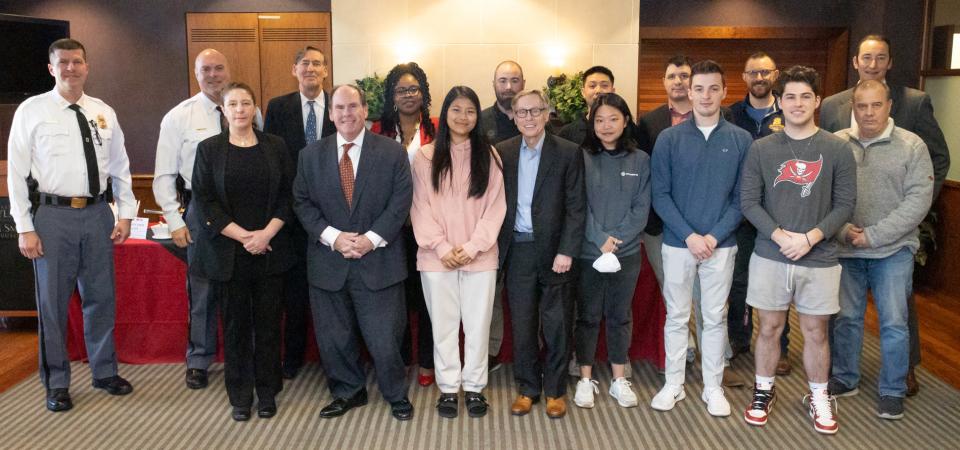 For victims of financial fraud, the path to restitution is time-consuming and costly. But a new initiative from the University of Maryland's Robert H. Smith School of Business is on the case to help bring them justice.
In collaboration with the Prince George's County Police Department Financial Crimes Unit and State's Attorney's Office, Maryland Smith's Justice for Fraud Victims (JFV) program offers students a unique volunteering opportunity to work with PG County to investigate instances of financial fraud against members of vulnerable populations.
"Entities partnering and combining their resources with a victim-centered mindset is the very crux of justice," says Prince George's County Police Major and SID Commander Sunny A. Mrotek. "Fraud and theft are not just 'property crimes.' Lives are devestated by these criminal acts, and this partnership reaffirms our commitment to our community and specifically the vulnerable." 
The program, which is only one of a few of its kind in the U.S., exposes students to forensic accounting by investigating real-life cases of fraud and analyzing evidence from grand jury-subpoenaed documents. Each semester, multidisciplinary student teams divided from a pool of roughly 25 to 30 students, will work together to address this grand challenge and make an impact in the lives of members of the greater UMD community.
The students will also receive the assistance of UMD faculty and oversight of Certified Fraud Examiners, as well as other professionals, as they establish and find evidence on how the fraud was perpetrated, help quantify damages and develop case files for prosecution.
"For one of our first cases we're going to follow the dollar from one shell company to another, following the path of concealment by the alleged perpetrator, in order to clearly show the fraud as it happened," says faculty advisor Samuel Handwerger, CPA, and accounting lecturer at Maryland Smith.
On Tuesday, Feb. 14, 2023, Maryland Smith Dean Prabhudev Konana, Handwerger and representatives from the Prince George's County State's Attorney's Office convened for a luncheon to celebrate the new partnership.
"Our campus' strategic plan talks about engagement and impacting our community, and this program embodies that mission, " said Konana during the event. "This positions our students to gain real-world experience solving real problems. That learning is priceless and it will be fundamental for our education going forward."
Handwerger, who also serves as the faculty advisor for TerpTax – Maryland Smith's free tax preparation service from student volunteers – says the program, in addition to its experiential learning opportunities, will also eventually include guest speakers from the field, training initiatives and workshops to maintain student engagement in between cases.
Any Maryland Smith student, no matter their major, can apply for the program and make an impact from day one, Handwerger says. With a greater variety of disciplines involved in the cases, students can dive deeper into the evidence and provide even more context to what they are seeing. Finance students can help quantify the value of the loss, while information systems students can leverage their analytical skills to examine large datasets.
In addition to the invaluable real-world experience, Handwerger says that every participating student will benefit immensely from this program for its inherent ties to accounting – a discipline they will interact with frequently throughout their careers.
"Accounting is the language of business and everyone, whether they realize it or not, at some point in their careers, will need to understand and be able to work with numbers," says Handwerger. "When they gain those skills, they become even more well-rounded professionals."
Maryland Smith accounting student Benjamin Kanter '23 joined JFV because he has aspirations of becoming a forensic accountant for the Federal Bureau of Investigation. This program, he says, moves him one step closer to that goal. And in the meantime, he knows he's already making a difference.
"I hope the UMD community will acknowledge the impact of this organization, encourage others to join and expand our assistance to other victims of fraud," says Kanter.
Mrotek says the initiative "is a tremendous opportunity to work together with University of Maryland students. These efforts will magnify our ability to identify perpetrators, hold them accountable and most importantly bring some measure of restoration for our victims. The impact of this collaboration will no doubt change lives."
Media Contact
Greg Muraski
Media Relations Manager
301-405-5283  
301-892-0973 Mobile
gmuraski@umd.edu 
About the University of Maryland's Robert H. Smith School of Business
The Robert H. Smith School of Business is an internationally recognized leader in management education and research. One of 12 colleges and schools at the University of Maryland, College Park, the Smith School offers undergraduate, full-time and flex MBA, executive MBA, online MBA, business master's, PhD and executive education programs, as well as outreach services to the corporate community. The school offers its degree, custom and certification programs in learning locations in North America and Asia.