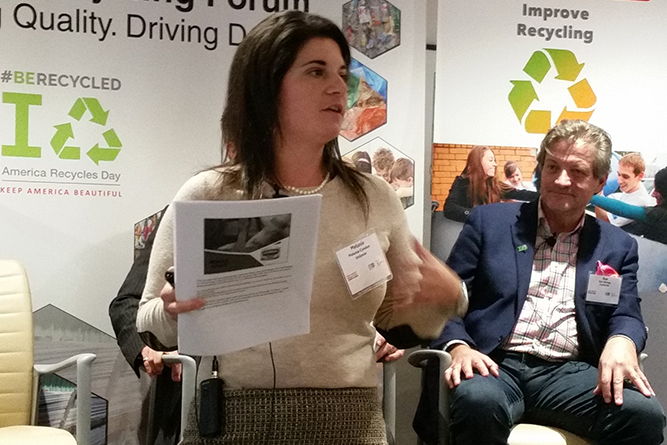 Undergraduate student Shyama Srikkanth class of 2019, interviewed Unilever's Melanie Condon '17 as part of her 2019 Impact Ambassador experience with the Center for Social Value Creation at the University of Maryland's Robert H. Smith School of Business.
How have your interests and experiences led you to the position you are in today?
I initially started my career in policy and advocacy, then transitioned to working on energy and environmental policy issues. I started to become cynical because it took a long time to get anything done in the public sector. Projects would derail due to budget or political issues. However, I realized that I could make a bigger difference in the corporate world. The tides change a bit faster in the private sector, which means that there is a much larger scale on which you can affect change. There is the ability to get more done in a shorter amount of time.
Currently, the speed at which businesses transition is driven by consumers. People want to spend money not just on a product, but one that supports their beliefs. Businesses are taking actions because their customers want to see tangible results. Businesses are also transitioning to philanthropy and sustainability because the market wants them to. Having a background in policy has been very helpful in terms of understanding how policies get made and drive change, although I now have a different angle from which to make change, rather than through lobbying.
What does a typical day at Unilever look like, and how does your job allow you to create social value?
A typical day involves "bringing the outside in." Unilever already understands what it means to be purpose-led; it knows that doing so provides good value for customers and stakeholders. I don't have to spend time convincing leadership that is right to use recycled plastic in packaging, or renewable energy in our factories. Therefore, my job entails learning from consumer trends and campaigns of NGO groups. For example, if an environmental NGO has an initiative regarding plastic recycling, I would recommend to leadership that the company focus on strengthening our recycling infrastructure.
I also work across Unilever's three categories: beauty, beverages and refreshments, and home care. I could have diverse projects that deal with chemical ingredients in our shampoos or the nutrition labels for our ice cream. I also represent Unilever externally and explain our work, which accounts for about 30% of my job. I get to speak on panels and recently spoke on one regarding transparency and labeling of products in the digital world. I also spoke at the Spring Convening, hosted by the Center for Social Value Creation in April, on the topic of circular design. Having a feedback loop with stakeholders allows me to be a changemaker. It requires me to be proactive in understanding and acting upon trends.
How did your Smith School experience prepare you for this work?
I was in the part-time MBA program, which was difficult, but it taught me how to prioritize certain tasks and issues. Managing my time was important since I did not have the time and resources to handle it all. The topics of diversity and equality were discussed in all my classes, which I valued. I also chose the Smith School since 50% of all MBA students were female. Having diversity drives profit and growth in the business world and this was the underlying idea behind classes I took. Also, examining different industries that I hadn't before and understanding the commonality between them was very useful. Learning how to get ideas down to a couple of bullet points without a lot of jargon has also been an important skill I learned. 
What are some challenges you face in your role?
I have learned to be patient and understand the long-term value of what I am doing. Businesses are hit with short-term pressures such as sales goals and share price. It can be a challenge to communicate the need to wait for long-term results to leadership when they face such internal pressures. It can also be hard to understand the technical concepts behind complex processes. For example, I might have to quickly communicate how to recycle a pint of ice cream to the head of marketing for the product. Simplifying complex processes and how it impacts the portfolio into bullet points is key.
Getting back to Unilever, how do Unilever's sustainability endeavors generate the social and ecological change that is so needed today?
Unilever has been a catalyst for industry change, but it understands that it cannot do it alone. There is a large scale for change and the demand from Unilever and its competitors has created a large market for recycled plastic. Unilever is working towards using 100% recycled plastic packaging in over 200 million mayonnaise jars by 2020. Unilever is showing competitors that there is business value behind it and that there is less risk for them to do the same. In the last ten years, companies are matching Unilever on sending zero waste from its factories to landfills as well as using renewable energy in the factories.
How can consumers learn to identify purpose-driven brands like Unilever in the marketplace? And what do you think makes such a brand successful?
In terms of packaging, you don't want to promise more than you can deliver. Claims of environmental benefits or commitments need to be reputable as the market is being flooded with green products. Unilever is using third party organizations to verify its products and meeting standards set by these independent firms. It also sends zero waste to landfills; this is not written on its packaging, but it believes that it is the right thing to do and provides long-term value. Consumers need to research and understand what the company is claiming and if it makes sense. They can see what has been written by market analysts to find out the claims are credible.
What advice do you have for students interested in the intersection of sustainability and business?
It is an exciting time to be in this area. Every business has some goals related to sustainability. Companies like Proctor & Gamble, Volvo, Dow Chemicals, Unilever all have sustainability initiatives and it can be exciting to work to drive environmental change within these different industries. Don't get too hung up on the job title, and instead look to see if the role has something to do with sustainability. If you are not working directly in sustainability, your job will have some opportunity to push for change. There will be opportunities as these initiatives are integrated into a company's foundation or CSR section, so you can find ways to integrate it into your job. There are also related functions in communications and within the supply chain, especially within the consumer products industry and its brands.
Media Contact
Greg Muraski
Media Relations Manager
301-405-5283  
301-892-0973 Mobile
gmuraski@umd.edu 
About the University of Maryland's Robert H. Smith School of Business
The Robert H. Smith School of Business is an internationally recognized leader in management education and research. One of 12 colleges and schools at the University of Maryland, College Park, the Smith School offers undergraduate, full-time and part-time MBA, executive MBA, online MBA, specialty master's, PhD and executive education programs, as well as outreach services to the corporate community. The school offers its degree, custom and certification programs in learning locations in North America and Asia.