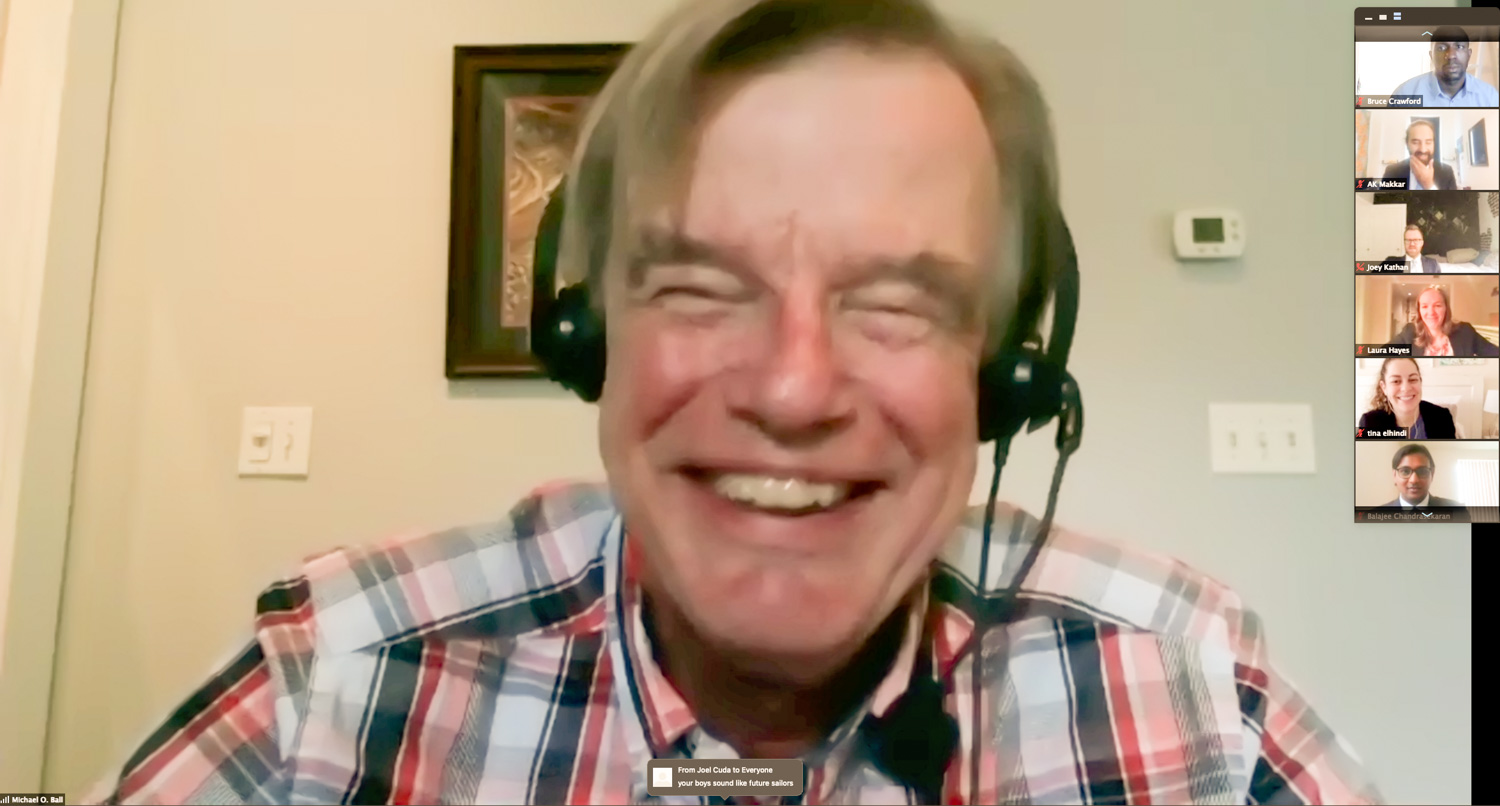 Orientation looked a bit different for the current first-year MBA students at the University of Maryland's Robert H. Smith School of Business. But much like in previous years, the Smith Orientation Case Competition was a highlight, kicking off the new semester.
This year's competition, hosted virtually in partnership with KPMG, challenged students to create innovative solutions for COVID-19-related problems in the airline, public transit and theater industries.
Students were organized into teams of roughly five members each and given 48 hours to prepare presentations for judging panels composed of KPMG professionals, as well as Maryland Smith faculty and alumni. The top three presentations selected by judges then advanced to a final round.
This year's winners presented Encore Inc., a business model intended to address theater revenue losses by serving as a middleman that distributes live productions to streaming service providers.
The two runners-up unveiled similarly impressive concepts – one a plan to restore consumer confidence in airline travel; the other some data analytical approaches to improving D.C. Metro ridership.
Every year, the competition offers an exciting introduction to the Maryland Smith MBA experience, said Michael O. Ball, senior associate dean for faculty & research, and Dean's Chair in Management Science.
"The orientation case competition is a great way to help incoming students understand the breadth of ways they will be learning and developing themselves professionally here at Maryland Smith," said Ball. "From analytics to networking and critical thinking, it is our goal to prepare them for their careers and the case competition gives them a taste of what is to come."
Competition judges Andrew Lewis, partner-in-charge of the Federal Audit Practice at KPMG, and Joe Klimavicz, former Department of Justice chief information officer and now a managing director at KPMG, said they were blown away by the cohort's professionalism and high standard of work.
The presentations showcased the impressive quality of the first-year cohort, Lewis said, and their performance – given the circumstances of adapting to a virtual competition – demonstrated that they are well equipped to take on whatever they may face in the program.
"I enjoyed seeing how all of you came together for this competition, and how all of you are coming together as a cohort in general," he told the students.
"This is not the MBA program that you might have expected or planned for, but I can see that you are fully taking advantage of this opportunity to learn, connect and grow."
Media Contact
Greg Muraski
Media Relations Manager
301-405-5283  
301-892-0973 Mobile
gmuraski@umd.edu 
About the University of Maryland's Robert H. Smith School of Business
The Robert H. Smith School of Business is an internationally recognized leader in management education and research. One of 12 colleges and schools at the University of Maryland, College Park, the Smith School offers undergraduate, full-time and flex MBA, executive MBA, online MBA, business master's, PhD and executive education programs, as well as outreach services to the corporate community. The school offers its degree, custom and certification programs in learning locations in North America and Asia.