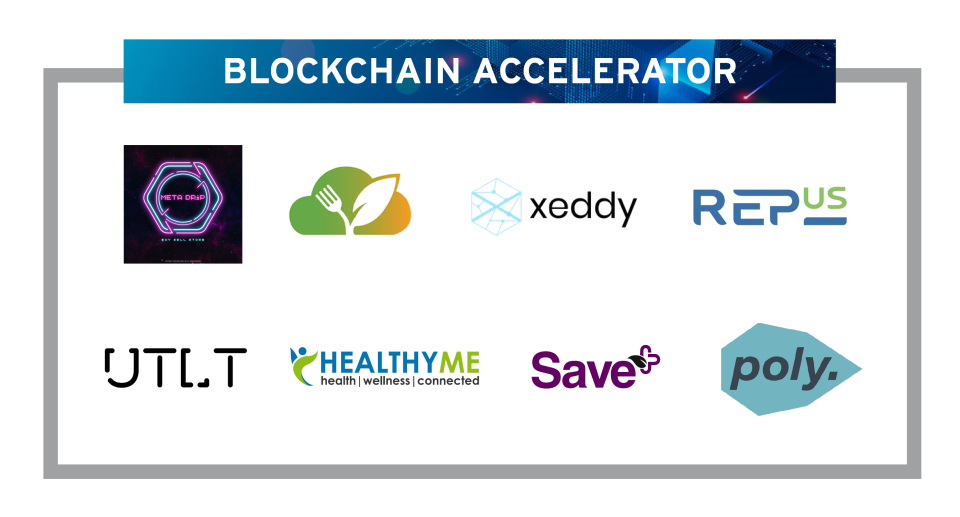 The Maryland Smith Blockchain Accelerator is pleased to announce that it has accepted eight ventures into its Spring 2023 cohort. This accelerator, launched on March 15, 2023, is a partnership between the Supply Chain Management Center and the Dingman Center for Entrepreneurship at the University of Maryland's Robert H. Smith School of Business. The no-cost program will help early-stage blockchain companies from around the country access content and mentorship to systematically advance their businesses. Entirely virtual, the accelerator will leverage the FounderTrac platform. The 45-day program will culminate in a demo day, where participating companies will have an opportunity to pitch to investors.
Throughout the six weeks, ventures will be paired with a dedicated mentor to receive personalized feedback and advice. Ventures will also attend weekly group workshops to learn more about various topics to help grow their business. Aside from blockchain, topics will encompass a full range of business knowledge, including marketing, finance, leadership, legal, and angel investing. The blockchain accelerator is championed by Maryland Smith Lecturer Jeffrey Mund, with support from a highly qualified group of faculty and mentors. The program directors include second-year MBA students Juan Acosta and Lydia Nicholson, doctoral student Marta Villamor Martin, and undergraduate student Ethan Selko, class of 2024.
This marks the second year of the annual accelerator, which had another very competitive applicant pool of blockchain-related companies from all over the globe. Read on to learn more about the eight companies and the founders accepted into this year's cohort:
Meta Drip – Gaukhar, Sunny Oller MBA '22
Meta Drip is a Web 3.0 platform that allows users to design, buy, sell, and safely store digital clothes. The platform attracts fashion-conscious individuals, social media influencers, gamers, and avatar owners; utilizing Blockchain technology, Meta Drip enables secure transactions and proof of ownership.
Save – Stefano Brugnerotto
Save is developing blockchain-based software solutions to tackle the US' $8B in annual pharmaceutical waste that results from poor supply chain management.
HealthyMe – Ofodile Nwosu
HealthMe is a healthcare blockchain platform that aims to improve the health of people in Africa by providing a secure, transparent, and efficient way for Diasporan Africans to send and manage funds for the health of their loved ones. Our platform will allow donors to track the spending of their funds and ensure that the intended use of the funds is met while improving the health of their beneficiaries. With HealthMe, beneficiaries will have access to timely health advice from certified healthcare professionals around the world and real-time access to their medical records and treatment plans, making it easier to manage their health conditions.
Poly Platform – Kamel Greene, David Keptsi
Poly Platform is a smart-city civic engagement platform that digitizes the antiquated brick-and-mortar infrastructure of city government into a city's very own, cost-efficient, all-in-one, digital city, allowing governmental resources to be more demographically accessible to residents while amplifying the voice of the city officials to their residents.
Xeddy – Basil Udo
For restaurants and cafes looking to increase customer retention, Xeddy provides a loyalty program solution that consolidates the customer loyalty experience of multiple shops into one app while allowing for the trading of benefits and points among users. With Xeddy's platform, shop owners can receive actionable data and insights into their customer's behaviors.
RepusNFT– Julius Maina, Jessica Sackey
For student organizations looking for a unique way to champion civic engagement on campus and for politicians looking for creative ways to engage with college-aged voters, RepusNFT provides a seamless way to mint, buy and sell NFT collections of notable alumni in politics while also rewarding active NFT holders with exclusive access to limited edition NFT drops and opportunities to engage directly with elected officials on campus.
UTLT – Felipe De Padua 2019, MBA 2023
UTLT brings utility NFTs into everyone's daily lives. It provides a B2B platform that allows companies to commercialize products and services in NFT format.
Food Print Labs – Julian Kanjere
FoodPrint creates digital solutions for the agriculture value chain. The FoodPrint Supply Chain platform connects producers, buyers and retailers through a single source of truth, and provides farm-to-fork traceability.
Media Contact
Greg Muraski
Media Relations Manager
301-405-5283  
301-892-0973 Mobile
gmuraski@umd.edu 
About the University of Maryland's Robert H. Smith School of Business
The Robert H. Smith School of Business is an internationally recognized leader in management education and research. One of 12 colleges and schools at the University of Maryland, College Park, the Smith School offers undergraduate, full-time and flex MBA, executive MBA, online MBA, business master's, PhD and executive education programs, as well as outreach services to the corporate community. The school offers its degree, custom and certification programs in learning locations in North America and Asia.