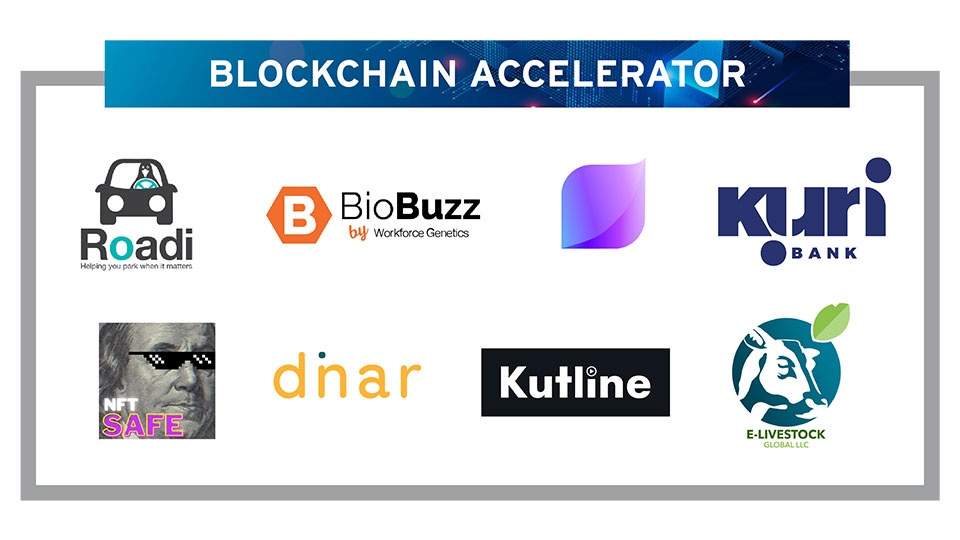 The Maryland Smith Blockchain Accelerator is pleased to announce that it has accepted eight ventures into its inaugural Spring 2022 cohort. This accelerator, which launched on March 14th, is a partnership between The Supply Chain Management Center and the Dingman Center for Entrepreneurship at the University of Maryland's Robert H. Smith School of Business. The no-cost program will help early-stage blockchain companies from around the country access content and mentorship to systematically advance their businesses. Entirely virtual, the accelerator will leverage the FounderTrac platform. The 45-day program will culminate in a Demo Day, where participating companies will have an opportunity to pitch to investors.
Throughout the six weeks, ventures will be paired with a dedicated mentor to receive personalized feedback and advice. Ventures will also attend weekly group workshops to learn more about various topics to help grow their business. Aside from blockchain, topics will encompass a full range of business knowledge including marketing, finance, leadership, legal, and angel investing. The Blockchain Accelerator is championed by Supply Chain Center of Excellence Lecturer, Jeffrey Mund, with support from a highly qualified group of faculty and mentors. The program directors also include Maryland Smith MBA students Juan Acosta '23 and Lydia Nicholson '23, Maryland Smith Ph.D. student Marta Villamor Martin, and Maryland Smith undergraduate student ​​Ethan Selko '24.
While the accelerator plans to continue annually, its inaugural applicant pool was very competitive, and over 50 applications were received from blockchain-related companies all over the country. Read on to learn more about the eight companies and the founders accepted into the competitive inaugural cohort:
Kutline - James McCoy
Kutline is an event management and collaboration platform that allows Metaverse land owners to "rent" their space to creators for live events. Kutline's mission is to expand access and opportunities for marginalized creators through in-event NFT sales.  
Workforce Genetics, LLC (BioBuzz) - Chris Frew, Adam Van Bavel '01, Ezekiel Kelley, Jake Thomas
BioBuzz, a division of Workforce Genetics, LLC, is a community platform that first launched in 2009 to better connect the biotech workforce through events. The company hosts a highly engaged community of biotech professionals, and is launching a new blockchain-enabled talent marketplace that reduces traditional hurdles in the recruiting and hiring process. By increasing access to jobs in the life sciences industry and de-risking hiring decisions through validated skills, training and assessment data, BioBuzz aims to equitably expand the workforce, increase career mobility and revolutionize the traditional hiring life cycle.
Safe And Fair Enforcement - Dominic Fragman, Thomas Luginbill, MBA '15
Safe And Fair Enforcement (SAFE) is a platform providing automated royalty management for NFTs. SAFE's Application Programming Interface (API) works with existing media associates to monitor users' assets and collect their royalties.
Roadi - Opeyemi Thomas 
Roadi is an online, peer-to-peer marketplace, using blockchain technology that makes it easier to find, access and manage parking spaces. Roadi connects car owners and drivers with parking vacancies while helping property owners collect payments and manage access.
E-Livestock Global LLC - Christopher Light '93, Danilo de Sousa '20
E-Livestock Global is a Venture Capital funded social enterprise headquartered in the Maryland biotech corridor. The company offers a healthy livestock, value/supply chain focused, traceability solution that features innovative while affordable technology. It started as a humanitarian pilot in Zimbabwe and ended up as a global digital platform. Officially launched in June 2021, E-Livestock Global won Best Blockchain Solution in Agriculture in Africa (Digital Banker) that same year.
Memento Digital Labs - Brian Paul '22, Ian Costello '22, Ben Dimarco '25
Memento is a vetted marketplace & gallery for artists to showcase and distribute their art on the blockchain. Collectors can swipe through curated art to collect an NFT at an affordable price and purchase the piece through checkout with a credit card. The company is dedicated to making the experience of buying digital art easier and more digestible to reach a more diverse market of buyers.
Kuri Bank - Francisco Merchan
Kuri Bank provides international investments through blockchain with a fixed interest rate ranging from 6 to 10% annually and uses those funds to give loans to SMBs first in Ecuador, and in the future to all Latam. The company aims to take advantage of the potential of Blockchain Technology to democratize profitable and secure investments. Kuri Bank is currently building its proprietary banking system and a social credit score using machine learning and artificial intelligence, to identify the best possible clients for loans and have a financially healthy business.
Dnar - Enoch Antwi '12
Dnar helps bring financial freedom to the underbanked in Ghana and West Africa. Dnar believes that by building accessible financial tools it can help to accelerate the growing economies of the African continent. With the advancements in Bitcoin, namely the Lightning Network, Dnar helps facilitate instant and ultra-cheap micro-payments between consumers and businesses, fostering innovation.
Media Contact
Greg Muraski
Media Relations Manager
301-405-5283  
301-892-0973 Mobile
gmuraski@umd.edu 
About the University of Maryland's Robert H. Smith School of Business
The Robert H. Smith School of Business is an internationally recognized leader in management education and research. One of 12 colleges and schools at the University of Maryland, College Park, the Smith School offers undergraduate, full-time and flex MBA, executive MBA, online MBA, business master's, PhD and executive education programs, as well as outreach services to the corporate community. The school offers its degree, custom and certification programs in learning locations in North America and Asia.