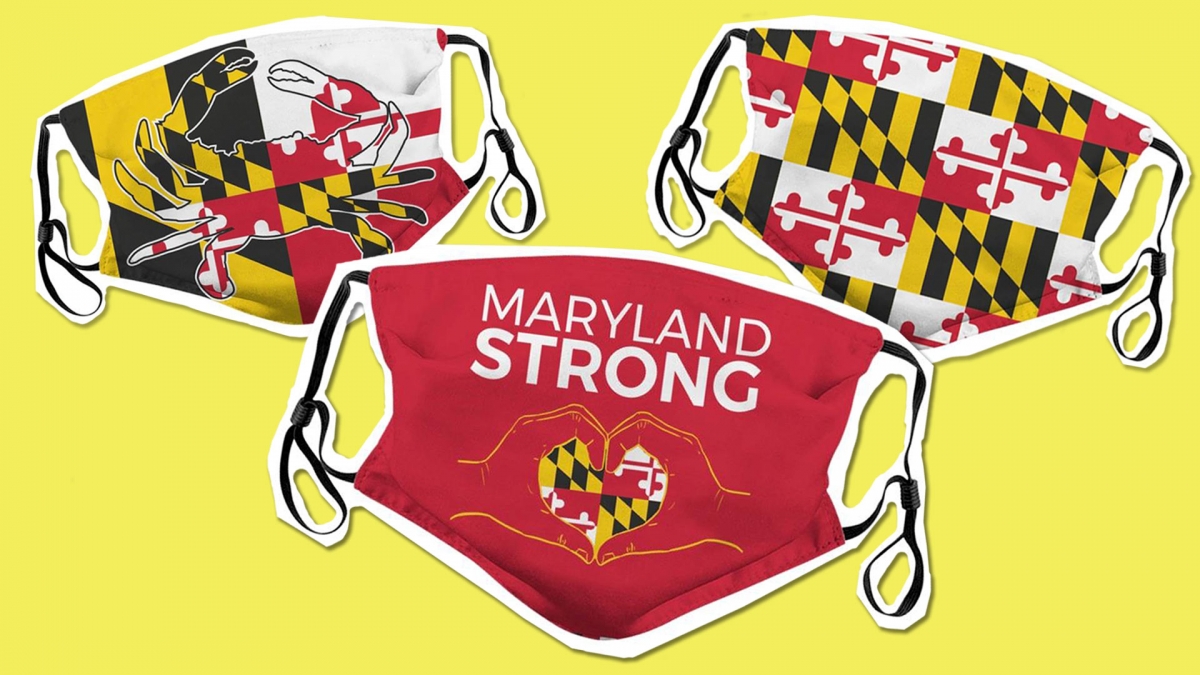 Smith Alum's Maryland-centric Retail Company Wears New Role Supporting Healthcare Workers
Gov. Larry Hogan approached the podium for a press conference last week with a bold new accessory for these times: a red surgical-style mask bearing the message "Maryland Strong."
It was one of the latest creations of Route One Apparel, the Baltimore County-based firm specializing in state pride gear founded by Ali von Paris '12 while she was a Maryland Smith undergrad. As the COVID-19 pandemic worsened, von Paris has pivoted daily production from T-shirts, scarves and bikinis to Maryland-themed masks. For each mask ordered, Route One Apparel will donate one to health-care workers on the front lines around the state.
"It's another shining example of the very spirit of our Maryland Unites initiative," Hogan said of Route One Apparel during the press conference. "It shows how anyone, how any institution or any small business or any individual Marylander can be a part of our efforts to save lives and to defeat this hidden enemy."
The savvy von Paris has been capturing the zeitgeist since her first design back in 2010, when she lost her job with the closure of the Thirsty Turtle bar in College Park. From her South Campus Commons bedroom, she designed a red jersey that read "Turtle Survivor," posted a photo on Facebook and received over 1,500 orders that week.
Building on that momentum, von Paris, a finance major, started designing apparel around other staples of university life, including spring break, Greek life and viral videos, like one that featured someone dancing in McKeldin Library. The resulting shirt read "I Party at Club McKeldin -- They Don't Card."
"I was like, 'Okay, I found a niche. This is good,'" von Paris said. "So instead of putting all my money into Bentley's bar tabs, I reinvested into new designs."
Von Paris started renting out a room in Van Munching Hall for her team meetings. She recruited students from different majors to take on roles in her company, calling the group her street team. Each residence community had a designated sales rep who coordinated orders with von Paris. Others put together sales events, brainstormed new designs or made promotional posters.
"Those are what I still consider the glory days," von Paris said. "We made that a really fun club experience."
During her final semester, the Dingman Center for Entrepreneurship recruited von Paris to compete in what was then called the Cupid's Cup, a competition that awards prize money to young Terps' startups. Von Paris refers to the Dingman Center as her "business babysitters," helping her develop a five-year plan.
After graduation, she moved back into her parents' Timonium house and turned a spare bedroom into the Route One Apparel headquarters. Von Paris described having a sit-down meeting with them when confronted with the question of when she'd get a "real job." They settled on reassessing after the summer.
Then von Paris launched her Maryland flag bikini, which pre-sold all 1,000 units before it was in stock, and she knew she was in business.
Members of the street team also worked out of her parents' house, helping to design new products and ship orders. Franz von Paris, Ali's father, continuously built new shelves and reorganized rooms in his house to accommodate the growing business.
"My garage completely filled up from floor to ceiling, front to back with her inventory," Franz, manager of logistics for Route One Apparel, said. "I had to make a 3D map of where the various products were located in the stack so I could dig a tunnel to things that were needed."
Route One Apparel now has roughly 40 employees, including many fellow Terps, based in a 14,000-square-foot warehouse in Towson. The website features more than 3,000 products, with 15 to 20 new designs released every month.
They now extend beyond university themes to incorporate Maryland staples like Natty Boh and Old Bay. Recently, von Paris partnered with McCormick on a travel-sized Old Bay tin.
The brand lends itself well to famous Marylanders who want to flaunt their state pride and have been photographed in Route One Apparel clothing: Ravens placekicker Justin Tucker, All Time Low guitarist Jack Barakat, Duff Goldman of Charm City Cakes, "Bachelor" contestant John Paul Jones and assorted Orioles players.
Even now, von Paris is still connected with the Dingman Center, serving as a student mentor, contributing to its podcast and sitting on the business school's Young Alumni Council. Holly DeArmond MBA '17, managing director of the Dingman Center, said von Paris has always demonstrated the hustle and energy needed to develop a successful startup.
"Ali's take on leveraging the pride that Marylanders have in this state, creating really interesting marketing and growing that customer base is phenomenal," DeArmond said. "She's really tapped into some pride that people feel, and she's created products that people want to buy."
The company's flag-themed fanny pack is now a staple in medical offices across the state, as Route One Apparel donated its entire supply in support of health care workers. Von Paris estimated 10,000 masks have been ordered, and a portion of the T-shirt profits will benefit the Maryland Food Bank and the Baltimore Animal and Rescue Care Shelter.
"Whenever we can help keep those on the front line, our dear customers, safe, it's a win-win," von Paris said.
–By Maya Pottiger. Photos courtesy of Route One Apparel; collage by Stephanie S. Cordle.
This article originally appeared in Maryland Today and is republished here with permission.
Media Contact
Greg Muraski
Media Relations Manager
301-405-5283  
301-892-0973 Mobile
gmuraski@umd.edu 
About the University of Maryland's Robert H. Smith School of Business
The Robert H. Smith School of Business is an internationally recognized leader in management education and research. One of 12 colleges and schools at the University of Maryland, College Park, the Smith School offers undergraduate, full-time and flex MBA, executive MBA, online MBA, business master's, PhD and executive education programs, as well as outreach services to the corporate community. The school offers its degree, custom and certification programs in learning locations in North America and Asia.