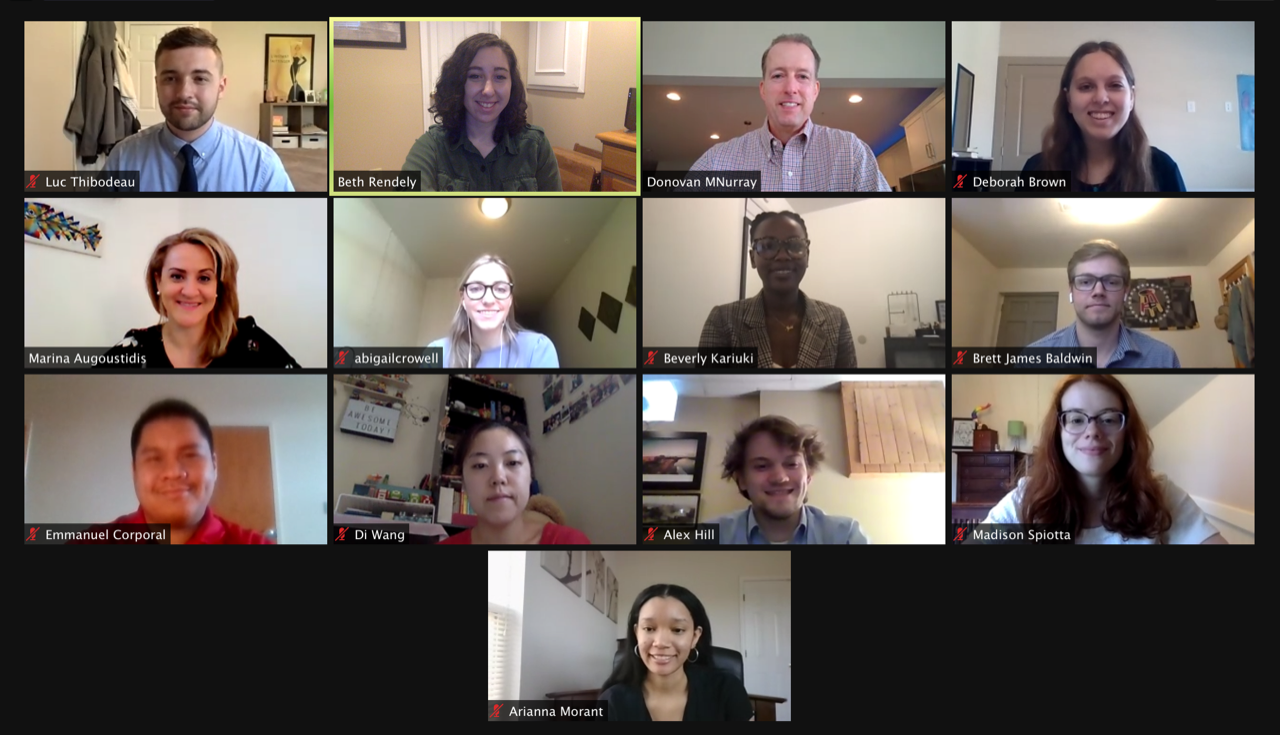 The Center for Global Business organized a virtual site with the Maryland Port Administration for fifteen Maryland Smith students as part of the first International Business (IB) Trek in Maryland on Friday, March 26, 2021. The IB Trek in Maryland provides opportunities for undergraduate and graduate Maryland Smith students to learn from Maryland-headquartered companies about how they do business across borders, their industry and business culture, and all while highlighting international business right here in Maryland.
Students met with Donovan Murray, the general manager of the Intermodal/Trade Development Department of the Maryland Port Administration. Murray spoke about the Maryland Port Administration's current operations as well as its plans for the expansion of the Port of Baltimore. This seven-year endeavor includes adding four more Super Post-Panamax Cranes to handle ultra-large container vessels and expanding the nearby Howard Street Tunnel to support double stacking on rail lines to ship cargo to the Midwest after it has arrived at the Port.
As well as explaining Baltimore-specific port logistics, Murray also delved into the history of cargo ship development, explaining how and why carriers built larger and larger ships to capture more of the market share, and the creation and usage of the Panama and Suez Canals. This sparked discussion concerning the recent Suez Canal crisis and how disruptions from both the Suez Canal and COVID-19 have required the Port to focus on supply chain resilience.
The IB Trek in Maryland is also intended to introduce students to potential career paths in international business. One sophomore majoring in international business and supply chain indicated that "participating in the IB Trek could help me understand the career areas I want to be a part of… This would also help me figure out what opportunities I should be seeking out now and what skills and abilities employers want to hire people for those positions."
The Center for Global Business is organizing the second virtual site visit of the IB Trek in Maryland on Friday, April 30 with FlyWheel Digital, a Baltimore-based, global marketing focused on accelerating brand growth in digital retail.
This event was supported in part by a Title VI grant program known as CIBE (Centers for International Business Education) administered by the U.S. Department of Education.
— By Beth Rendely, MS candidate for Supply Chain Management
Media Contact
Greg Muraski
Media Relations Manager
301-405-5283  
301-892-0973 Mobile
gmuraski@umd.edu 
About the University of Maryland's Robert H. Smith School of Business
The Robert H. Smith School of Business is an internationally recognized leader in management education and research. One of 12 colleges and schools at the University of Maryland, College Park, the Smith School offers undergraduate, full-time and flex MBA, executive MBA, online MBA, business master's, PhD and executive education programs, as well as outreach services to the corporate community. The school offers its degree, custom and certification programs in learning locations in North America and Asia.