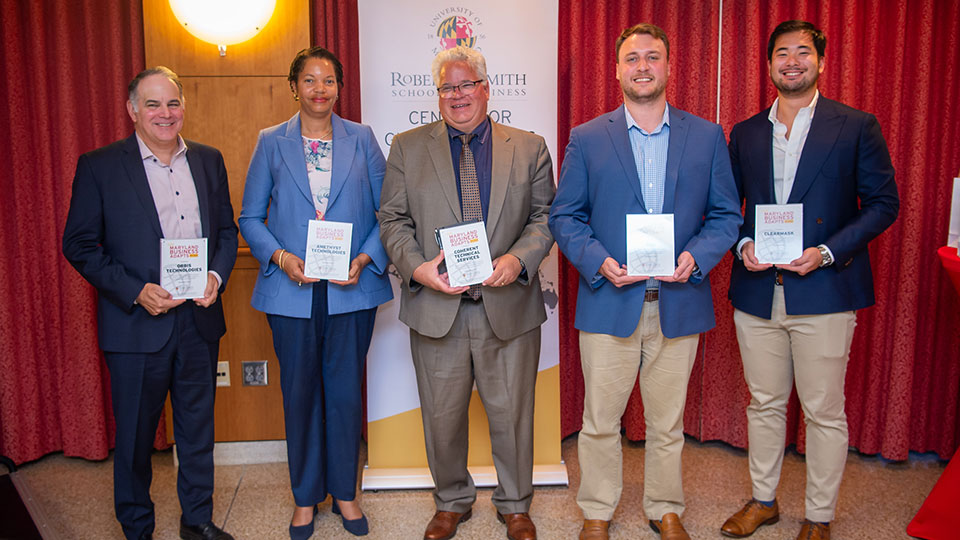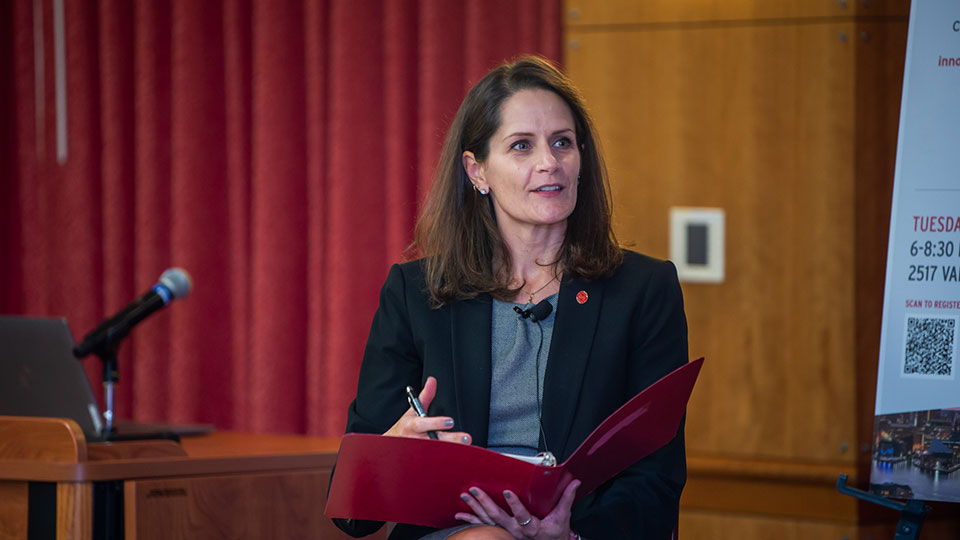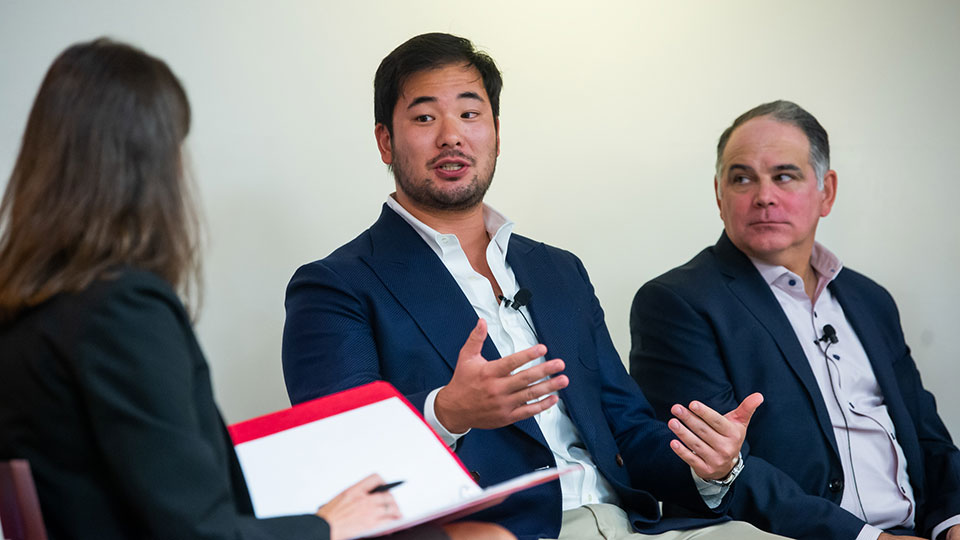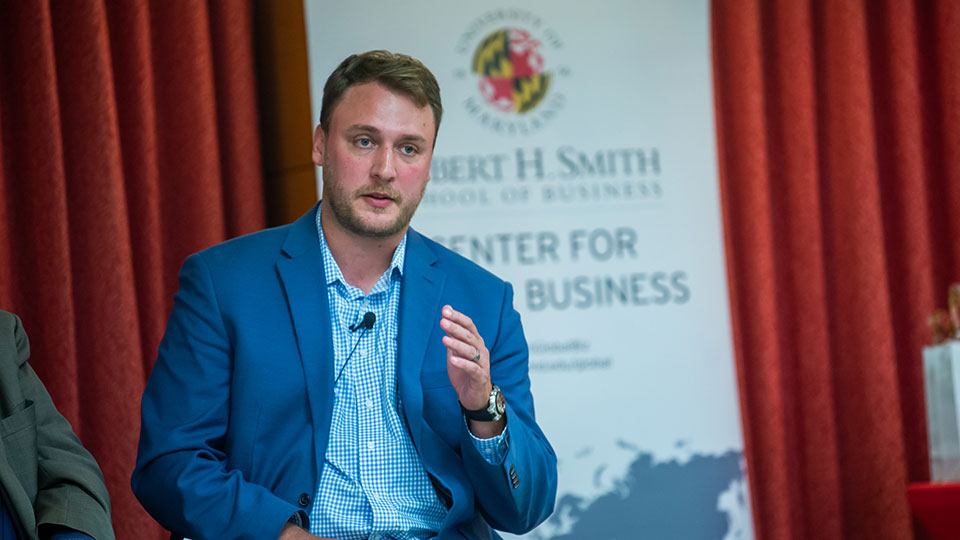 In the midst of the COVID-19 pandemic, businesses around the world faced unprecedented pressure to safely maintain their operations. Many struggled, but five Maryland-based exporting companies have shared how they rose to the challenge.
The companies–Amethyst Technologies, ClearMask, Orbis Technologies, Coherent Technical Services and WSC, Inc.–and their respective representatives, were recognized for their business strategy adaptations during the COVID-19 pandemic, at Maryland Business Adapts. held in person and streamed online on Sept. 20, 2022. The event was hosted by the Center for Global Business (CGB) at the University of Maryland's Robert H. Smith School of Business.
Now in its second year, the event is the culmination of a competitive nomination process intended to celebrate small and medium-sized enterprises that demonstrated continued commitment to exporting or working across international borders. The honorees' stories will also be presented as case studies for future classroom use at Maryland Smith. 
"The work of the Center and events like this that bring together industry and Maryland Smith
support many of the strategic pillars of the school. This event is a great example of a program that both supports student learning and creates opportunities for business professionals to connect with the school," said Maryland Smith Dean Prabhudev Konana in his opening remarks during the event. "We're proud to recognize these five inspirational companies for their resilience and to welcome them to the Maryland Smith community."
Serving as moderator for the hour-long panel discussion, CGB Executive Director Rebecca Bellinger asked the five honorees how each of them displayed resilience in the face of uncertainty. Following the discussion, attendees were invited to take part in a reception at Van Munching Hall.
Those accepting awards during the event included:
Amethyst Technologies (global health, clinical diagnostics, analytical testing, research, and pharmaceutical manufacturer) and Founder and CEO Kimberly Brown, for stepping up during the pandemic by developing laboratories, healthcare centers and manufacturing facilities, and providing quality assurance, compliance services and business process improvement for clinical trials, global health,  manufacturing and research in the U.S. and abroad.
A major challenge throughout the pandemic, Brown said, "was overcoming supply chain disruptions. The focus was on creating redundancies, creating a network of suppliers and constantly reviewing financial numbers to stay ahead of any potential setbacks.
We had to be cognizant of the difficulty of getting supplies and we had to ask a lot of questions, focus on the pricing and think about flexibility. You have to stay on top of the numbers and we were updating everything as needed. The more uncertainty we had the more often we had to review and revise the numbers and develop key performance indicators to continue growing the business."
ClearMask (the world's first FDA-cleared and CE-marked transparent surgical mask) and Co-founder and CEO Aaron Hsu, for selling over 18 million masks worldwide since April 2020 and providing a safe and accessible alternative that helped improve communication in hospitals, schools, national and local governments, and businesses" around the world.
According to Hsu, the way forward for ClearMask during the pandemic "was predicated on relationship building and being unafraid to reach out to others when seeking solutions to complex issues."
"A big part of what we had done was building relationships with people and asking what they believed were big issues," said Hsu. "We don't know everything, but if we talk to experts about issues they believe are important, then we can figure out how different situations impact us directly and how we can create innovative solutions to overcome them."
Orbis Technologies (a Maryland-based component content management system (CCMS) software company helping clients produce publications and manuals) and President and CEO Brian Ippolito, for the company's pivot from a software company to an industry-leading content services provider. Ippolito said, "the company entered the pandemic with 85 employees, currently operates with 270 employees and expects to grow to 340 employees by the end of 2022". 
He credits the federal government's support of businesses through the Paycheck Protection Program (PPP), for helping the company navigate through its transformational period. Maryland Smith's Michael Faulkender, Dean's Professor of Finance and former Assistant Secretary for Economic Policy at the U.S. Department of Treasury during that time, was integral to the development and rollout of the PPP.
"The PPP program did something none of us expected: it provided calm. It allowed leadership to pause, collect their thoughts and work their way out. It gave small businesses a real fighting chance," said Ippolito. "I can't even imagine how many would have gone under had the government not responded. For our businesses, it was an enormous help."
WSC, Inc. (leaders in engineering power plant simulation and assisting in the development and construction of new nuclear power plants worldwide), and Business Analyst Tommy Utmel, accepting the award on behalf of CEO George Utmel, for ensuring long-term growth amid uncertainty by focusing on advancing web-based and cloud simulation technology and by maintaining its strong commitment to customer service.
Utmel stressed the importance of preparing for the next potential crisis. COVID-19, he said, "served as a wake-up call for businesses and individuals alike, to plan emergency protocol and materials".
"I do believe it's not if, but when another event happens. It may not be a global event, but it could be something that requires your company to revolutionize how you do business. It's a necessity to be able to act, react, adapt and be flexible. (If)You were a part of a company that was hesitant to do those things, it took a long time to get back on your feet. Ask the what-if questions, and think about what could happen."
Coherent Technical Services (delivering technical solutions and services to the U.S. Department of Defense, Department of Transportation and commercial customers), and Tom Sanders, managing director and co-founder, for creating solutions to remotely installing aircraft software.  
"Our employees figured out how to remotely add software to that aircraft in Canada and help those on the ground over there. It was quite a challenge not knowing immediately how to respond or what potential regulations looked like, but the solution we came up with has turned into a way of business for us," said Sanders. "Our software workers used to have to travel and now we use these tools on a regular basis around the world." 
Maryland Business Adapts was supported in part by a Title VI grant program, CIBE (Centers for International Business Education), administered by the U.S. Department of Education.
Media Contact
Greg Muraski
Media Relations Manager
301-405-5283  
301-892-0973 Mobile
gmuraski@umd.edu 
About the University of Maryland's Robert H. Smith School of Business
The Robert H. Smith School of Business is an internationally recognized leader in management education and research. One of 12 colleges and schools at the University of Maryland, College Park, the Smith School offers undergraduate, full-time and flex MBA, executive MBA, online MBA, business master's, PhD and executive education programs, as well as outreach services to the corporate community. The school offers its degree, custom and certification programs in learning locations in North America and Asia.