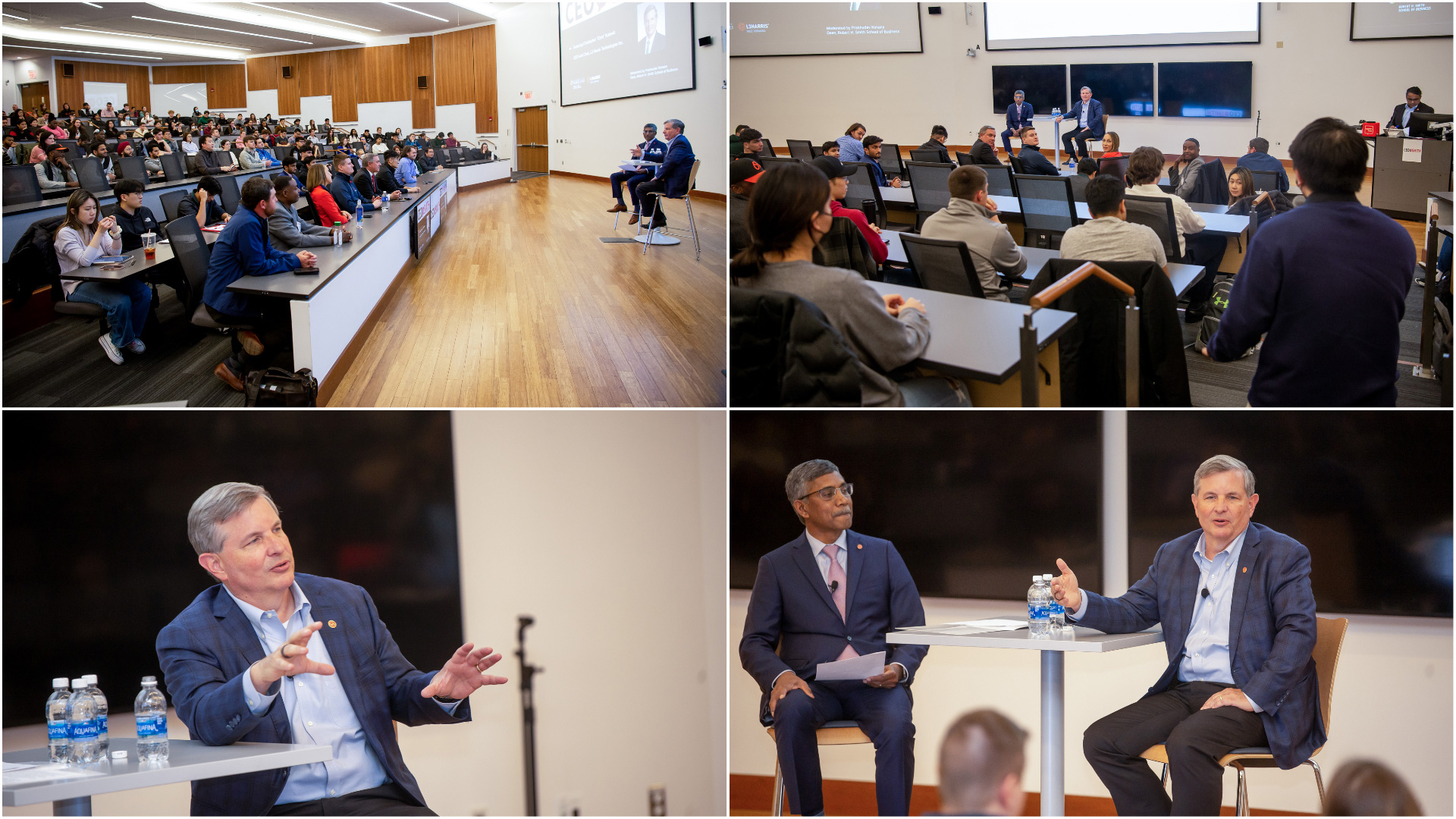 Decisive leadership, innovative solutions and trusted disruption. That's what Christopher Kubasik '83, chair and CEO of L3Harris Technologies, believes is required to navigate a rapidly changing business environment.
Drawing from his over 30 years of experience in the aerospace and defense industry – including his lessons learned from leading 47,000 employees at L3Harris as it delivers end-to-end technology solutions for mission-critical needs in the space, air, land, sea and cyber domains – Kubasik shared his professional insights with an audience of students during the CEO at Smith event hosted by the University of Maryland's Robert H. Smith School of Business on Tuesday, March 7.
The event, held at the Edward St. John Learning and Teaching Center, featured a conversation between Kubasik and Smith School Dean Prabhudev Konana. It marks the first CEO at Smith event held since 2020 and the first held in person since 2019.
It is also part of the leadup to the Smith School's Oct. 27 Silver Jubilee celebration – the 25th anniversary of the official naming of the Robert H. Smith School of Business.
"We're honored to welcome Chris Kubasik back to the Smith School," said Konana in his opening remarks during the event. "This event is for the students to learn from and be inspired by an incredibly successful Smith School alum leading a very complex, high-technology firm and someone who embodies our mission of creating fearless leaders of the future."
Kubasik offered students the following career advice:
Take care of your people. In a large organization, it's possible that not every employee wants to be the CEO or constantly move up. Understand the different motivations employees have and don't just hold them to an up-or-out mentality. "Change your mindset and realize that different people have different aspirations. Put them in a position where they can be successful," said Kubasik.
Listen up. One of the most essential skills for students to develop is the ability to listen. It's something that doesn't come naturally to many people, Kubasik said. "When I meet with a customer for a half-hour meeting, I let them talk first. If they talk for 28 minutes and I talk for two, I think that's the best-case scenario. I encourage you to listen," he said.
Put in the work. L3Harris board member and retired U.S. Air Force Gen. Lloyd Harris is often asked, 'How did you become a four-star general?' His response: 'You don't ask to become a four-star general, you do the job and the opportunity presents itself.' The same applies to individual careers, Kubasik said. "If you're doing a great job, people will recognize you."
Get in the arena. The increased demand for hybrid or remote work is forcing leaders to adjust and find the right balance for their organizations, said Kubasik. However, coming into the office enables employees to meet people, collaborate and position themselves to further their careers. "It's a personal choice, but earlier in your career, I think you'll want to be part of a company and be onsite. That human interaction and the ability to take on challenges, that's how you move up," he said.
Follow the four simple rules. Be a hard worker, be a team player, have a great attitude and get results. "If you can do those four simple things, I think your career opportunities are endless," said Kubasik.
Media Contact
Greg Muraski
Media Relations Manager
301-405-5283  
301-892-0973 Mobile
gmuraski@umd.edu 
About the University of Maryland's Robert H. Smith School of Business
The Robert H. Smith School of Business is an internationally recognized leader in management education and research. One of 12 colleges and schools at the University of Maryland, College Park, the Smith School offers undergraduate, full-time and flex MBA, executive MBA, online MBA, business master's, PhD and executive education programs, as well as outreach services to the corporate community. The school offers its degree, custom and certification programs in learning locations in North America and Asia.