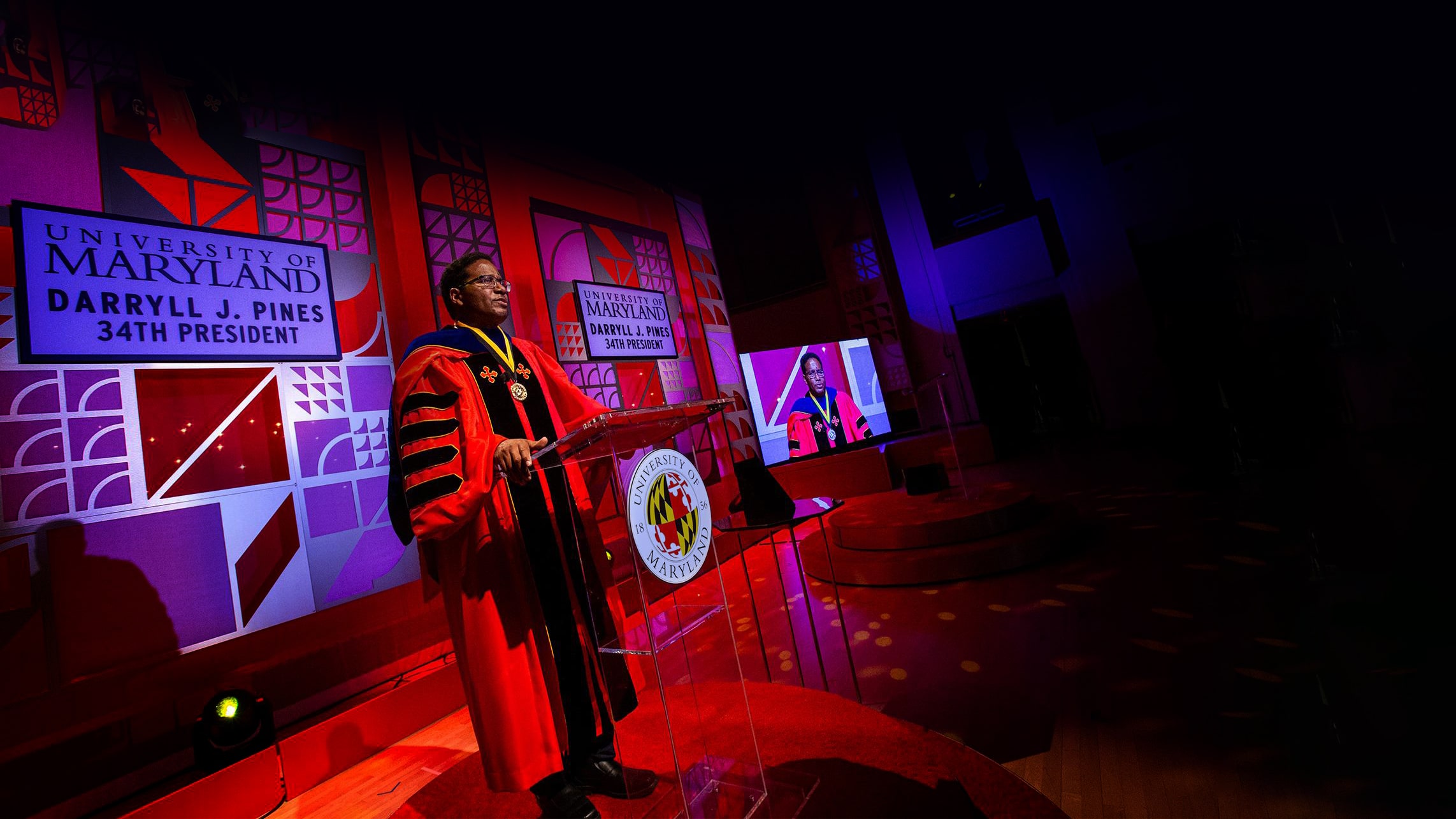 University President Darryll J. Pines sent the following message to the campus community this week, on the day of his investiture:
Earlier this morning, I had the personal and professional honor of a lifetime bestowed upon me as University System of Maryland Chancellor Jay Perman and Chair of the Board of Regents Linda Gooden presided over my investiture as the 34th president of the University of Maryland.
This occurred as the world is experiencing a time of remarkable disruption and uncertainty. We are in the midst of two pandemics: both COVID-19 and long-standing racial injustice. The recent trial following the senseless death of George Floyd is a stark reminder that our world is still plagued by the long-festering wounds of racial injustice, highlighted by the Black Lives Matter movement. It is also a reminder of how inequality remains a pervasive threat to the lives and liberties of millions of people in this country and around the world.
There are other grand challenges as well. Climate change continues to be the defining issue of our time. The Me Too movement highlighted the issue of sexual harassment and sexual abuse. These and other challenges are reorienting societal norms for the long-term and reshaping our future. They are having an unprecedented effect on the health, well-being and economic life of humankind, and these effects will be long-lasting.
Uncertain times require us to be bold. This is our time to reinvent our university. This is the time to examine the future of learning to enhance the student experience; the future of work for faculty and staff to reach a new level of excellence; and a new model of research to accelerate and advance science and human understanding.
We will embark on our journey to reimagine our university together as we begin our strategic planning focused around inclusive excellence. This is the time to think strategically, to discover and implement 21st century ways to improve the quality of instruction, research, administrative operations and spirit of community. This is the time to vigorously promote research and scholarship, and to enhance the student experience and our work environment in significant ways.
I look forward to engaging with the entire community around these shared goals—to re-imagine our campus and community as a modern flagship research university in the third decade of the 21st century.
Today, I am taking the liberty to announce five bold actions that reflect our mission, values, traditions and culture and reinforce my two priorities that I announced on my first day as President: ensure excellence in all that we do; and create a more inclusive, multicultural community for all.
Accelerate Climate Action: Net Zero Carbon-Neutral Campus by 2025
It is fitting that today's investiture ceremony was convened on the 51st annual Earth Day, and on the day that the Paris Agreement was opened up for signature in 2016. This day reminds us that our global fight against the climate crisis is far from over. Thus, we must continue our academic leadership in research, education and service relative to climate science, sustainability and environmental stewardship of our natural resources. I challenge our faculty to become leaders in developing solutions to one of the grand challenges of our time. We all must become climate ambassadors.
Today, I am announcing that the University of Maryland will accelerate its Climate Action Plan goal to become a net zero carbon-neutral campus within the next four years. Through a combination of sustainability measures and the strategic purchase of carbon credits, UMD will reach this goal by Earth Day in 2025.
In addition, I am proud to announce plans to replace our university-owned fleet—over 1,070 fossil-fuel vehicles—with an all-electric fleet by 2035.
Expand Faculty Diversity
Diversity is inextricably linked to excellence. We want our student body to be taught by the highest quality faculty who reflect our values and advance our journey of inclusive excellence.
I am proud to announce an investment of $40 million into a new initiative to recruit and retain tenured and tenure-track faculty from underrepresented backgrounds to our campus. The Faculty Advancement at Maryland for Inclusive Learning and Excellence (FAMILE) Initiative will attract over 100 tenure and tenure-track faculty to our institution, and ensure that our students will interact and learn from scholars that not only look like them, but reflect our values and ensure our success for decades into the future.
Honor Trailblazers in Maryland Athletics
In a few months, we will open a new facility at Cole Field House, a project that transformed a beloved basketball arena into a first-of-its-kind facility that will ultimately bring together research, science, athletics and entrepreneurship under the same roof. A signature part of this new facility is a football performance center. But this new addition will do more than enhance the performance of the next generation of student-athletes, it will speak to our commitment to our history, social justice and providing opportunity for all.
I am proud to announce that with approval from the Board of Regents, we will name the football performance center in honor of two pioneering figures who officially broke the color barrier in the Atlantic Coast Conference (ACC) in the sports of basketball and football. Mr. Billy Jones was the first African-American to play basketball in the ACC, debuting at the University of Maryland in 1965, where he played in historic Cole Field House. Mr. Darryl Hill was the first African American to play football in the ACC, starting with a truly historic season here at Maryland in 1963. The determination, courage and strength of these two individuals helped pave the way for thousands of Black student-athletes today.
The Cole Field House project would not have been possible without the support of donors—notably a generous leadership gift from Kevin Plank, the founder and executive chairman of Under Armour.
Mr. Plank's support of this project made this honorific naming possible. In fact, it was his idea to forego the opportunity to put his own name on this facility to honor these two trailblazers. That kind of visionary leadership and selflessness demonstrates Mr. Plank's deep commitment not just to his alma mater, but to social justice.
You can read more about the journeys of Billy Jones and Darryl Hill here.
Invest in Discovery, Innovation, Entrepreneurship and Economic Development
The University of Maryland is one of the top research institutions in the world. To maintain our premier leadership in discovery, research and translating ideas from the benchtop or bedside to market, we must commit to a continual investment in a rich research ecosystem.
Today, I am announcing a plan to invest $200 million to strengthen our research, expand activities in innovation and entrepreneurship, and boost our economic development ecosystem in UMD's Discovery District. This investment will be made to target fields such as K-12 education, public health, bioscience, neuroscience, climate science, data science, artificial intelligence and machine learning, computing and technology, and quantum science.
Just last month, IonQ announced its intention to go public as the first pure-play quantum computing company. This company was born here, on our campus, out of research conducted in the Joint Quantum Institute, and now IonQ is headquartered within our Discovery District. Last night, we launched the Quantum Startup Foundry to help catalyze the next great quantum breakthrough. This multi-million dollar investment will bring together resources and support needed for startups to advance global innovations in quantum.
With this investment, and the strategic investments made by the governor, General Assembly and past UMD leaders into our research enterprise, we have the opportunity to build on our strengths and to become "the Capital of Quantum."
Click here to learn more about how UMD is emerging as the Capital of Quantum.
Expand Arts Programming Across Campus: Arts for All
Earlier this week, we hosted an event called "The Art of Humanizing Grand Challenges." This event, led by the College of Arts and Humanities, reminded us that grand challenges affect real people in very personal ways, and the arts and humanities at Maryland offer people-centered solutions. We also hosted an event celebrating the life and legacy of David C. Driskell, one of the great American artists and Black art curators of our time.
Amidst the global pandemics that we are experiencing, our interconnectedness has emerged. But something else has emerged as well: a deep and powerful innate drive to create and consume art.
It is with great excitement that I announce the launch of the Arts for All initiative. This initiative seeks to ensure that the arts are woven into the very fabric of life at the University of Maryland so the Terrapin identity is writ large and forged strong. Arts for All will support innovation and partnerships to foster creative and scholarly excellence among campus arts practitioners and scholars, and engage all parts of the campus and local communities in collaborative creative practice.
We will build on existing excellence by launching an expanded arts festival in partnership with the city of College Park, hiring new faculty to extend curricula, research and programming that bring together art, technology and social justice.
This program represents a bold vision for the arts at UMD: innovative, fully inclusive, participatory, accessible and impactful.
To learn more about Arts for All, please visit our new website portal.
Moving Maryland Forward
In this moment in time, these five bold actions will help validate who we are, what we stand for, and where we are headed. We are a land-grant public research university that serves the public good for all of humanity.
This reminds me of Robert Kennedy's famous quote: "Only those who dare to fail greatly can ever achieve greatly."
Working together is the only way to Move Maryland Forward. When we work together, we are stronger. When we challenge ourselves to be our best, we make a difference. And when we take on risks, we fulfill our promise of greatness!
We are Terrapins, and together we are TerrapinSTRONG!
Media Contact
Greg Muraski
Media Relations Manager
301-405-5283  
301-892-0973 Mobile
gmuraski@umd.edu 
About the University of Maryland's Robert H. Smith School of Business
The Robert H. Smith School of Business is an internationally recognized leader in management education and research. One of 12 colleges and schools at the University of Maryland, College Park, the Smith School offers undergraduate, full-time and flex MBA, executive MBA, online MBA, business master's, PhD and executive education programs, as well as outreach services to the corporate community. The school offers its degree, custom and certification programs in learning locations in North America and Asia.