International Education Week (IEW) was back in person in 2022 for the Smith community during the week of November 14-18. IEW is a joint initiative of the U.S. Department of State and the U.S. Department of Education "to promote programs that prepare Americans for a global environment and attract future leaders from abroad to study, learn, and exchange experiences."
This year, the Center for Global Business (CGB) celebrated with a week of activities recognizing the global mindset, experiences, research and global footprint of the Smith community.
IEW Week and 'Smith Goes Global' Kick-Off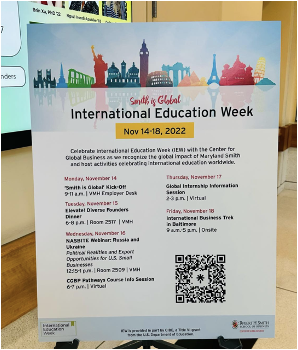 The week began with a celebratory kick-off in the atrium of Van Munching Hall.
Students enjoyed Krispy Kreme donuts and learned about the upcoming week's events on their way to class. This included the #IEWatSmith video campaign, where students, faculty and staff shared what having a global mindset means to them – in their own lives and in the workplace – and a giveaway of CGB and Smith merchandise. Watch the #IEWatSmith video campaign.
Elevate! Diverse Founders Dinner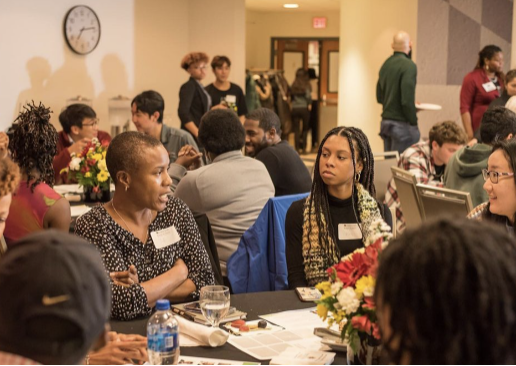 On Tuesday, CGB co-sponsored the Elevate! Diverse Founders Dinner to celebrate the entrepreneurial journeys of underrepresented entrepreneurs and discuss why going global is for everyone. The signature event's goal was to foster a sense of community among diverse entrepreneurs by giving them an opportunity to share their challenges and triumphs. Entrepreneurs Rashida Petersen '03, CEO and founder of 1847 Philanthropic and CGB board member, and Ngozi Irondi-Azubike '82, co-founder and COO of OBAN Corporation, among others, shared personal stories of their experiences in the corporate world with the Smith community, encouraging young entrepreneurs of all kinds to follow in their footsteps.
NASBITE Webinar: Russia and Ukraine: Political Realities and Export Opportunities for U.S. Small Business
The week continued as CGB hosted a watch party for the NASBITE Webinar: "Russia and Ukraine: Political Realities and Export Opportunities for U.S. Small Businesses," on Wednesday. Students and staff enjoyed lunch provided by the center while hearing from Matthew Edwards (director) and Sarah Nickel (Commercial Officer and Ukraine Desk Officer) of the U.S. Department of Commerce's Office of Russia, Ukraine, and Eurasia.
CGBP Pathways Course Information Session
Also on Wednesday, CGB introduced the Smith School's new one-credit course, BMGT 499I, designed to prepare students for the Certified Global Business Professional exam from NASBITE International. It will be offered virtually over the winter term with support from the center.
Watch the recording of the info session and register for the course this winter.
Global Internship Information Session
On Thursday, the center presented an information session on how students could take advantage of a guaranteed summer internship opportunity abroad. The global, for-credit internship opportunities are available in Sydney, Singapore, Auckland, Madrid and Dublin.
Applications are due February 22, 2023. Learn more on the CGB website.
International Business Trek in Baltimore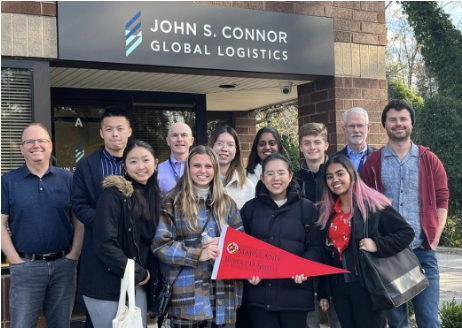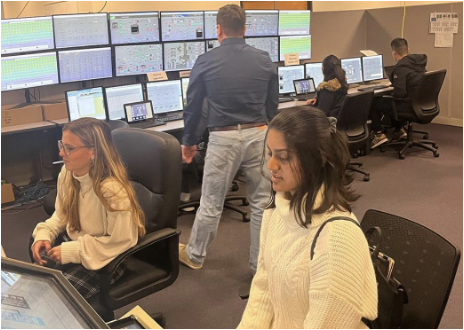 Finally, Friday concluded with the International Business Trek in Baltimore. Undergraduate and graduate students visited Western Services Corporations in Frederick. Md. and John S. Connor Global Logistics in Glen Burnie, Md. to hear how both companies operate globally. Students had the opportunity to operate a simulated nuclear power plant and tour an air freight warehouse facility.
International Education Week will return next Fall 2023. In the meantime, keep up with Center for Global Business events via our website, LinkedIn, Instagram, and Twitter.
Maryland Smith IEW events and opportunities are supported in part by CIBE, a Title VI grant from the U.S. Department of Education.
Media Contact
Greg Muraski
Media Relations Manager
301-405-5283  
301-892-0973 Mobile
gmuraski@umd.edu 
About the University of Maryland's Robert H. Smith School of Business
The Robert H. Smith School of Business is an internationally recognized leader in management education and research. One of 12 colleges and schools at the University of Maryland, College Park, the Smith School offers undergraduate, full-time and flex MBA, executive MBA, online MBA, business master's, PhD and executive education programs, as well as outreach services to the corporate community. The school offers its degree, custom and certification programs in learning locations in North America and Asia.