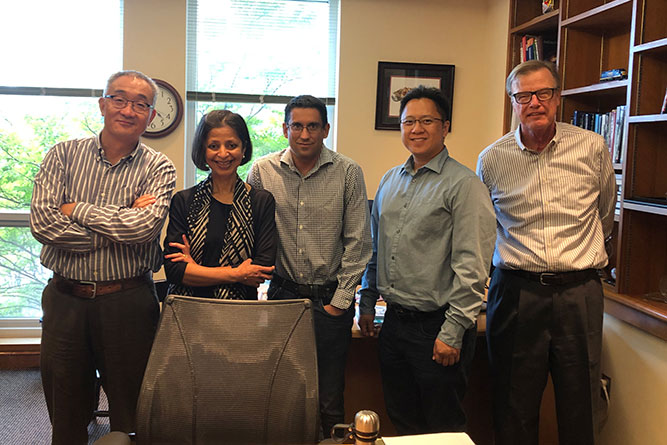 On September 23rd, CTADS hosted a visit by several members of the Intel analytics team: Shamin Shirodkar, Senior Director, Supply Chain Decision Solutions, Zhenying Zhao, Principal Engineer and Operations Research/Data Science Manager and Kalani Chieng, Business Operations Manager. Dr. Zhao, who was a post-doc at the Smith School from 2000 to 2005, delivered a presentation in Frank Auditorium for Smith School faculty and students. The presentation, Intel: End-to End Advanced Analytics for a Competitive Advantage, showed how Intel has used optimization and artificial intelligence techniques to create daily production and supply chain plans for its major fab and manufacturing operations.
Pictured above: Zhenying Zhao (Intel), Dean Ritu Agarwal, Shamin Shirodkar, (Intel), Kalani Chieng (Intel), Senior Associate Dean and CTADS Managing Director Michael Ball
Media Contact
Greg Muraski
Media Relations Manager
301-405-5283  
301-892-0973 Mobile
gmuraski@umd.edu 
About the University of Maryland's Robert H. Smith School of Business
The Robert H. Smith School of Business is an internationally recognized leader in management education and research. One of 12 colleges and schools at the University of Maryland, College Park, the Smith School offers undergraduate, full-time and part-time MBA, executive MBA, online MBA, specialty master's, PhD and executive education programs, as well as outreach services to the corporate community. The school offers its degree, custom and certification programs in learning locations in North America and Asia.