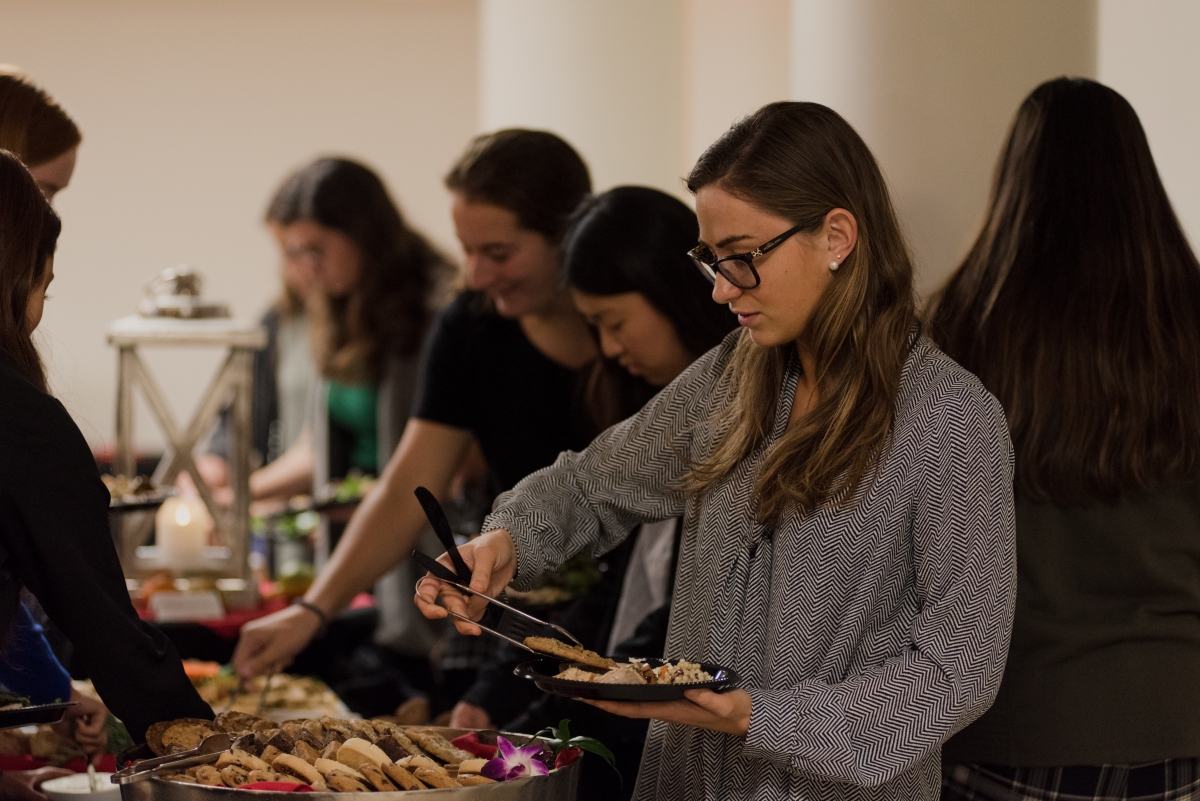 Starting a company is a hard but fulfilling journey, Julia Brown '13 told female undergraduates at the fourth annual Ladies First Fall Dinner.
The dinner discussion, hosted by the Dingman Center for Entrepreneurship, aimed to create an encouraging space for nonbinary and female students to brainstorm, share and discuss starting their own companies.
Brown flew in from California to speak about her startup, MindX, a company that combines neurotechnology and artificial intelligence to create a brain-computer interface. Sara Herald, director of venture development at the Dingman Center, interviewed Brown about her experiences as a young, female founder.
This year's dinner theme was imposter syndrome, a constant feeling of inadequacy that disproportionately affects women and minorities in business. Herald defined it as "the persistent inability to believe that one's success is deserved or has been legitimately achieved as a result of one's own efforts or skills."
Brown has raised millions in funding, formed partnerships with tech giants and built a company from the ground up. Nonetheless, she admits she still faces feelings of inadequacy.
"I feel like the poster child for imposter syndrome most of the time," said Brown. "It's very hard. I don't know that it is something that will go away."
Throughout the conversation, Brown shared advice for women in the startup world.
Here is some of that advice.
You need a clear vision. Even if your business plan isn't yet fully fleshed out, venture capitalists and potential team members need to understand your company's mission. MindX's catchy motto? "Replace point and click with look and think."
Find people who aren't challenged in their careers. Brown didn't let intimidation stop her from reaching out to top scientists to create MindX. Oftentimes, she said, the people at the top of their game are the ones looking for a fresh idea.
Overdo it on the confidence. When Brown decided to have more fun pitching, she ended up striking the right tone with potential investors. Her best line? "I'm going to beat Mark Zuckerberg."
Persistence and emotional resilience are the most important things. Mental health can be half the battle, Brown said. Having someone to talk to about self-doubt is crucial.
Don't be afraid to drop toxic team members. Break ties with people who don't respect you, Brown said. They hold you back – and she said she wishes she'd done it sooner.
Build relationships first. Early on, Brown reached out to venture capitalists for feedback, not money. When her initial seed round came along, it was much easier to pitch to a friend than a stranger.
Draw boundaries in your social life. In the beginning, Brown felt a tension between trying to keep up with friends and work on her startup. But after a while, she realized she'd have to let go of social pressure if she wanted to succeed. Luckily, her true friends understood.
Learn the unspoken rules. If you don't know a single person in San Francisco or what VC culture is like, try to get a sense of it. It's not written down in MBA textbooks and lectures.
Use the resources available to help you. Brown got her start at UMD through a social entrepreneurship class. Accelerators and incubators are also a great support system.
Believe that you can do it. Entrepreneurship is a field without hand-holding or a set path. It's hard, but awesome, Brown said.
Most importantly, if you have an idea that you believe in, Brown said, pursue it.
"Find other women who will support you and help you realize that you are talented, and that there is nothing you can't do if you put your mind to it," said Brown.
Learn more about Dingman Center events.
— Kira Barrett, Communications Writer at the University of Maryland's Robert H. Smith School of Business
Media Contact
Greg Muraski
Media Relations Manager
301-405-5283  
301-892-0973 Mobile
gmuraski@umd.edu 
About the University of Maryland's Robert H. Smith School of Business
The Robert H. Smith School of Business is an internationally recognized leader in management education and research. One of 12 colleges and schools at the University of Maryland, College Park, the Smith School offers undergraduate, full-time and flex MBA, executive MBA, online MBA, business master's, PhD and executive education programs, as well as outreach services to the corporate community. The school offers its degree, custom and certification programs in learning locations in North America and Asia.