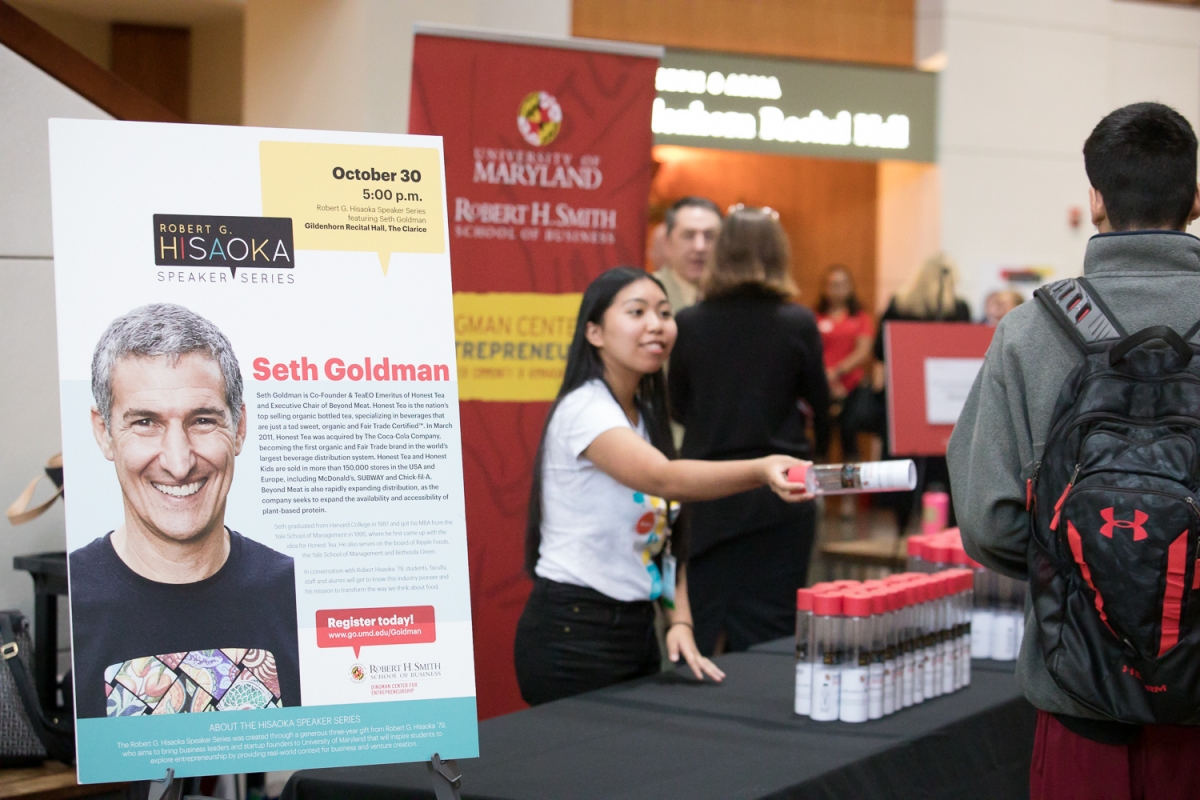 Food production will move in two directions to keep pace with consumer demand in the 21st century, Honest Tea co-founder Seth Goldman told faculty, staff and students on Oct. 30, 2019, at the University of Maryland.
"One direction is what I call the undoing of food," Goldman said during the Robert G. Hisaoka Speaker Series, organized by the Dingman Center for Entrepreneurship at Maryland's Robert H. Smith School of Business. The other direction is what he calls the "redoing of food."
As a food entrepreneur focused on healthy options, Goldman has helped launch popular brands in both categories.
Honest Tea involves the undoing of food because the product is simple and organic. "You can literally understand every ingredient, where it came from, how it was made, and how it was grown," he said.
Beyond Meat, a more recent venture for Goldman, involves the redoing of food because the company uses science to replicate the taste and texture of meat from plants.
Instead of focusing on the origin of the food — from plant or animal — researchers considered the chemical composition of meat from amino acids, water and other elements.
"All of those things exist in the plant kingdom," said Goldman, executive chair of Beyond Meat. "In fact, by definition, all meat comes from plants."
Other food companies have made progress in other categories, redoing milk, eggs and cheese. "The idea is you can make better health impacts and better environmental impacts if you're doing it well," Goldman said
He said food consumers will demand more options in the digital economy because they will have access to more channels.
"We're not restricted to just buying through two or three stores," he said. "We can buy through almost infinite channels because we can buy direct, we can buy online, we can buy from the drugstore, the convenience store."
At the same time, consumers will get their information from many alternate sources, not just the established media. "As a result, we expect many more options," he said.
The conversation was moderated by Robert G. Hisaoka '79, who established the speaker series through a three-year gift in 2017. During the chat, Goldman provided the following advice for students:
"You are modeling future behavior." Goldman told students that what they do in college will set a pattern for the rest of their lives. If they get involved, take risks and treat others well, then they will live the same way when they are older.
"Think about competition in three dimensions." The beverage debate in the 1990s was Coke or Pepsi. Goldman thought both options were too sweet and too similar, so he teamed up with a Yale management professor Barry Nalebuff and launched Honest Tea in 1998. "We're always thinking different," he said. "We never want to compete head to head."
"Eat the change." Goldman credits his son for revising a quote from Mohandas Gandhi. Instead of "Be the change you want to see in the world," Goldman tells people concerned about their environmental impact to "Eat the change." He said the slogan works well because food is the single biggest footprint that people have in the world. "If I can help people connect their concerns around the environment with their diet, that's a big step," he said.
Media Contact
Greg Muraski
Media Relations Manager
301-405-5283  
301-892-0973 Mobile
gmuraski@umd.edu 
About the University of Maryland's Robert H. Smith School of Business
The Robert H. Smith School of Business is an internationally recognized leader in management education and research. One of 12 colleges and schools at the University of Maryland, College Park, the Smith School offers undergraduate, full-time and flex MBA, executive MBA, online MBA, business master's, PhD and executive education programs, as well as outreach services to the corporate community. The school offers its degree, custom and certification programs in learning locations in North America and Asia.