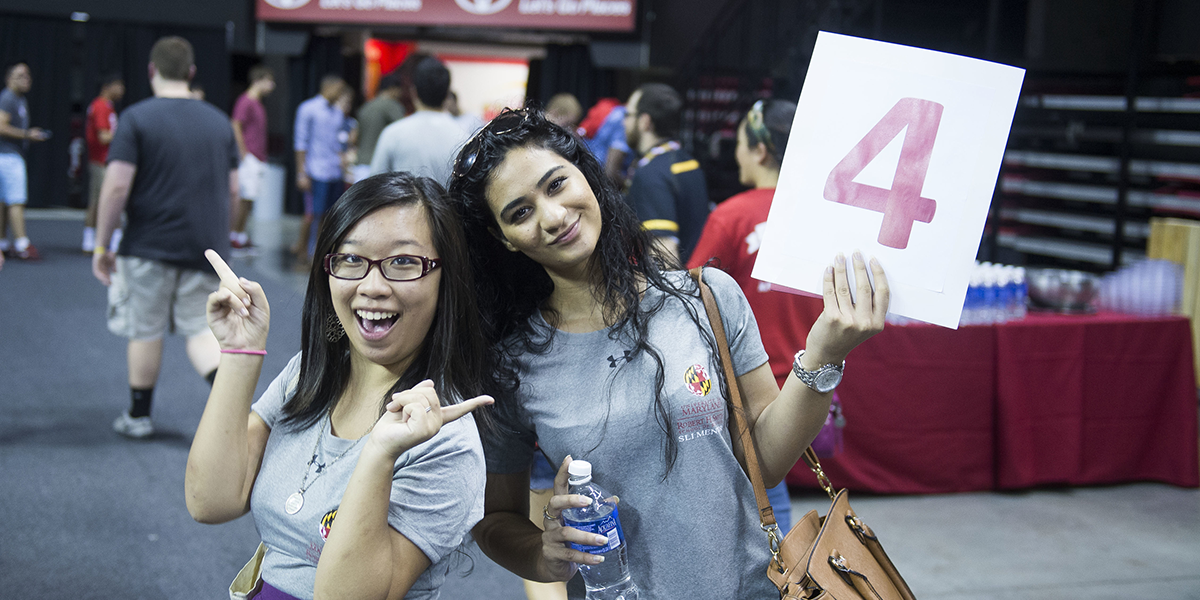 The Smith School's nearly 500 incoming freshman started their college experience with a good breakfast, loud music, and a chorus of cheering on Saturday, August 29 at the Xfinity Center. The Smith Leadership Institute, sponsored by Ernst & Young, gives students the opportunity to get to know each other and become oriented to the culture and community at the University of Maryland's Robert H. Smith School of Business.
Dean Alex Triantis and Associate Dean Victor Mullins welcomed students from around the country. "Like the University of Maryland's number one basketball team, if you want to remain number one you have to work hard," said Dean Triantis. "We're going to put you through all sorts of exercises to help you learn how to be better teammates and better leaders."
Staffed by student mentors and representatives of the Smith School and enthusiastic volunteers from Ernst & Young, the Saturday morning session included a keynote speech from career coach and motivational speaker Kaplan Mobray, author of "10 Ks of Personal Branding."
Mobray darted in and out of tables tossing balls to students, taking photos with them, asking questions, and keeping the energy of the room high. But he had a serious message to deliver as well. Mobray encouraged students to think about the words that defined them and how they would choose to define their personal brands.
"Everything you do builds up a reputation that defines who you are," Mobray said. "It starts now. How do others see you? The most important thing you can possess and manage is your reputation."
Mobray encouraged students to be accountable for their reputations and their personal brands by taking responsibility for how they present themselves online and in person. He challenged students to think about what made them worthy of people's trust, and what it was that people remembered about them. He urged them to become men and women known and recognized for their personal integrity and unique strengths.
"The recruiters who are going to hire you will get to know you based on your Facebook, your Instagram, your social media," said Mobray. "What will people think of you based on your posts? When companies are looking to hire you, they are making decisions based on what they see well before they meet you. Your integrity will come into question if your online persona is not consistent with who you are in person."
Ernst & Young has been sponsoring freshman orientation at Smith since 2009. The organization has been an active partner with the school for more than 30 years, sponsoring scholarships and classroom construction. Anthony Calderazzi '92, a partner at EY, lead EY recruiter and member of the Smith School Board of Advisors, said the company hires 50 to 60 Terps every year. "It's been tremendous to be so closely involved with the Smith School," Calderazzi told students. "It's great to be here at the beginning of your journey."
To learn more about the undergraduate program at Smith, visit: www.rhsmith.umd.edu/undergrad.
Rebecca Winner, Office of Marketing Communications
Media Contact
Greg Muraski
Media Relations Manager
301-405-5283  
301-892-0973 Mobile
gmuraski@umd.edu 
About the University of Maryland's Robert H. Smith School of Business
The Robert H. Smith School of Business is an internationally recognized leader in management education and research. One of 12 colleges and schools at the University of Maryland, College Park, the Smith School offers undergraduate, full-time and flex MBA, executive MBA, online MBA, business master's, PhD and executive education programs, as well as outreach services to the corporate community. The school offers its degree, custom and certification programs in learning locations in North America and Asia.