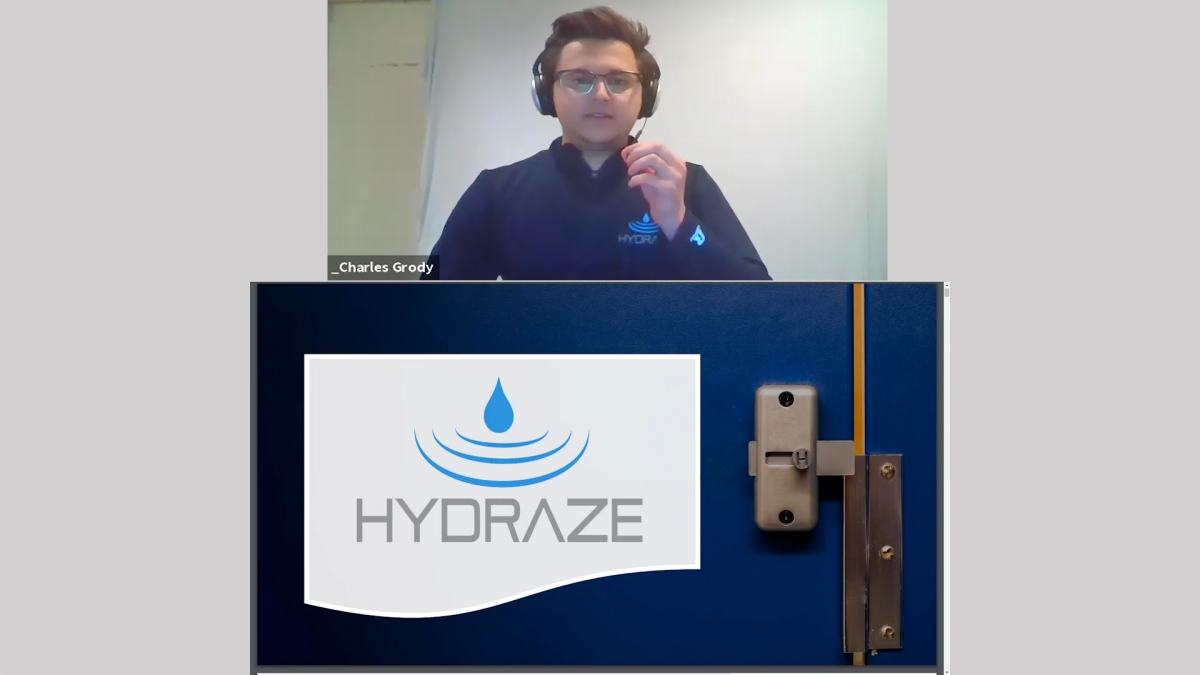 Water-Saving Automatic Flushing System Wins Pitch Dingman Competition's Top Prize
For Charles Grody '20, it was a toilet flush (or two...or three) that led to a lightbulb moment.
"We've all experienced using a public restroom when all of a sudden the toilet flushes automatically without us being finished yet," Grody said. "I wondered how much water went to waste because of it."
Fueled by this curiosity, Grody partnered with fellow A. James Clark School of Engineering seniors Jack Sturtevant '20 and Tuvia Rappaport '20, and Maryland Smith senior Roger Mao to create Hydraze, an improved automatic flushing system for use in commercial buildings that aims to eliminate "phantom flushing" and save millions of dollars in wasted water.
On Wednesday, the team took a large step toward that goal by securing the $15,000 grand prize at the Pitch Dingman Competition, UMD's annual "Shark Tank"-style business event. The team also took home the coveted audience choice award.
The competition, now in its 10th year, is hosted by the Dingman Center for Entrepreneurship at the Robert H. Smith School of Business.
Initially scheduled for early March, the competition was postponed and eventually moved online in compliance with the coronavirus outbreak restrictions. Despite the change, over 350 students, faculty, alumni and guests tuned in on Zoom to watch teams vie for $30,000 in seed funding.
"Our mission is to make entrepreneurs of all kinds more successful, and our Dingman Center team remained committed to providing students with a spotlight to pitch their ideas," said Holly DeArmond, MBA '17, Dingman's managing director. "To our entrepreneurs: Your hustle, perseverance and resilience are to be commended."
As in previous years, Pitch Dingman applications opened at the start of the academic year, with a late-September quarterfinals phase where alumni entrepreneurs selected 10 semifinalists. In the November semifinals, the field was narrowed to five finalists.
At Wednesday's finals, a panel of judges composed of entrepreneurs and innovators assessed each startup's current level of success, plan for using the funds and overall growth potential.
Hydraze, the water conservation company whose automatic-flushes are prompted not by a motion sensor, but a mechanism on the latch of the bathroom stall's door, plans to use the Pitch prize money for marketing and development.
The event's other winners include:
$7,500 Second Prize: AlgenAir, a startup founded by Daniel Fucich, PhD '20 (Marine Estuary and Environmental Science) and Kelsey Abernathy, a doctoral student at the University of Maryland, Baltimore, featuring an algae-powered air purifier called the aerium that removes dust and allergens from the air and produces as much oxygen as 25 houseplants.
$3,500 Third Prize: Door Robotics, a drone with Roomba-like autonomy featuring an integrated virtual reality camera system and easy out-of-the-box software for hobbyists and experts alike, created by public health sciences senior Josh Ermias '20.
Also pitching in the finals were BraceLint, a single-use, patent-pending version of a lint-roller that offers more portability for on-the-go needs, produced by Daniel Raithel '20; and SweetsbyCaroline, a catering business launched by Caroline Ta '21, that specializes in French macarons, cakes and customizable baked goods.
BraceLint and SweetsbyCaroline were each awarded $1,000 for "pandemic perseverance."
David Quattrone MBA '05, co-founder and CTO of CVENT, and wife Robyn, accompanied by credit union SECU and Parsons Ventures, donated to help fund the competition.
Quattrone also served as a judge for the competition. He was joined by Matt Fishlinger '07, founder & COO, Gramercy Risk Holdings; Aurelia Flores, founder & CEO, Perfect Digital Connect; Tom Parsons '93, MBA '10, president of Parsons Ventures, Inc.; Angela Singleton, director of TEDCO Builder Fund; and Becky Smith, EVP, chief strategy and marketing officer at SECU.
Media Contact
Greg Muraski
Media Relations Manager
301-405-5283  
301-892-0973 Mobile
gmuraski@umd.edu 
About the University of Maryland's Robert H. Smith School of Business
The Robert H. Smith School of Business is an internationally recognized leader in management education and research. One of 12 colleges and schools at the University of Maryland, College Park, the Smith School offers undergraduate, full-time and flex MBA, executive MBA, online MBA, business master's, PhD and executive education programs, as well as outreach services to the corporate community. The school offers its degree, custom and certification programs in learning locations in North America and Asia.