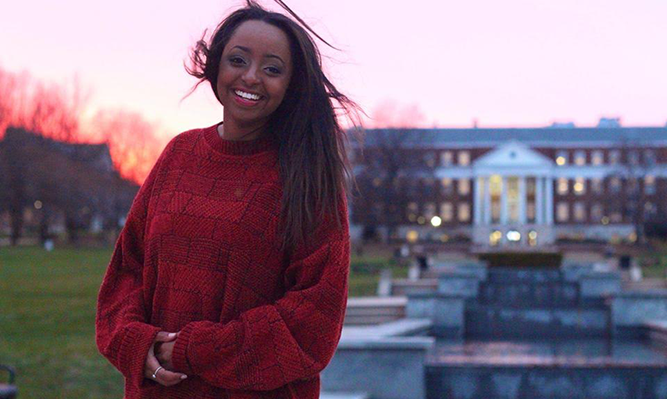 Victor Mullins, associate dean of the undergraduate program at the University of Maryland's Robert H. Smith School of Business, recently interviewed Fasika Delessa '18 to discuss her involvement with the SOCIAL INNOVATION FELLOWS PROGRAM and how it is part of her SMITH JOURNEY. Successful navigation of the Smith Journey requires involvement with colleagues, professors, professionals, clubs and organizations here at the Smith School, across campus and in the outside "real" world of business.
Here is what students are challenged to do in each of their four years at Smith:
Freshmen: "Build Your Brand" through the SmithStart program.
Sophomores: "Pioneer Your Path" to success by focusing on an overall academic and career strategy.
Juniors: "Command Your Career" to ensure that you are well positioned for your professional journey.
Seniors: "Embrace Your Experience" with an arsenal of tools, knowledge, and networks, so that you are able to embrace your experience and celebrate your success.
Dean Mullins: Tell us about your involvement with Social Innovation Fellows. Why did you apply for it and what are you learning?
Fasika: I applied to be a Social Innovation Fellow (SIF) program because I was excited at the prospect of being a part of a community of like-minded people - folks who are all interested in using business principles to build a better, more sustainable future. Through lively debate led by our professor, Dr. David Kirsch, we've been challenged to re-think the role of business in society and how we can use our skills to help companies deliver social impact. These discussions, debates, and healthy, civil dialogue are things that cannot be found in a textbook. Through our course work, I've learned that while majors like business, government, engineering and sociology are segregated by subject, in the real world, all sectors must work together to bring change. In class, of course we're learning critical business theories, such as stakeholder theory and theory of change, but the most resounding thing I've learned is how to be a better person; how to build a brand and career I'm proud of.
Dean Mullins: Tell us how your participation in Social Innovation Fellows is helping and/or has helped you navigate the Smith Journey.
Fasika: Through SIF, I have found a community and a home in Smith and the University at large. There's not a SIF class I've left where I'm not inspired and motivated by my fellow classmates and professor to take on the challenges our society faces and help in any way I can. From hearing directly from social entrepreneurs, we've seen up close the struggles individuals face when entering a business world not yet fully embracive of social impact. But, equally important, we've also heard their stories of triumph, resilience, and change. SIF rejects the notion that business and positive social impact are distinct or separate; rather, we're a community that constantly challenges norms and the status quo, eager to learn, help, and explore. My classmates motivate, inspire, and challenge me -- and because of this, my Smith Journey is more vibrant and full.
Dean Mullins: Reflect on your other involvements and activities here at Smith that have been a part of the Smith Journey.
Fasika: In my freshman year, I learned about the Center for Social Value Creation (CSVC) and it has changed my trajectory in the Smith School. Through CSVC, I gained a lifelong mentor and got involved in ChangeTheWorld Consulting, where we consulted a nonprofit in the Prince George's County area on marketing and strategy. CSVC exposed me to the vibrant nonprofit community, the social enterprise space, and socially responsible businesses. I've also been a part of the Diversity Empowerment Council and terpAMA. All of these activities have led me to join SIF, and have along the way kept me in company of so many change-makers and awe-inspiring individuals.
Dean Mullins: What advice would you give to your fellow Smith peers and community?
Fasika: I still remember my first few days as a freshman on campus -- feeling lost, excited, hopeful and terrified -- all at the same time. Over the course of my freshman year, I sought advice from professors, faculty members, and older students on campus about where to start, and how to best navigate my journey--so this question is one I've asked others many times before. It's a bit surreal that I'm now giving others advice when I've so often been, and continue to be, on the other side! But nonetheless, my piece of advice is to try everything! Get involved with a club even if you think it doesn't perfectly align with your major, go to an event where you don't know the subject well, take advantage of the distinguished, world-renowned Smith faculty you have at the edge of your fingertips and email some to talk! You'll be surprised by how many people want to help you. The Smith community is loyal, helpful, and wants to see you succeed. Find out where you fit, and once you get along in your own journey, don't forget to help others who will turn to you for help!
Dean Mullins: What is your dream?
Fasika: My family and I immigrated from Ethiopia when I was two years old, close to 20 years ago. Much of my family still lives in the capital of Addis Ababa. My two brothers and I are the first in our family to go to college in the United States. This is all to say that my story is similar to the stories of so many first-generation children; we are immensely grateful for the opportunity to learn, be free, and have the privilege of attending a University like ours.
My parents raised my two brothers and me to always appreciate what we have, to work hard, and to treat others how we'd like to be treated. Through numberless selfless decisions all in the pursuit of giving their children a better life, they've made incalculable sacrifices over a lifetime, and my dream is to build a life and career that is worthy of all those choices.
Dean Mullins: Why are you passionate about the Smith School?
Fasika: Frankly speaking, I wouldn't be honest if I said I was passionate about the Smith School from the very start of my journey. It has been a long, non-linear journey. I came to the University of Maryland fearful of not fitting in for many different reasons, particularly as a business student. However, over the years, with the help of countless mentors inside the classroom and out, I now am so grateful to be in the Smith community. I encourage all students who may be skeptical or nervous about finding their place to simply find what works for them; realize you do not have to abandon your ideals, passions, or values for your major. There are countless business leaders who are leading the fight to expand civil rights, sustainability, workers' rights and the like. Business skills can be used to better our society, and it takes the demands of consumers, and the leaders who have a seat at the table, to consider all stakeholders when decisions are made. Business schools across the country and world are training the next generation of leaders, and the more diverse, inclusive and passionate we are -- the better off we will all be.
---
Students in one of the Smith School's many one-year Fellows programs join a cohort of like-minded peers to engage in an intense study of a specific area of business, ranging from major-specific topics such as finance and supply chain to general interests such as sport management or global consulting.
Out-of-the-classroom and reality-based learning experiences are at the forefront of the Fellows programs. Whether through special speakers, workshops, site visits, case competitions, or networking events with corporate partners and Smith alumni, students gain practical insights into the business community.
Small class sizes in reserved Fellows sections of business courses are a hallmark of all Fellows programs, facilitating strong working relationships among Fellows students and the faculty who advise and teach in the programs. Students engage, explore, and experience the Smith Community through Fellows!
For more information on the 15 unique Fellows Programs available, go to: Smith Fellows.
Media Contact
Greg Muraski
Media Relations Manager
301-405-5283  
301-892-0973 Mobile
gmuraski@umd.edu 
About the University of Maryland's Robert H. Smith School of Business
The Robert H. Smith School of Business is an internationally recognized leader in management education and research. One of 12 colleges and schools at the University of Maryland, College Park, the Smith School offers undergraduate, full-time and part-time MBA, executive MBA, online MBA, specialty master's, PhD and executive education programs, as well as outreach services to the corporate community. The school offers its degree, custom and certification programs in learning locations in North America and Asia.