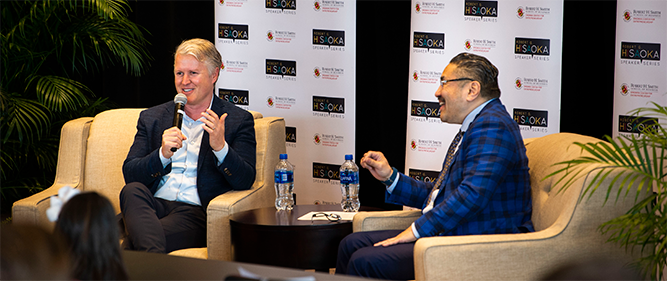 Entrepreneur Tom Davidson Shares Keys to Great Workplace Culture
Glassdoor and The Washington Post recognize EVERFI as one of the best places to work. Founder Tom Davidson said his Washington, D.C.-based education technology company is also one of the hardest places to work.
"People want to feel like they're part of something, and that they're part of something hard," he said April 10, 2019, during the Robert G. Hisaoka Speaker Series, organized by the Dingman Center for Entrepreneurship at the University of Maryland's Robert H. Smith School of Business.
Many people associate difficulty with unhappiness, but Davidson said those are very different things.
"I really hit on that big time when I was in college," he said in a conversation moderated by Robert G. Hisaoka '79. "I just always wanted to be a part of something that required an entire group of people to do it. You had to get the best out of each other, you wanted to root people on, and it didn't work if two of you fell down on it."
EVERFI picked a massive challenge for itself when the company launched in 2008. After touring the United States for two years and visiting low-performing schools, Davidson designed a third-party payer system that would bring corporate resources into the K12 education space to tackle big issues like financial illiteracy and summer learning loss.
"The education system is the only place, particularly in K12, where the private sector has fully taken a knee," Davidson said. "They're nowhere to be found."
His company, which has since expanded into higher education with courses on sexual violence and alcohol abuse prevention, now partners with over 4,300 corporate clients. Despite the rapid growth, solutions will not come quickly.
"It's taken us 400-plus years to disadvantage kids in these communities to the extent that we have," he said. "It's not going to play out overnight, the answer."
Davidson said the challenge keeps EVERFI employees engaged. "One of the things we've done a pretty good job of at EVERFI is building a strong culture," he said. "People are pretty psyched when they walk in the door every morning."
Davidson shared five other keys to building a strong workplace culture.
1. Be optimistic. Advancing technology creates potential for growth, and Davidson looks for employees who see the possibilities. "You need to be an optimistic person," he said. "That doesn't mean you have blue birds flying around your head. This isn't fun all the time, but the sense that things are far more possible — people just want to be around people who feel that way."
2. Be transparent. Davidson encourages his employees to deal with conflict head on, rather than undermining team members when they leave the room. "Stab people in the heart," he said. "Praise them in the back."
3. Be demanding. "Hold people to a level of excellence," Davidson said. "Always push people to the next level."
4. Be aware. Managers don't always know about personal challenges in people's lives, but they should recognize the realities of life. "That stuff is going on whether you know about it or not," he said. "Everyone is carrying around something with them."
5. Be present. People talk about "work-life balance," but Davidson rejects any model that puts work and life into separate buckets. Instead, people should live in the moment, wherever they are.
The Robert G. Hisaoka Speaker Series was created through a three-year gift from Hisaoka, who aims to bring business leaders and startup founders to the University of Maryland who will inspire students to explore entrepreneurship.
The Davidson conversation, the final installment in the 2018-19 series, drew an audience of about 160 faculty, staff, students and community members to the Edward St. John Learning and Teaching Center on the College Park campus.
Media Contact
Greg Muraski
Media Relations Manager
301-405-5283  
301-892-0973 Mobile
gmuraski@umd.edu 
About the University of Maryland's Robert H. Smith School of Business
The Robert H. Smith School of Business is an internationally recognized leader in management education and research. One of 12 colleges and schools at the University of Maryland, College Park, the Smith School offers undergraduate, full-time and part-time MBA, executive MBA, online MBA, specialty master's, PhD and executive education programs, as well as outreach services to the corporate community. The school offers its degree, custom and certification programs in learning locations in North America and Asia.