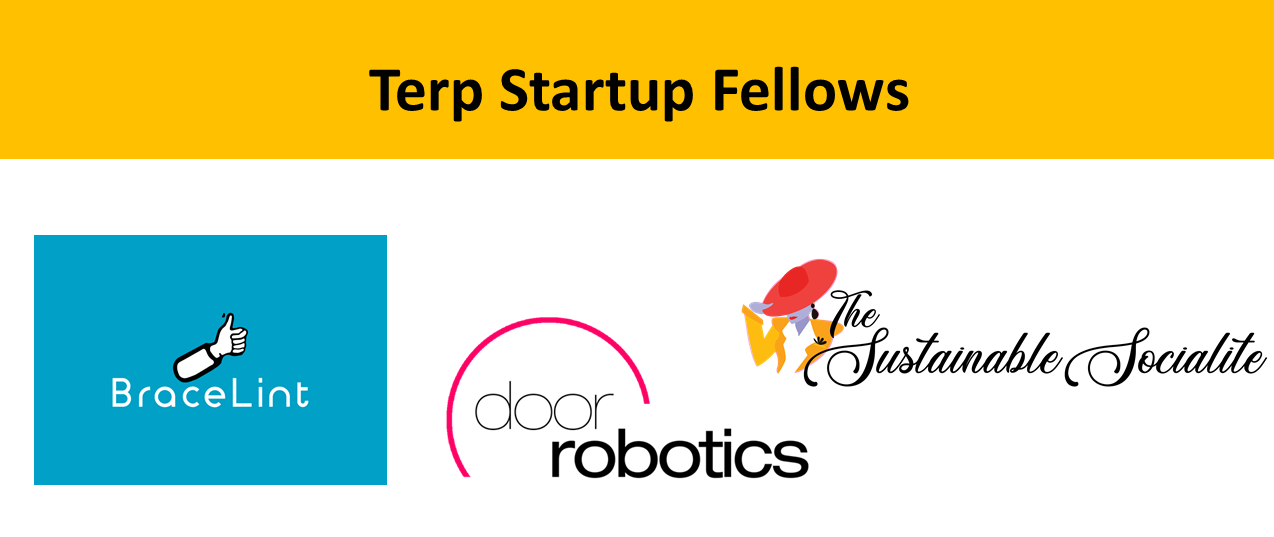 In fall 2019, the Dingman Center for Entrepreneurship at Maryland Smith decided to test a hypothesis: If exceptional student founders in our Terp Startup Accelerator continued to receive resources for the following academic year, could we help them bridge the gap and achieve necessary milestones toward commercialization? Thanks to a generous donation from Bill Boyle '81, chairman of the center's board of advisors, the center reached a positive conclusion with a successful pilot of the Terp Startup Fellows program. This month, the Dingman Center named the next three University of Maryland student founders as Terp Startup fellows.
The founders of BraceLint, Door Robotics, and the Sustainable Socialite will receive up to $20,000 in non-dilutive funding, coaching and co-working space to work on their businesses for 10 hours a week virtually and in-person with the Dingman Center. Terp Startup Fellows is a continuation of the center's Terp Startup Summer Accelerator, which provides a competitive stipend up to $5,000, co-working space and curriculum to 10-15 teams who spend eight weeks working to make progress on their businesses.
In the next year, the Dingman Center management team including Holly DeArmond, MBA '17, Sara Herald, MBA '11 and Lottie Byram will work directly with the selected fellows and their ventures.
"Our goal is to provide the resources, advice and connections that will help these students succeed in growing their ventures," said DeArmond. "While the aim is commercialization, no matter what happens with these companies, we hope to have empowered these founders to be resilient and highly skilled entrepreneurs."
Both an entrepreneur and investor, Boyle founded and ran his company, FiberGate, Inc., a Washington D.C. metro area provider of dark fiber services, for 17 years before successfully exiting in the fall of 2012. Currently, he invests and works with startup companies, many of which come through the Dingman Center Angels investor network. Some of Boyle's investments include Card Isle, DivvyCloud, Cobrain, Vitus Vet, DescribeIt, ZeroFox, Pendo.io and Wild Kombucha.
Through his experiences as an entrepreneur and mentor to early-stage startups, Boyle has firsthand knowledge of the struggles founders face as they seek funding to grow and launch their ventures.
"My goal is to get them to where they can be a company producing some revenue, and then they can come to our angel group and get more funding and be successful in launching a company," said Boyle.
Student ventures selected to participate in the 2020-21 Terp Startup fellowship:
BraceLint is a commercial goods company that produces a patent-pending, flat-fitting, and pocket-sized version of the lint roller for professional pet parents on-the-go! We all have important moments in life where we need to dress to impress and Founder Daniel Raithel '20 is on a mission to keep you confident and prepared, even when you aren't. BraceLint has been through all of the Dingman Center for Entrepreneurship's programs including Spark, Dingman Jumpstart, New Venture Practicum, Dingman Fridays, Terp Startup Accelerator, Pitch Dingman Competition (top 5 finalist) and is now selling on Amazon along with testing in select stores throughout Maryland and Virginia.
Rathiel described entrepreneurship as a hobby turned obsession. He stated, "I am grateful to be surrounded by like-minded motivators who push me to perform at my best every day."
Door Robotics aims to use drone technology to improve the way we capture the world around us. On September 29, Door Robotics will be introducing their flagship product, the Vista. The first-ever 360° camera drone is positioned to facilitate the real estate market and alleviate the hassles associated with real estate photography. This product will autonomously fly through a fully open-door property and capture content with a 3D layout in a quarter of the time it takes with other solutions. Look for them on Kickstarter.
"We set out to create a hands-free way to capture the full scene," said co-founder Josh Ermias '20. "Drones made this easy, but why use a drone that can only see in one direction? We created a drone that sees everything—all 360 degrees. One drone, every angle."
The Sustainable Socialite sells curated vintage/vintage style pieces and upcycled fashion to help you stand out from the crowd while standing up to fight fast fashion. Founder Sarah Lader '20 believes in bringing life back to old clothing items to keep them out of landfills and to prevent people from shopping for new items, which contributes to 108 million tons of non-renewable resources wasted every year. Their items are handpicked, one-of-a-kind, and feature modern yet eclectic vibes to spice up your wardrobe!
"I started this as a hobby, a person who has always adored vintage style and the history it brought with it. But the more I looked into it, the more my passion for sustainability took over," said Lader. "The more I realized that every new piece of clothing I bought was ruining the future generation's chance at a beautiful world. I knew if I worked hard, I could change that while doing something I love."
Media Contact
Greg Muraski
Media Relations Manager
301-405-5283  
301-892-0973 Mobile
gmuraski@umd.edu 
About the University of Maryland's Robert H. Smith School of Business
The Robert H. Smith School of Business is an internationally recognized leader in management education and research. One of 12 colleges and schools at the University of Maryland, College Park, the Smith School offers undergraduate, full-time and part-time MBA, executive MBA, online MBA, specialty master's, PhD and executive education programs, as well as outreach services to the corporate community. The school offers its degree, custom and certification programs in learning locations in North America and Asia.