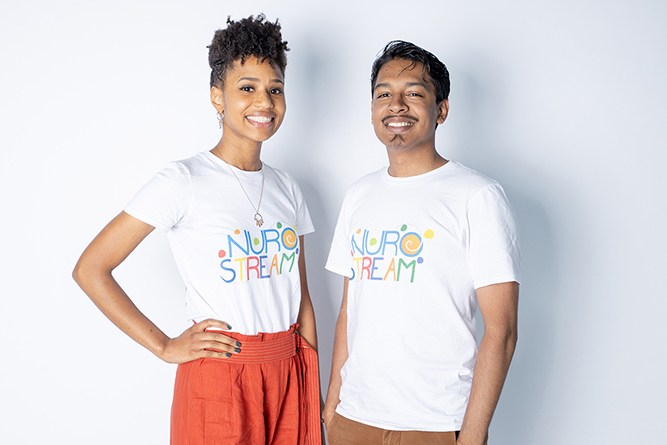 This week, the Dingman Center for Entrepreneurship at Maryland Smith will launch the pilot of the Terp Startup Fellows, an exciting addition to the Center's venture programming portfolio that supports entrepreneurs of all kinds at University of Maryland. The Terp Startup Fellows is a continuation of the Center's Terp Startup summer Accelerator, which provides a competitive stipend up to $5,000, co-working space and curriculum to 10 - 15 teams who spend eight weeks working to make progress on their businesses.
The program pilot will feature four key elements: non-dilutive seed funding up to $20,000, access to office space, advising and network access. The Dingman Center's managing director Holly DeArmond, MBA '17, and director of venture development Sara Herald, MBA '11,  will work directly with the selected students  to develop clear milestones as they work on their ventures for 10 hours per week in the Center through May 2020.
"Each year at the close of the summer accelerator,  we know there are ventures in the cohort who would benefit from an extension of Terp Startup and the Dingman Center's resources, and this pilot of Terp Startup Fellows seeks to meet that need," said DeArmond. "During this first year, we plan to test our hypotheses and determine the best way to get some of these startups to commercialization and on the pathway to further funding."
The student ventures selected to participate in the 2019-20 pilot also participated in the Summer 2019 Terp Startup cohort, operating out of the College Park WeWork:
NuroSTREAM, co-founded by senior Computer Science student Steven Jettoo '20 (CEO) and alumna Kirsten Newman '15 (COO), is an education-technology startup that aims to enhance students' learning curve by streamlining educational content, easing access to efficient learning tools, and captivating minds. Their learning platform, NuroCurve®, features research-backed memory-enhancing tools that enable students to experience significant academic gains in major content areas as well as assist educators in a reduction of instructional time spent on skill and drill assessments of core knowledge. With funding from the Terp Startup Fellows Pilot Program, Jettoo is seeking to launch a pilot case study with select schools, such as Jersey City Global Charter School, to bring NuroCurve® as part of their everyday classroom environment. The founder is seeking to utilize funds to hire a full-time CTO to help scale the company as ongoing partnerships with new school systems are established.
Savvy Tech, a fashion tech startup led by a Maryland Smith senior finance student Thomas Savransky '20 (CEO), a Maryland Smith senior finance and info-systems double major Jonathan Schneider '20 (COO), and University of Maryland, Baltimore County student Igor Savchenko '20 (Lead Developer), has already received buzz in the New York Fashion Week scene. Over the past two years, the founders have been developing ENLY, an app that will allow fashion customers to try on and buy designer clothing in a virtual marketplace. A key feature of the app is technology that will allow users to submit a selfie and their measurements to render a 3D avatar that will determine clothing fit. The program will provide Savvy Tech with the necessary runway to continue to develop this essential but complicated feature.
The program is funded by a generous gift from Bill Boyle '81, donor and chairman of the Dingman Center's advisory board, who has also served as venture mentor to members of the Terp Startup cohort and a coach in Pitch Dingman Competition, the Center's student business competition. Both an entrepreneur and investor, Boyle founded and ran his company, FiberGate, Inc., a Washington D.C. metro area provider of Dark Fiber services, for 17 years before successfully exiting in  the fall of 2012. Currently, he invests and works with startup companies, many of which come through the Dingman Center Angels investor network. Some of Bill's investments include Card Isle, Divvy Cloud, Cobrain, Vitus Vet, DescribeIt, ZeroFox, Pendo.io and Wild Kombucha.
Through his experiences as an entrepreneur and mentor to early stage startups, Boyle has firsthand knowledge of the struggles founders face as they seek funding to grow and launch their ventures.
"We're hoping that we can help them get to the next level," said Boyle. "My goal is to get them to where they can be a company producing some revenue, and then they can come to our angel group and get more funding and be successful in launching a company." 
Bill Boyle's gift is key to the Dingman Center for Entrepreneurship's mission to support entrepreneurs of all kinds at the University of Maryland. Through the resources offered by the Terp Startup Fellows program, these student entrepreneurs will receive better support toward building and launching viable businesses that they can continue to pursue after graduation.
Media Contact
Greg Muraski
Media Relations Manager
301-405-5283  
301-892-0973 Mobile
gmuraski@umd.edu 
About the University of Maryland's Robert H. Smith School of Business
The Robert H. Smith School of Business is an internationally recognized leader in management education and research. One of 12 colleges and schools at the University of Maryland, College Park, the Smith School offers undergraduate, full-time and flex MBA, executive MBA, online MBA, business master's, PhD and executive education programs, as well as outreach services to the corporate community. The school offers its degree, custom and certification programs in learning locations in North America and Asia.