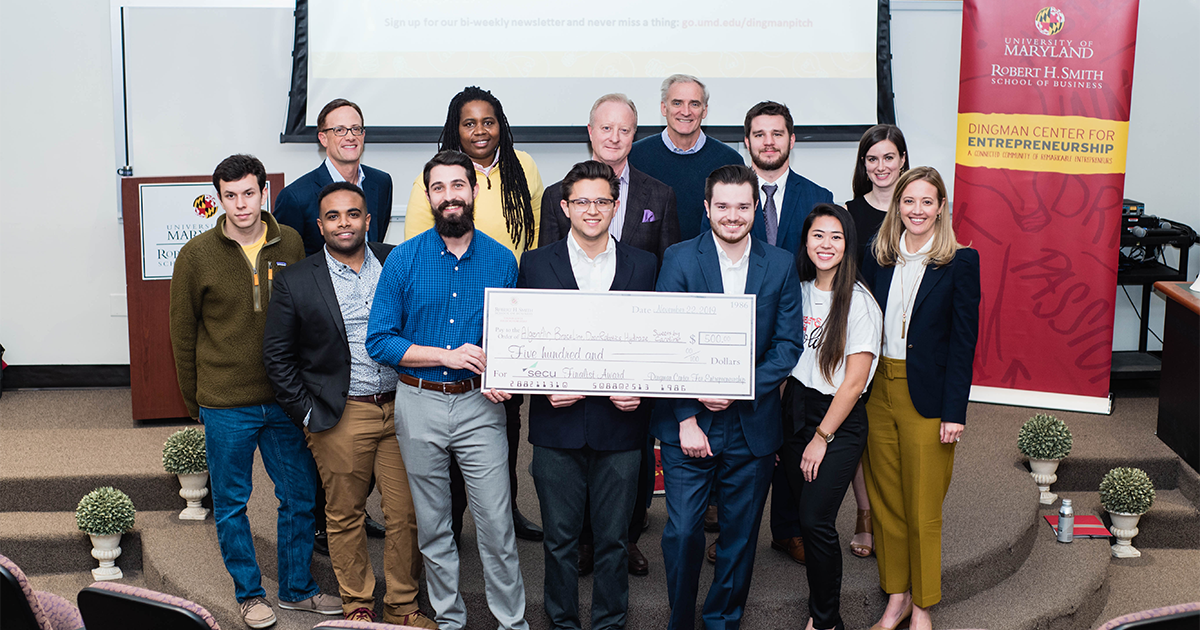 Last year's Pitch Dingman Competition was originally scheduled for March 2020, which we now all remember well as the precipice of change to life as we knew it. In the wake of the COVID-19 pandemic, the Dingman Center team swiftly shifted the competition to a then unfamiliar virtual format.
It's no surprise that the Dingman Center's beloved annual Shark Tank-style pitch competition still attracted hundreds of attendees to the postponed virtual event, all eagerly awaiting to see which student entrepreneur would be crowned as the grand prize winner. The event was a success with student-run company Hydraze, a best-in-class automatic toilet solution, taking home the top prize.
The Dingman Center is doubling down on the competition this year, increasing both the prize money available and the ways in which to win it. Thanks to a generous donation from David and Robyn Quattrone, the Dingman Center will offer $65,000 in total seed funding, which is more than twice as much as in past years. This year's grand prize winner will now walk away with $30,000 in non-dilutive seed funding for their venture, which certainly offers the opportunity to propel any startup business towards success.
"Hearing how people can get those lessons and experiences to use on their own adventures or create change within their spaces is rewarding and makes me excited for the future", said David Quattrone, co-founder and CTO of Cvent and Dingman Center board of advisors' member.
This year's finals competition will remain in a virtual format with finalists providing a live pitch streamed through a virtual platform in front of an expert panel of judges and a live, online audience.
"At this point in the pandemic, we have seen many different ways in which a student pitch competition can be executed," said Holly DeArmond, Dingman Center managing director. "After evaluating our options and considering the increased award funding, we decided that the keys to success in our competition are the ability to deliver a top-notch venture pitch to judges and intelligently address the following questions to a live audience."
The Dingman Center has also expanded the competition to include three different tracks in an effort to support more student entrepreneurs. The David and Robyn Quattrone Venture Track will feature scalable ventures, and the new Main Street Track will highlight student-owned companies with a local focus. Judges will be on the lookout for proven traction in both tracks, with prior customers or revenue a must. While $60,000 of the prize money has been allocated cumulatively to the first and second place winners for both of these tracks, an additional $6,500 in AWS activate credits will also be granted to the top twelve semifinalists.
The third Fearless Ideas Track will encourage students to create idea-stage ventures around a particular theme each year. This year's theme will challenge students to create ventures that address an aspect of systemic racism. The team who presents the best idea for this year's challenge will take home $5,000 and will be guaranteed admission to the Dingman Center's competitive summer accelerator program, Terp Startup, which offers an additional $5,000 in venture funding.
"Expanding the Pitch Dingman Competition to three tracks enables us to support more student entrepreneurs here at the University of Maryland," said Sara Herald, director of venture development. "The playing field is now more level for our talented founders who launch ventures in a variety of industries, and we hope this will encourage more students to take the entrepreneurship plunge."
Applications are being accepted until Friday, February 12, for tracks one and two while applications for the Fearless Ideas track open Monday, March 1, and close on Monday, April 5.
The Pitch Dingman Competition finals virtual event is set for Tuesday, May 4, 2021.
For more information and to apply to Pitch Dingman Competition 2021, please visit go.umd.edu/pitchdingman.
- By Haley Mates, Events & Marketing Manager, Dingman Center for Entrepreneurship
Media Contact
Greg Muraski
Media Relations Manager
301-405-5283  
301-892-0973 Mobile
gmuraski@umd.edu 
About the University of Maryland's Robert H. Smith School of Business
The Robert H. Smith School of Business is an internationally recognized leader in management education and research. One of 12 colleges and schools at the University of Maryland, College Park, the Smith School offers undergraduate, full-time and flex MBA, executive MBA, online MBA, business master's, PhD and executive education programs, as well as outreach services to the corporate community. The school offers its degree, custom and certification programs in learning locations in North America and Asia.