The Center for Global Business (CGB) at the University of Maryland's Robert H. Smith School of Business is more than just a center for global programs; it reflects the university's commitment to instilling global perspectives in its students. Among the center's distinguishing attributes is its student staff, which contributes to the mission of reimagining business education by uniting diverse experiences, perspectives and interests.
The following individuals serving CGB this semester exemplify some of the best attributes of Smith School students: ambitious, culturally aware and eager to add a global skew to their careers.
Ana Torres, MS in Supply Chain '23, from Managua, Nicaragua, is a graduate assistant for CGB. Her background, combined with her experiences as a student in the United States and abroad in Rome, uniquely positions her to counsel Smith students interested in global studies. Torres's success represents the positive impact studying abroad can have on individuals, and she aspires to guide others on similarly transformative journeys.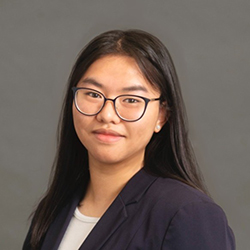 Stephanie Tang '25, majoring in information systems and operations management and business analytics, brings with her a cultural heritage spanning Guangdong, Malaysia and Hong Kong. She leverages her multicultural background to manage the center's social media channels skillfully and adeptly crafts engaging content highlighting the profound impact of CGB's initiatives on the Smith student community. Tang's commitment to globalizing one's work aligns seamlessly with her career aspirations.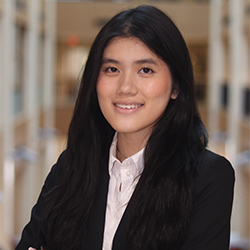 Karen Nguyen '25, majoring in finance and information systems, is a data analytics assistant for CGB. She hails from Seattle and brings a global perspective to her responsibilities, including data organization and rewriting descriptions for the Global Pulse series. Nguyen's experiences highlight the center's objective of keeping Smith students aware of global trends, and her newfound skills and mindset are bound to shape her career uniquely.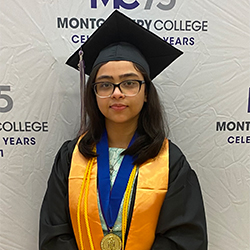 Jahanvi Singh '24, majoring in accounting, is originally from India and discovered her interest in soft skills development and fostering a global mentality through her work with CGB. As an events and outreach assistant, she supports the center's event preparation and implementation. The role has helped her develop her time management and communication skills. She highly regards the center's capacity to accommodate students from all majors, demonstrating the need for a global perspective in all subjects.
Mihir Madhekar, MS in Applied Economics '25, from Pune, India, offers substantial experience in global trade and foreign direct investment. He frequently participates in student consulting projects to support local firms' worldwide development. Madhekar appreciates CGB's intersection of academic and professional experiences. Most notably, he admires the center's support of Maryland firms and its efforts toward connecting students with global entrepreneurs.
The Center for Global Business is supported by a Title VI grant known as CIBE (Centers for International Business Education) administered by the U.S. Department of Education.
Media Contact
Greg Muraski
Media Relations Manager
301-405-5283  
301-892-0973 Mobile
gmuraski@umd.edu 
About the University of Maryland's Robert H. Smith School of Business
The Robert H. Smith School of Business is an internationally recognized leader in management education and research. One of 12 colleges and schools at the University of Maryland, College Park, the Smith School offers undergraduate, full-time and flex MBA, executive MBA, online MBA, business master's, PhD and executive education programs, as well as outreach services to the corporate community. The school offers its degree, custom and certification programs in learning locations in North America and Asia.