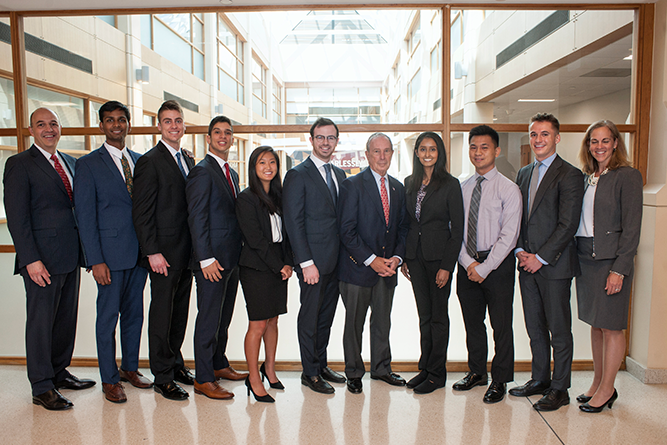 Bloomberg L.P. founder Michael R. Bloomberg has announced new funding to the University of Maryland's Robert H. Smith School of Business to cover Bloomberg Terminal subscriptions and upgrades. The commitment reinforces Maryland Smith student access to the iconic Bloomberg Professional software system used by 325,000 of the world's most influential decision makers.
Bloomberg, the former three-term New York mayor, made the pledge on the same day he delivered UMD's 2019 commencement address and accepted an honorary doctorate of public service on May 24, 2019, in the Xfinity Center. He separately pledged $2.3 million to UMD's Center for Global Sustainability and the Rocky Mountain Institute to analyze U.S. greenhouse gas emissions reductions.
Reflecting an extension of the Smith partnership, Bloomberg in his commencement speech noted 209 UMD alumni — including business graduates — as full-time Bloomberg employees, with 15 new UMD graduates joining his namesake company. "We are practically a satellite campus, just without the turtles," he said.
Prior to the ceremony, he toured the Van Munching Hall Financial Markets labs housing the Bloomberg Terminals and visited with Maryland Smith faculty, students and Smith dean Alex Triantis.
Triantis said Bloomberg's renewed commitment to the Smith labs bolsters a strategic research and teaching partnership with Bloomberg.
"Our students and faculty greatly benefit from the access to financial data available through our Bloomberg subscriptions, and we look forward to continuing to increase student learning and knowledge production through this access," Triantis said.
The new funding will provide hardware for 45 of Smith's 60 Bloomberg terminals, with no-cost access to the service through June 30, 2020. The service integrates real-time and historical information on about five million bonds, equities, commodities, currencies and funds.
The platform also comprises data on almost every publicly traded company and biographies of more than one million people. And because everything is provided in single source, information can be accessed, analyzed or archived with just a few keystrokes.
Bloomberg L.P. officials in 2014 invited Maryland Smith finance lecturer Joseph Perfetti to its New York headquarters to demonstrate in real time how financial information can be brought to the classroom. Perfetti explained to a gathering of Bloomberg editorial staff members, plus professors and deans from universities around the world, how the Bloomberg platform supports real-money investing by Smith undergraduate and graduate students by way of the school's Mayer, Senbet and Global Equity funds.
"It is very powerful for students to walk out of the lab with custom data sets which they can manipulate into analyses that can be immediately applied," he said.
The service enables Smith to offer several courses that require completion of Bloomberg Market Concepts training and certification. And, in addition to finance, Smith applies the service in other disciplines such as supply chain management, as Bloomberg's database enables users to track a company's customers and the percentage of revenue those customers generate. 
While most of the terminals are in the Financial Markets labs (VMH 1318 and 3505), students also have access to single terminals at the Rockville and Baltimore campuses in Maryland and the Washington, D.C., campus, among other locations.
Media Contact
Greg Muraski
Media Relations Manager
301-405-5283  
301-892-0973 Mobile
gmuraski@umd.edu 
About the University of Maryland's Robert H. Smith School of Business
The Robert H. Smith School of Business is an internationally recognized leader in management education and research. One of 12 colleges and schools at the University of Maryland, College Park, the Smith School offers undergraduate, full-time and flex MBA, executive MBA, online MBA, business master's, PhD and executive education programs, as well as outreach services to the corporate community. The school offers its degree, custom and certification programs in learning locations in North America and Asia.