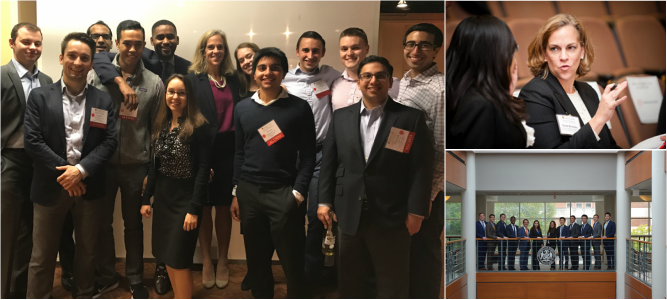 Lauren Black, class of 2019 accounting and information systems double major at the University of Maryland's Robert H. Smith School of Business, contributed to this article.
Smith Undergrads: Applications for Honors and Fellows Programs at the University of Maryland's Robert H. Smith School of Business are due by midnight Feb. 12, 2018. For more information, visit this web page.
ARE YOU A JUNIOR FINANCE MAJOR AND WANT TO...
Deepen your financial analysis and modeling skills?
Make real-life investing decisions?
Manage $1 million dollars?
Complete valuation and equity analysis?
Develop trading strategies?
Network with alumni at companies such as JP Morgan, Goldman Sachs, Morgan Stanley, and more?
If you answered "YES" to any of these questions, then APPLY NOW to be part of the Lemma Senbet Fund Fellows for the 2018-19 academic year. Applications will be accepted until midnight, February 12, 2018.
The Lemma Senbet Fund is the most invaluable experience finance majors can get on practicing real investing. This endowment fund managed by 12 undergraduate finance students provides the opportunity to research real companies and manage a portfolio with real money; one million dollars to be exact. The fund consists of two portfolio managers and ten equity analysts covering sectors such as consumer discretionary, financials and healthcare.
Starting with $50,000 in 2006, Smith finance majors have helped appreciate the fund by over 1900 percent. The Fund challenges students to practice economic analysis, investing and presentation skills.
"The more experience students have while in school, the more confident and capable they will be in their first jobs, setting them up for success post-graduation," said Faculty Champion Sarah Kroncke. She continuously works with Fellows students to ensure they are prepared for their full-time jobs. "It gives them something 'real' to discuss and gives employers insight into their thought and decision-making process," added Kroncke.
Smith Alumna Allison Reid, who is currently a valuation and business modeling analyst at EY, explained how being with the Senbet Fund differentiated her from other candidates during her job search. "I could speak knowledgeably about my investments of a large amount of money in addition to other technical topics," she said. "The group work and analytical skills I learned were also directly applicable." In addition to EY, Goldman Sachs, The Boston Consulting Group, PwC, Deloitte are just some of the companies Senbet alumni have received full time offers from.
"I realized I needed to continue developing my financial knowledge if I wanted to be successful full time," said Sherry Levine, senior finance and information systems double major. She spent last summer in investment banking with JP Morgan and added that the Lemma Senbet fund has allowed her to do just that.
If you want to hear more reasons on why you should apply, check out Senbet Fund read our Fellows FAQs, or contact smithfellows@rhsmith.umd.edu.
HERE'S HOW TO BECOME A LEMMA SENBET FUND FELLOW:
Applications for the Senbet Fund for 2018-19 are due Feb. 12, 2018, at 11:59 p.m.
Online Application form.
Cover letter - Explains why you want to be a part of this program, what you can bring to the program and what you hope to gain from participating. Address your cover letter to the faculty champion for this Fellows program.
Résumé.
Three-page analyst report to include the analysis of a stock with a recommendation of whether to buy, hold or sell the stock based solely on its current price relative to what you believe the stock is worth. This report is to be no more than three typed pages, not including exhibits, double-spaced in Times New Roman 12 point font. The written analysis should include an economic overview, industry overview and company overview, including your recommendation. Each section of the report should be written within the context of the stock you have chosen to analyze. It is highly recommended that you select a company and industry with which you feel comfortable. Please note that the Honor Code will be enforced for this application.
Note: Cover letter, résumé and analysis report must be submitted in a PDF.
Questions? Read our Fellows FAQs or contact smithfellows@rhsmith.umd.edu. 
Media Contact
Greg Muraski
Media Relations Manager
301-405-5283  
301-892-0973 Mobile
gmuraski@umd.edu 
About the University of Maryland's Robert H. Smith School of Business
The Robert H. Smith School of Business is an internationally recognized leader in management education and research. One of 12 colleges and schools at the University of Maryland, College Park, the Smith School offers undergraduate, full-time and flex MBA, executive MBA, online MBA, business master's, PhD and executive education programs, as well as outreach services to the corporate community. The school offers its degree, custom and certification programs in learning locations in North America and Asia.