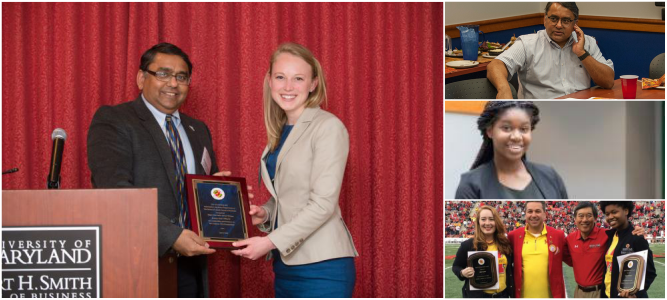 Lauren Black, class of 2019 accounting and information systems double major at the University of Maryland's Robert H. Smith School of Business contributed to this article. 
Smith Undergrads: Applications for Fellows Programs at the University of Maryland's Robert H. Smith School of Business are due by midnight Feb. 12, 2018. For more information, visit the Fellows Programs web page.
IF YOU ARE AN ACCOUNTING MAJOR AND….
Want to earn money without leaving Van Munching Hall?
Want to add an impressive line on your résumé?
Want to enjoy networking with some of Smith's finest professors and alumni?
Want to give back to Smith by helping your colleagues?
Want to have your own office in VMH? With kitchen privileges?
If you answered "YES" to any of these questions, then APPLY NOW to be an Accounting Teaching Scholars (ATS) Fellow. Applications will be accepted until midnight, Feb. 12, 2018.
By serving as Teaching Assistants for the introductory accounting courses, BMGT 220 and 221, ATS Fellows are paid $2,700 per semester, earn one credit and develop vital workplace skills such as communication, leadership and organization. ATS Fellows help underclassmen overcome and succeed in difficult courses and are able to enhance their professional development by reviewing financial/managerial accounting material to prepare for the CPA exam.
Dr. Progyan Basu and Dr. Gary Bulmash are the Faculty Champions for the program. Dr. Basu, who teaches BMGT 220, values ATS Fellows because they help his students learn in a smaller setting. "Students benefit from one-on-one help where they can ask questions. My TAs do a fantastic job of meeting this very important need," Basu explained. "With accounting being a difficult, yet important course for students to comprehend, this is an important mentorship position."
"I love helping people, especially tutoring them – that 'aha' moment that students get when you help them through a tough problem is pretty satisfying, so being a TA in a subject I love seemed like a natural thing for me to pursue," said Cece Ukejianya, a senior accounting and finance double major and current ATS Fellow. She applied to the program to assist fellow undergraduates with the two difficult courses.
"We also have amazing bosses," continued Cece. "They are super understanding and have reasonable expectations, but also give us the freedom to teach how we want as they genuinely care about their students understanding the content."
Another current ATS Fellow, senior accounting and finance double major Kyle Brown, encourages all accounting majors to apply not only to give back to Smith, but also to receive extra benefits for themselves. "It made a significant impact on my career search. Networking with alumni from the program helped me attain the full-time job offer I was looking for," Kyle stated.
Dr. Basu explained that he is not necessarily looking for the student with the best grade, or the one with the best organizational skills because he believes both of these can be worked on and improved. Rather, he said, he is looking for the student who can connect with others. "Communication skills are the key to success in any field," he says.
The benefits of the program do not end there; these scholars also get an office with their own key that can be accessed 24/7 (great for studying and tutoring), free printing and copying, access to a shared kitchen, a personalized Accounting Teaching Scholars sweatshirt and sometimes even free food.
If this has still not convinced you to apply, read the Fellows FAQs or contact smithfellows@rhsmith.umd.edu for more information.
HERE'S HOW TO BECOME AN ACCOUNTING TEACHING SCHOLAR:
Applications for 2018-19 are open through Feb. 12, 2018, at 11:59 p.m.
Cover letter – Explains why you want to be a part of this program, what you can bring to the program, and what you hope to gain from participating. Address your cover letter to the faculty champion for this Fellows program.
Résumé.
Media Contact
Greg Muraski
Media Relations Manager
301-405-5283  
301-892-0973 Mobile
gmuraski@umd.edu 
About the University of Maryland's Robert H. Smith School of Business
The Robert H. Smith School of Business is an internationally recognized leader in management education and research. One of 12 colleges and schools at the University of Maryland, College Park, the Smith School offers undergraduate, full-time and flex MBA, executive MBA, online MBA, business master's, PhD and executive education programs, as well as outreach services to the corporate community. The school offers its degree, custom and certification programs in learning locations in North America and Asia.