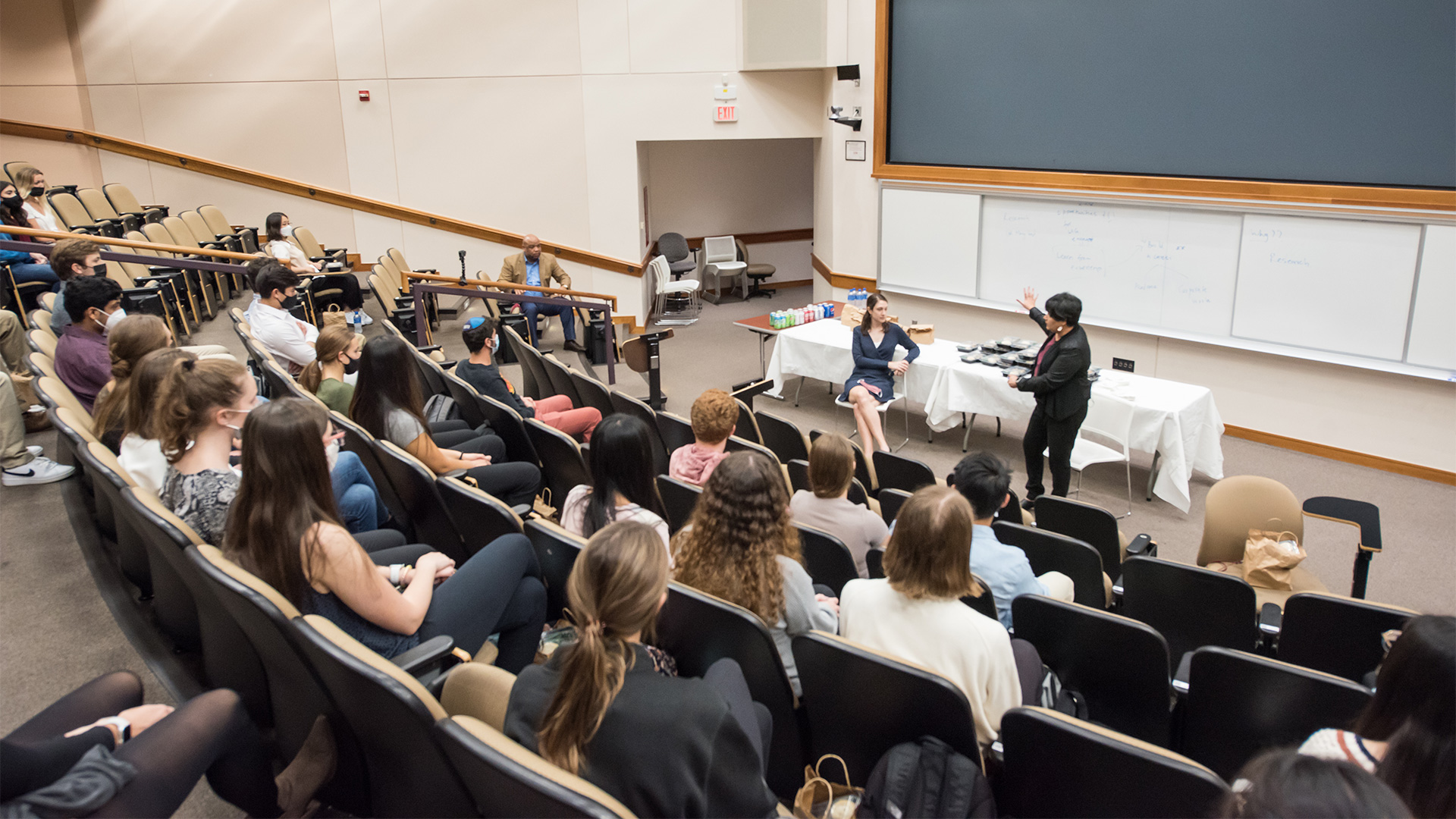 "The reason we do research is for all those moments of true inspiration," Maryland Smith's Rajshree Agarwal told a group of undergraduate students last Thursday. "My PhD students inspire me as they showcase how entrepreneurship and innovation helps create solutions to the world's thorniest challenges and unmet needs."
In the latest event in the popular undergraduate research informational series Agarwal and Smith PhD student Audra Wormald spoke to the inspiration and passion – the aha moments – behind their research on mobile money. The series is moderated by Victor Mullins, associate dean of Undergraduate Studies at Maryland Smith.
"There were 2.3 billion unbanked people worldwide in 1995" said Agarwal, the Rudolph Lamone Chair of Strategy and Entrepreneurship and Director of the Ed Snider Center for Enterprise and Markets at the University of Maryland. Wormald continued,  "Today, 1.2 billion mobile money accounts enable financial inclusion for the world's poor, by providing a simple way to send and receive money using their mobile phones without needing to link a bank account."
The aha moment came when we discovered that developing world startups had the biggest impact in diffusing mobile money." said Agarwal.  Wormald noted that this ran counter to the received wisdom that multinational established firms and developed country startups had an edge in pioneering new industries.
However, for all the inspirational aha moments found in the research process, Agarwal emphasized that there are many tedious moments as well.
"For every aha moment, there is painstaking effort that goes into making sure that your insights are credible," Agarwal said. "The more you focus on the details, the more you are sure you have it right, and that the  results of your study aren't superficial."
Agarwal also emphasized the importance of going into research with an active mind, focusing on the question you seek to address, rather than having a predetermined answer.
"If you have an answer set in your mind, you're already undercutting the research," Agarwal explained. "Good research requires you to challenge your own biases, and challenge yourself to conduct intellectually rigorous work."
When it comes to the benefits of doing research as an undergraduate student, both Agarwal and Wormald emphasized the transferability of research skills to all industries and occupations.
"Research trains you to ask why," Wormald said. "This helps you to build data and develop problem solving, critical thinking and writing skills that you can speak to in any corporate job interview."
The undergraduate research series continues next week. Additional discussions in the research series:
Media Contact
Greg Muraski
Media Relations Manager
301-405-5283  
301-892-0973 Mobile
gmuraski@umd.edu 
About the University of Maryland's Robert H. Smith School of Business
The Robert H. Smith School of Business is an internationally recognized leader in management education and research. One of 12 colleges and schools at the University of Maryland, College Park, the Smith School offers undergraduate, full-time and flex MBA, executive MBA, online MBA, business master's, PhD and executive education programs, as well as outreach services to the corporate community. The school offers its degree, custom and certification programs in learning locations in North America and Asia.