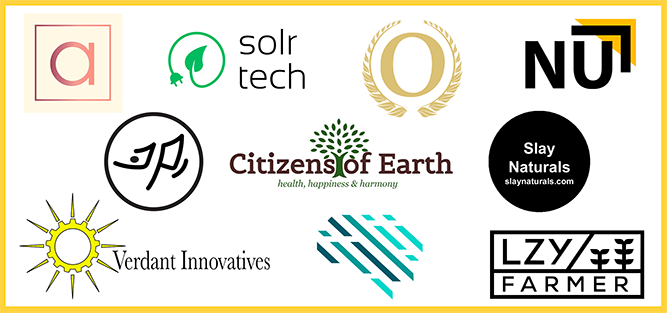 The Dingman Center for Entrepreneurship is pleased to announce that it has accepted 10 startups into its Terp Startup summer incubator program. Launched in 2015, Terp Startup is the final phase of the center's Fearless Founders accelerator. To be considered for the Terp Startup program, students undergo a rigorous application process in which they must demonstrate their startup's traction as well as their own entrepreneurial drive. The accepted startup teams will receive a stipend of up to $5,000, and a dedicated mentor to help them grow their businesses over an eight-week period in the summer.
The incubator space, located in the University of Maryland's Robert H. Smith School of Business, becomes a bustling center of activity as startups begin to connect and engage with one another. Student Venture Programs Manager Chris Rehkamp, who is heading Terp Startup for his third year, organizes a variety of workshops, coaching sessions and field trips designed to help each startup learn more about the specific challenges of venture creation.
"This year's cohort is clearly focused on and passionate about launching and growing their ventures," says Rehkamp. "I'm so excited to work with these teams for a number of reasons: they have already made great progress on their ventures, they have great energy and enthusiasm, and they are eager to learn."
Members of past cohorts have graduated from the program and gone on to achieve success in business pitch competitions, including 2016 Cupid's Cup winner Javazen, 2017 Pitch Dingman Competition first- and second-place winners Curu and CourseHunter, 2018 Pitch Dingman Competition finalists Flee and Dark Sonar, and 2018 Pitch Dingman Competition first-place winner Symbiont Health.
This year's cohort of startups and their founders is an eclectic and exciting mix:
Aurora Athletics - Jasmine Snead '18, Sydney Parker '18
Aurora Athletics is an athletic brand that designs performance gear for women of all complexions and sizes to create an atmosphere of acceptance within performance sports.
Citizens of Earth - Michael Sheehan '18
Citizens of Earth strives to support the health, happiness and harmony of communities through creating innovative and sustainable market solutions for health and environmental issues.
LzyFarmer - Robert Ginsberg, MBA '18
LzyFarmer is an app-based business that uses data-driven logic based on APIs and customer input/feedback to direct the customer on how to grow a successful home gardens.
Noble Uprising - L. Audrey Awasom '18
Noble Uprising delivers transformative workshops and experiences that equip homeless women to overcome barriers that prevent them from being successful in the workforce.
Olympus Management Group - Zubin Gadhoke '19, Peter Robinson '19, and Mike Duquette '18
Olympus Management Group provides artists with the business insight and strategy needed to grow their brand and increase their exposure.
SLAY Naturals - Breonna Massey '18
SLAY Naturals is an all handmade skin-care line dedicated to making natural skin care mainstream.
Solr Tech, LLC - Alexei Onufrak '20
Solr Tech brings scalable and sustainable sources of energy to both businesses and communities through their innovative products.
Synapto - Anoop Patel '20, David Boegner '20
Synapto is an early-stage biotech venture revolutionizing the early diagnosis of Alzheimer's disease through portable Electroencephalogram (EEG) and artificial intelligence.
Tommy WARES - Tommy Piantone '18
Tommy WARES is an ethical t-shirt company that works with independent artists to fund social impact investment projects; their shirts are fair trade, 100 percent organic, and union-made in the U.S., and they have a tree planted for every shirt sold.
Verdant Innovatives, LLC - Anjik Ghosh '18
Verdant Innovatives addresses the lack of energy infrastructure and a need for renewable energy through the development of their small-scale vertical wind axis turbine.
Media Contact
Greg Muraski
Media Relations Manager
301-405-5283  
301-892-0973 Mobile
gmuraski@umd.edu 
About the University of Maryland's Robert H. Smith School of Business
The Robert H. Smith School of Business is an internationally recognized leader in management education and research. One of 12 colleges and schools at the University of Maryland, College Park, the Smith School offers undergraduate, full-time and flex MBA, executive MBA, online MBA, business master's, PhD and executive education programs, as well as outreach services to the corporate community. The school offers its degree, custom and certification programs in learning locations in North America and Asia.