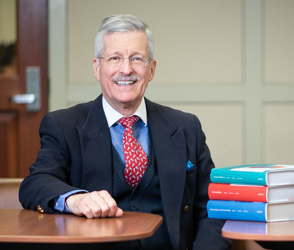 He has invested almost 45 years teaching, earning eight academic degrees, including three doctorates, and publishing 35 books and more than 300 academic and practitioner-oriented articles. Yet, H. Kent Baker, MBA '69, DBA '72, MEd '74, says it isn't yet time for retirement – not, he says, until he can no longer take the stairs to his office at American University.
If you ask Baker, he'll tell you he still has many stairs left to climb.
Baker, University Professor of Finance at American's Kogod School of Business, received the University Scholar/Teacher of the Year award at American University and was recognized by the Journal of Finance Literature as among the top 1% of the most prolific authors in finance during the past 50 years. But what he's proudest of, he says, is serving as a steward of education for future generations of business leaders.
"We say our clients come first, and my students are my clients," says Baker. "If I have helped them grow, fostered their curiosity and helped them become successful, then I've done my job."
Baker is highly regarded for his expertise in dividend policy, survey research methodology, and behavioral finance. He has the distinction of being the editor of two books series – "Financial Markets and Investments" with Oxford University Press and "The H. Kent Baker Investments Series" with Emerald Publishing. Additionally, he has provided his consulting and training services to more than 100 organizations in both the public and private sectors.
He also graduated from Maryland Smith's DBA program in 1972 with a concentration in finance. This program, he says, widened the scope of his educational interests, established a more holistic perspective of the business world and honed his ability to pursue opportunities such as writing, consulting and training.
"Much of what I have done in my career has come as a consequence of seeing the bigger picture and not puzzle pieces," says Baker. "That understanding is something I really took away from my time at Maryland."
His experience at Maryland culminated in three degrees, sealing his status as a "Triple Terp." Baker says he often fondly reflects on his Maryland Smith experience and the character-building moments that would help him throughout his career.
His family, he says, and his educational experience at Maryland Smith are two of the greatest influences in his life and professional career.
"An institution like the Smith School makes a difference. It has had an impact on my life that has continued for the past 50 years," Baker says. "I would not be the person I am today without what I've learned, the associations I've made and the relationships with faculty I've built at the Smith School."
Baker believes that richness comes from paying good fortune forward and helping others succeed. It's why he gives back to Maryland Smith, extending financial support to its graduate and PhD programs.
Donald Bowen, PhD '17, who is a beneficiary of Baker's graduate fund, says that this support provides students with peace of mind and prevents financial distractions that might otherwise impair their ability to share their research.
"Funding like this is a godsend during the job market year when PhD's often have to float thousands of dollars of travel and related expenses," Bowen says. "The money helps alleviate any pinches we might feel and helps us concentrate on what's important: presenting and sharing our research."
Baker's challenge to other Maryland Smith alumni is to contribute in any way they can.
"I think it's important to recognize your appreciation for your educational experience and, when possible, give back with your time, financially or by providing students with jobs and internships," Baker says. "If you do that, society and business will be better as a result, and more importantly, you're making a difference in the world." /PS
Media Contact
Greg Muraski
Media Relations Manager
301-405-5283  
301-892-0973 Mobile
gmuraski@umd.edu 
About the University of Maryland's Robert H. Smith School of Business
The Robert H. Smith School of Business is an internationally recognized leader in management education and research. One of 12 colleges and schools at the University of Maryland, College Park, the Smith School offers undergraduate, full-time and flex MBA, executive MBA, online MBA, business master's, PhD and executive education programs, as well as outreach services to the corporate community. The school offers its degree, custom and certification programs in learning locations in North America and Asia.