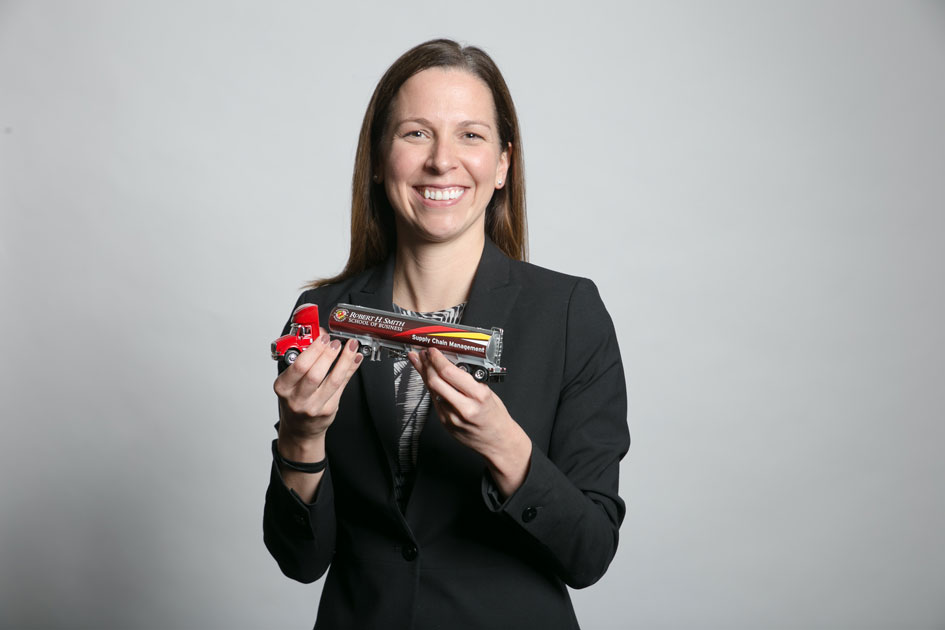 Every transaction is international when you work at Maersk, the world's largest container ship operator. "Supply chain management gives you a really literal illustration of global business," says Katie Praske '01, who spent nearly 15 years at Maersk as a customer service and compliance manager. "Each shipment touches at least two countries. You can't do anything in isolation."
The job required Praske to function as a type of translator. She took corporate directives from Copenhagen and explained them to front-line workers at ports around the world. She also carried information back the other direction.
"I spoke fewer languages than most people at Maersk, but I did the most translating," says Praske, who speaks English, Danish and Spanish. "I helped people in different departments and at different levels understand each other."
Cultural and language barriers added complexity. But Praske built relationships of trust by focusing on communication, empathy and mutual respect. She says that's what it means to have global mindset. "People all have the same basic needs, but they're under different pressures and have access to different types of information," she says. "You have to pause and see impacts from different perspectives."
Praske, a 2001 graduate of the University of Maryland's Robert H. Smith School of Business, now works as a senior adviser at ARG. The Maryland-based consulting and brokerage firm, founded by her father in 1991, connects small and midsized companies with technology solution providers.
In that way Praske still functions as a translator, bringing people together and building understanding. Besides being fun, the relationship building gives Praske confidence to talk to people from any background or industry.
"You can walk into any room and feel comfortable talking to whomever is there, whether it's a general or senior vice president or the receptionist," she says.
Many people want what's comfortable, but Praske says her global mindset pushes her to new frontiers. "Ever since studying Spanish in high school, I've always been drawn to anything international," she says. "And you can't be in a position that's truly international and has global impact if you're not willing to work outside your familiar surroundings."
Media Contact
Greg Muraski
Media Relations Manager
301-405-5283  
301-892-0973 Mobile
gmuraski@umd.edu 
About the University of Maryland's Robert H. Smith School of Business
The Robert H. Smith School of Business is an internationally recognized leader in management education and research. One of 12 colleges and schools at the University of Maryland, College Park, the Smith School offers undergraduate, full-time and part-time MBA, executive MBA, online MBA, specialty master's, PhD and executive education programs, as well as outreach services to the corporate community. The school offers its degree, custom and certification programs in learning locations in North America and Asia.