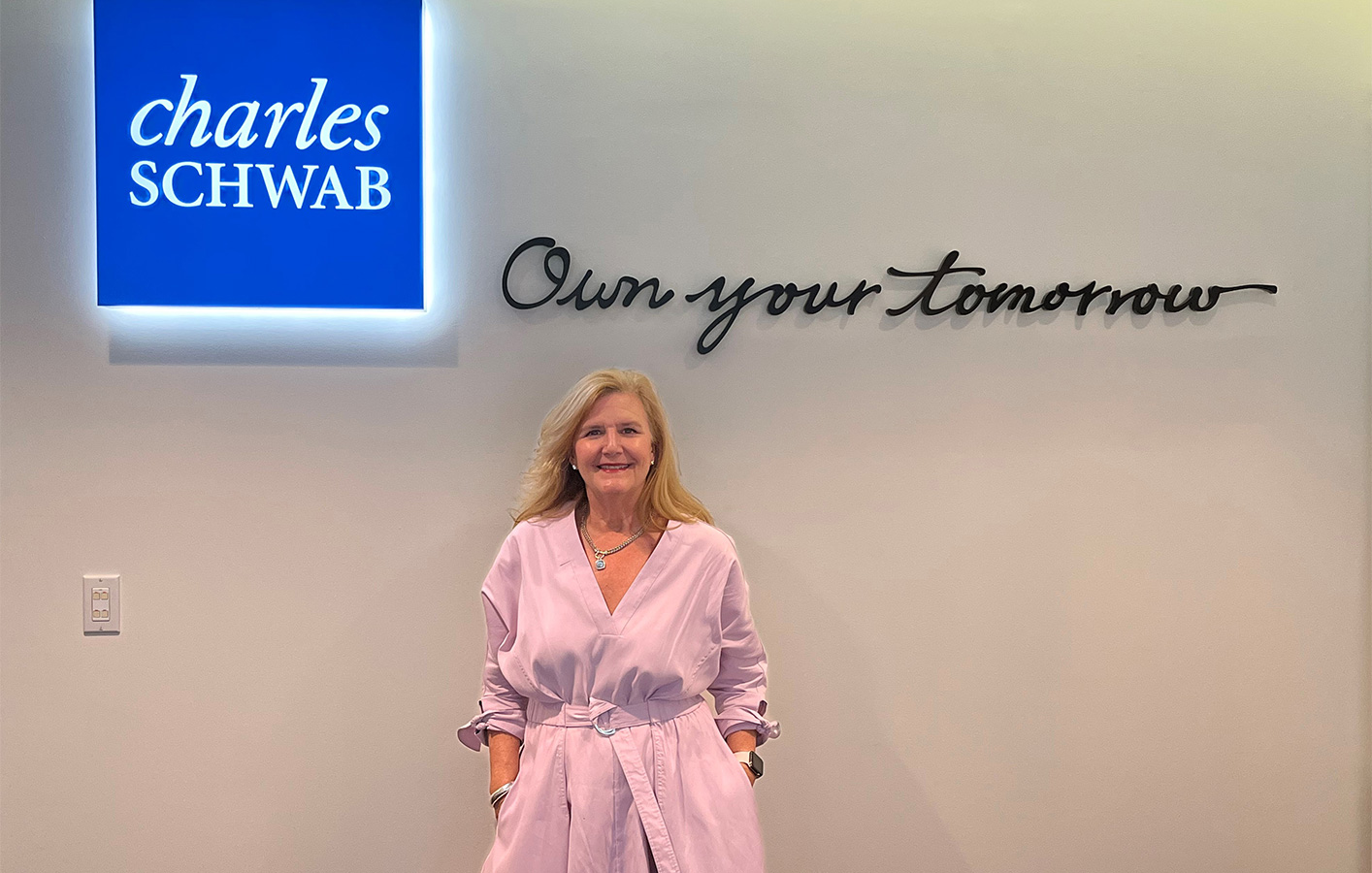 Lisa Kidd Hunt didn't exactly leave Smith after graduating with her bachelor's degree in finance. Not in a Matthew Mcconaughey à la "Dazed & Confused" kind of way, but she's the kind of person who sticks around, cultivating the relationships and roots she's planted. She's a football season ticket holder, she's served as a commencement speaker and as a board member, and she continues to stay involved, partly because, as she puts it, she's "jealous" of how much Smith students get out of their education these days.
"I love the evolution of Smith and the work that's going on there. I think that [students] get an incredibly diversified learning experience," she says. "There are so many different aspects of business today... and it creates a lot of opportunity for the students today for experiential learning."
The managing director and head of international services for Charles Schwab also planted some deep roots there over 30 years ago. When she first began, Schwab was a discount brokerage firm at the time, and through the years, she's helped it grow and thrive into the multinational financial services company it is today.
In her current role, she leads Schwab's foreign affiliates in the United Kingdom, Singapore and Hong Kong, and also with clients who live outside of the U.S. through the US broker dealer. Her team also manages global products that do not trade on the US exchanges in US dollars.
Though Hunt has contributed so much to Schwab, she can't pinpoint any particular project that she would consider as memorable as the relationships she's developed. "I'm most proud of the leaders I've been able to develop and the individuals I brought into this company and worked with who are now leaders of the firm," she says.
Hunt grew up interested in finance (she says it came from watching "Wall Street Week" with her father). She says that the male-dominated industry is looking to diversify. "We know that women outlive men and will inherit most of the wealth, so it's important to have a woman's perspective in the board room and office, and [to have] women who can serve other women to grow their wealth," she says. "It's a great time to be a woman in finance."
What she champions most, however, is financial education and literacy. "I feel really strongly that people, early on, should have an understanding of personal finance," she says, recalling her own struggle of working full time to pay for college on her own. "We could do a better job ensuring future citizens are coming out of primary and secondary school educated on better footing." She sits on the board of the Securities Investments and Financial Markets Association Foundation (SIFMA) and is a newly named trustee for the College Park Foundation. Through both, she's focused on educating students at University of Maryland and local high schools about personal finance and responsibility. And on the board at Smith, she enjoys helping students gain as much experience as possible during their years there.
"I'm looking forward to what the future leaders of this country who come out of Smith really do," she says. "High expectations, but I'm sure I won't be disappointed."
Media Contact
Greg Muraski
Media Relations Manager
301-405-5283  
301-892-0973 Mobile
gmuraski@umd.edu 
About the University of Maryland's Robert H. Smith School of Business
The Robert H. Smith School of Business is an internationally recognized leader in management education and research. One of 12 colleges and schools at the University of Maryland, College Park, the Smith School offers undergraduate, full-time and flex MBA, executive MBA, online MBA, business master's, PhD and executive education programs, as well as outreach services to the corporate community. The school offers its degree, custom and certification programs in learning locations in North America and Asia.