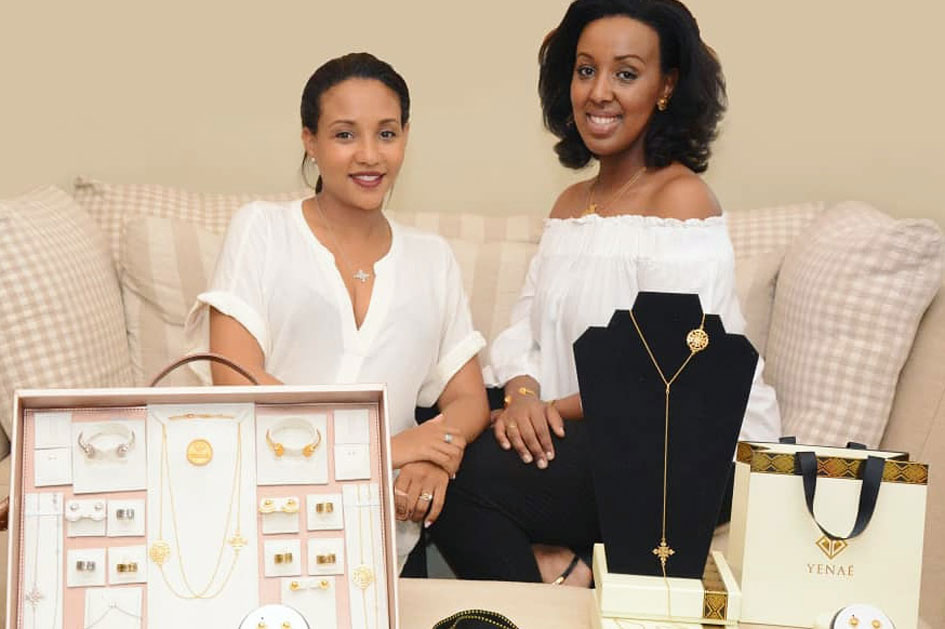 Seble Alemayehu, PTMBA '12, and Felekech "Fei" Biratu, PTMBA '13, started as high school friends. After a similar journey through life, a move around the globe and MBA degrees from the University of Maryland's Robert H. Smith School of Business, they now are proud cofounders of Yenaé, an online high-end fashion jewelry brand. 
Alemayehu and Biratu grew up in Addis Ababa, Ethiopia, and moved to the United States on the same plane after completing high school.
Once in the United States, they went their separate ways, each earning bachelor's degrees from different universities in different states. Alemayehu earned her degree in business administration and landed an internship at EY in Addis Ababa, Ethiopia, while Biratu earned her degree in applied economics and finance and worked at United Healthcare Group.
Both women then pursued their careers in the Washington, D.C., area, where they found themselves living in the same city. Alemayehu went into federal government consulting and Biratu worked as a financial analyst at AOL.
Both women then decided to apply to Maryland Smith's part-time MBA program. They agree that the program provided some of the most impactful experiences in their lives. 
"When you come in, and when you leave, you are completely two different people," Biratu says. "I found another layer of myself that I didn't know was there."
She loved the supportive community and the interactive classes at Smith. She took advantage of the study abroad program and traveled to Brazil.
After earning her MBA, she decided to leave the corporate world. She moved back home to Ethiopia and began working as an independent consultant in hospitality. 
Alemayehu experienced her own transformation. "Smith taught me the need to be bold, to not sell myself short and to be confident," she says.
Coming from an entrepreneurial family, Alemayehu knew she wanted to start her own business, which is why the Dingman Center for Entrepreneurship was a draw for her at Smith. She also took advantage of the study abroad program and traveled to Israel and Australia.
After working at Booz Allen Hamilton post-graduation, Alemayehu also decided to take a break from the consulting industry and visit Ethiopia.
Finding themselves in the same place at the same time once again, the friends reconnected over coffee, and that's where the concept for Yenaé really launched. When Seble returned to the United States with an idea in tow, she participated on behalf of Yenaé in the eight-week Dingman Jumpstart program.
This program provided them with the well-rounded experience needed to start a company and taught them how to build something from the ground up, without getting caught up in the traditional way of building a business.
Before starting the program, they had the idea to focus on creating a customizable jewelry brand targeted primarily toward the wedding industry and special events. However, because of the program, they were able to test and validate all their assumptions behind their business idea.
This helped them to redefine their value-add and the desired target audiences they wanted to serve.
With Biratu still living in Addis Ababa and Alemayehu in Virginia, they look at their geographical locations as an opportunity rather than a challenge.
Through their dedication, help from their support systems and the experiences they gained at Smith, Yenaé launched in November 2018 featuring designs inspired by two African countries: Ethiopia and Eritrea.
As a two-woman company, the partners wear many hats to keep the business running, including designing the jewelry themselves. As their brand grows, they're excited to feature all the rich culture and heritage of the different African countries.
— Kaitlin Walukonis, Maryland Smith Alumni Relations Coordinator
Media Contact
Greg Muraski
Media Relations Manager
301-405-5283  
301-892-0973 Mobile
gmuraski@umd.edu 
About the University of Maryland's Robert H. Smith School of Business
The Robert H. Smith School of Business is an internationally recognized leader in management education and research. One of 12 colleges and schools at the University of Maryland, College Park, the Smith School offers undergraduate, full-time and part-time MBA, executive MBA, online MBA, specialty master's, PhD and executive education programs, as well as outreach services to the corporate community. The school offers its degree, custom and certification programs in learning locations in North America and Asia.