This Q&A has been edited and condensed.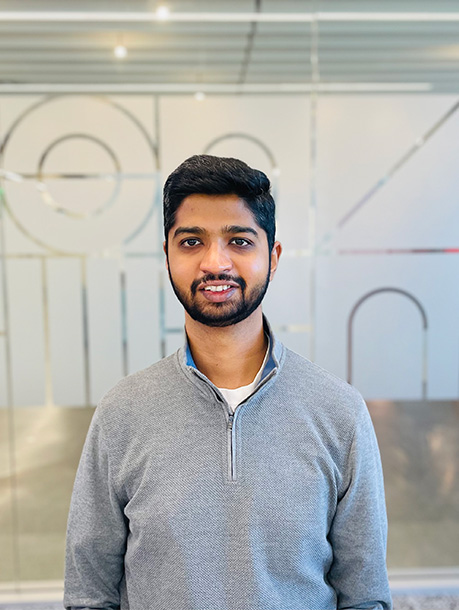 What is your job title and where do you work?
I am Principal Product Manager at Opendoor, which buys and sells homes and makes instant cash offers online. I work at the headquarters in San Francisco.
What does a day in your role look like and how do you approach new projects?
On a day-to-day basis, I work with a diverse group of stakeholders to execute the product vision I've developed to further the company's growth. My responsibilities include identifying new opportunities aimed at driving profitability and growth, making sure stakeholders are aligned on product vision, working with design and engineering teams to plan and deliver initiatives, partnering with analytics/data science teams to measure impact and presenting the project's outcomes and long-term mission to leadership.
I approach new projects by first understanding the problem space, customer needs, and why the project matters to Opendoor. Once I build a good understanding, I then start writing product memos, plan the kick-off of the project and perform the pre-mortems.
Is there something about your professional journey that people would find surprising?
I have been a product manager since day one of my career and have been building products for over a decade. Building consumer products in different industries has left me with a unique edge that allows me to quickly connect the dots and ship products quickly. I have always found new ways to improve myself and have been open to feedback. Learning and trying new technologies (for example, currently working on an AI project leveraging GPT3) has enabled me to keep improving at my craft.
Tell us about your path from graduation to your current job.
Immediately after graduating from Smith, I joined Home Depot as a product manager and shipped highly impactful products that brought in record revenue and that got me promoted to senior product manager. In that role, I managed two product areas. One of them was risk and fraud. I gained vast expertise in product strategy and combating bad actors in the digital world. To gain more knowledge in my field, I decided to take a job as payment and risk product manager at Eventbrite, where I was responsible for creating products that reduced risk and fraud-related losses and along the way I started building monetization products. After success at Eventbrite, I was offered a job at Opendoor. I accepted because it was a chance to leverage my years of product management experience with solving complex problems, enabling me to make a difference for millions of homebuyers and sellers in the U.S.
Are you where you thought you would be in your career? What are your goals?
Yes, I'm where I thought I would be. At this stage of my career, I wanted to directly impact critical outcomes for a business and be at the forefront of solving complex problems that sit at the intersection of technology, data science and user experience. My goal is to create solutions and products that make a meaningful difference in people's lives at Opendoor and that is what we are doing.
What Smith resources or relationships did you leverage for your career?
The Smith School curriculum is very well designed and that enriched my learning experience. I was able to build a deep connection with some of the faculty who mentored me and were always open to discussing ideas. These relationships helped me secure funding for startups I co-founded, helped me hire students to assist with research projects and provided recommendations for career opportunities.
How has your Smith education helped with your career? Were there specific classes, experiential projects, team projects or internships that have been especially helpful to you?
I've seen great value in applying concepts in the real world that I learned from my coursework at Smith. At different times in my career, I've gone back to the slides taught by Professor Siva Viswanathan when I needed to brush up on theories and fundamentals applicable to driving profitability and growth to consumer and marketplace technology companies. Also, getting to run two startups while I was at Smith set me off on a successful path.
Why did you decide to get a business degree and why did you choose Smith?
I decided to earn a Master of Science in Information Systems degree from Smith because the coursework sharpened my skills in digital strategy, data science, and business strategy. These are all critical for my career.
What about your personal journey has led to your success?
I have always been a curious person who liked helping people. As a kid, I used to love the "Captain Planet" character in a cartoon I watched (Captain Planet and the Planeteers). He was responsible for saving the world. I have always wanted to use my skills to make the lives of people around me better, whether it was helping someone with their studies, career coaching or creating products that make a meaningful difference in people's lives.
Is there anything else you would like to add?
Everyone has something they can bring to the table due to the unique experiences they had growing up. I would say from my experience and echoing the University of Maryland's brand tagline "Fearlessly Forward", one should try to discover their "Ikigai" (life purpose) and spend the rest of their lives perfecting that which will make this world a little better for their being in it.
Media Contact
Greg Muraski
Media Relations Manager
301-405-5283  
301-892-0973 Mobile
gmuraski@umd.edu 
About the University of Maryland's Robert H. Smith School of Business
The Robert H. Smith School of Business is an internationally recognized leader in management education and research. One of 12 colleges and schools at the University of Maryland, College Park, the Smith School offers undergraduate, full-time and flex MBA, executive MBA, online MBA, business master's, PhD and executive education programs, as well as outreach services to the corporate community. The school offers its degree, custom and certification programs in learning locations in North America and Asia.