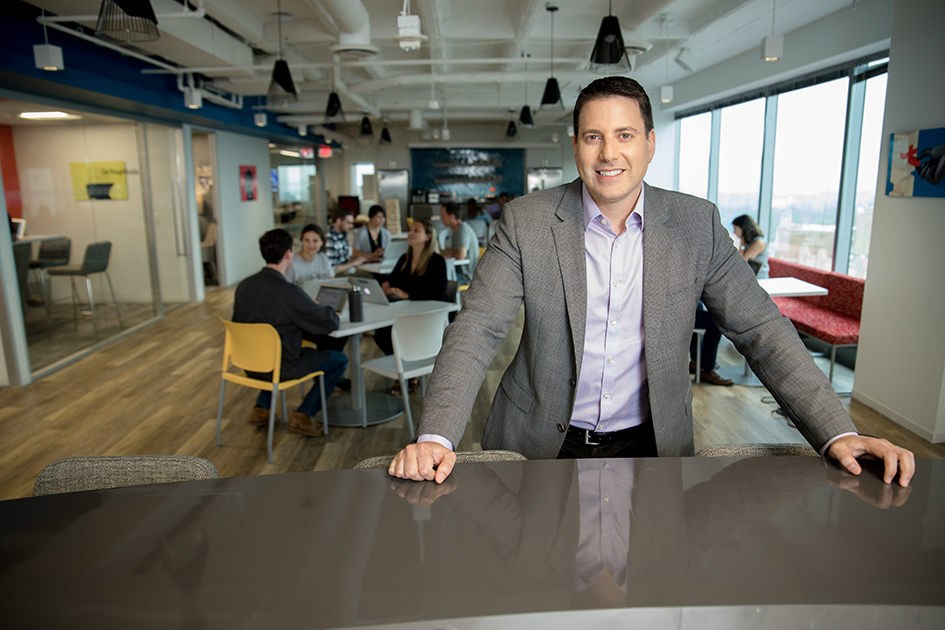 Creating a profitable news business is difficult. Roy Schwartz '98, MBA '01, and his partners have done it twice.
Schwartz joined Politico in 2008 during the publication's early days and helped the journalism company expand in Washington, D.C. Then in 2016, he and two associates left Politico and started Axios.
Since then the startup has grown to prominence, grabbing attention with an HBO series and exclusive interviews with newsmakers like White House adviser Jared Kushner and Apple CEO Tim Cook.
"Doing it once, maybe you got lucky," Schwartz says. "But if you did it twice, I think it shows you know what you're doing. You know how to build a business."
Among other things, Schwartz credits the diversity of the founding team. Partners Jim VandeHei and Mike Allen come from a journalism background, while Schwartz brings a business perspective developed at the University of Maryland's Robert H. Smith School of Business.
"I was there at the most interesting time you probably could have gone to business school," he says. "It was the internet boom and bust, and it was all the dot-coms and the rise of all these things you could do online."
Schwartz recalls classroom discussions about the potential of internet commerce. Would people ever buy clothes online? Would they buy shoes online?
"Some of the ideas took close to another 20 years to come to fruition," he says. "But all of the ideas we now see and think of as commonplace, they all started right around that time."
Newsrooms struggled with their own adjustments, but Schwartz watched the disruption from a distance. After finishing a Smith MBA, he went to work as a Gallup consultant, managing big accounts like Lexus and Hilton.
Then he met people at Politico and became intrigued by the competitive, fast-paced nature of the news business. "It's a very visible industry, and it's also one with nearly immediate feedback," he says. "So you know if your ideas are resonating or not resonating."
Schwartz applied a product mindset at Politico and then Axios. Rather than pushing content onto the internet and hoping for clicks, he and his Axios partners started with a listening tour in Washington, Silicon Valley and elsewhere. "We got a picture that everyone who needed news and information to do their jobs was overwhelmed with the amount of information coming toward them," Schwartz says.
The response at Axios was "smart brevity," a brand promise embraced by every employee. It's even the name of the guest wifi at company headquarters in Arlington, Va.
Unlike newsrooms from the dot-com era, which kept print and digital operations separate, Schwartz and his partners designed an integrated space for journalists. "We love the open feel of it," Schwartz says. "We wanted our newsroom to integrate so journalists from business, tech, policy are able to have a conversation. They're not siloed into their different departments."
The startup vibe fits with Schwartz's entrepreneurial spirit. He was born in Israel but grew up in England, where he drew inspiration from Virgin Group founder Richard Branson.
When Schwartz moved to the United States with his family, he enrolled at the University of Maryland and took his first shot at entrepreneurship during his freshman year.
He saw a video vending machine during a family vacation in Florida and replicated the idea at apartment buildings in Virginia. He started with two machines, expanded to 10 and then sold the enterprise before the advent of streaming video.
"This was back in the days of Blockbuster and Hollywood Video, when you actually had to rent a physical tape," Schwartz says.
He brings the same knack for value creation to Axios. "Creating something from nothing is very difficult, and it's exciting," he says. "Once you know how to do it, it's something you want to keep doing."
| | | |
| --- | --- | --- |
| Building a Modern Newsroom (2:46) |   | The Business of News (2:00) |
| Birth of Smart Brevity (1:50) |   | Axios and the Trump Bump (1:11) |
| Maryland Smith Influence (2:19) |   | Advice for Aspiring Journalists (1:17) |
Media Contact
Greg Muraski
Media Relations Manager
301-405-5283  
301-892-0973 Mobile
gmuraski@umd.edu 
About the University of Maryland's Robert H. Smith School of Business
The Robert H. Smith School of Business is an internationally recognized leader in management education and research. One of 12 colleges and schools at the University of Maryland, College Park, the Smith School offers undergraduate, full-time and part-time MBA, executive MBA, online MBA, specialty master's, PhD and executive education programs, as well as outreach services to the corporate community. The school offers its degree, custom and certification programs in learning locations in North America and Asia.