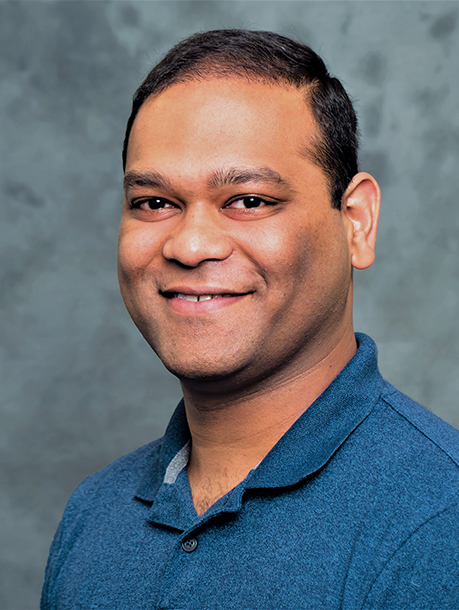 After being exposed to the data analysis field, Sagar Math, MS '18, knew he had found his calling. What he didn't know was that he also found his path to becoming an all-star.
Math currently serves as a data science manager for Blend360, a Columbia, Md.-based firm that specializes in data analysis consulting. During his three years with the company, he has seen it grow to a global brand.
Math says he's exactly where he wants to be – with a direct role in the company's mission of leveraging data analytics to optimize its clients' business performance. It's been a journey to get to this point – emigrating from India to the United States in 2017. He credits his time at the University of Maryland's Robert H. Smith School of Business for giving him the roadmap to take his career in that direction.
"Having already worked with a lot of data, I knew I wanted to explore it more in an academic fashion and my research led me to the Smith School's marketing analytics master's program," says Math. "I was so happy to begin my coursework and learn from so many great professors. That experience shaped how I thought about the combination of marketing and analytics."
The skills he gained at Maryland Smith were put to work immediately. On his graduation day, he was hired at Blend360 to participate in the company's All-Star Program – a six-month, full-time training program. 
Blend360 has recruited extensively from Maryland Smith's master's programs in the past four years for its four professional tracks – data science, data engineering, business intelligence and data strategy. 
All-stars, Math says, work in cohorts and collaborate with field experts on real projects with the company's Fortune 500 clients. At the end of the program, cohort members are promoted to a higher role within the company.
"We believe in the fact that you've already completed your coursework and that you already understand the technical aspect of your field," says Math. "What this experience really offers is a corporate overlay and understanding of how to work with clients and carry out projects. Those are invaluable skills that cannot always be taught in the classroom."
The mentorship afforded by the program helped Math transition to his current role, he says, especially in crafting relationships with clients, finding engagement models to suit the needs of each project and devising ways to help the company grow.
Now in his third year with Blend360, Math says he's excited to work with future all-stars and Smith graduates.
"As I look at my own journey over the past four years, I think having this foundational core from Maryland Smith and my all-star experience has enabled me to take on so many new challenges," says Math. "It all began for me at UMD, and since then it just fell into place."
Media Contact
Greg Muraski
Media Relations Manager
301-405-5283  
301-892-0973 Mobile
gmuraski@umd.edu 
About the University of Maryland's Robert H. Smith School of Business
The Robert H. Smith School of Business is an internationally recognized leader in management education and research. One of 12 colleges and schools at the University of Maryland, College Park, the Smith School offers undergraduate, full-time and flex MBA, executive MBA, online MBA, business master's, PhD and executive education programs, as well as outreach services to the corporate community. The school offers its degree, custom and certification programs in learning locations in North America and Asia.