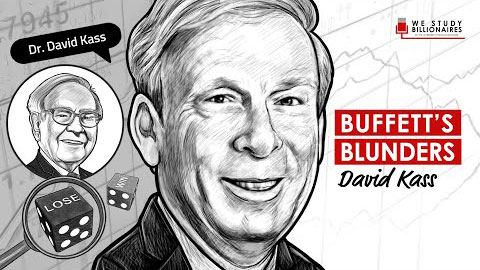 The past several weeks' financial news spotlight has shone brightly on Berkshire Hathaway Chairman Warren Buffett – and, by proxy, Maryland Smith's David Kass, widely known and respected for insights on the Oracle of Omaha, including through his Warren Buffett Blog.
As Buffett, 91, was presiding over Berkshire's Annual Shareholders Meeting, the company was spending large amounts of cash – at a rate not since the Great Recession. This included $41.5 billion in net stock purchases in 2022's first quarter, as financial markets sputtered.
In the months leading into the meeting Buffett agreed to purchase insurer Alleghany for $11.6 billion, put $7 billion in additional investments into Occidental Petroleum and purchased a $4.2 billion stake in Hewlett-Packard.
 However, as Kass told Business Insider: "The confluence of these three large investments in a short period of time might be coincidental. Buffett waits patiently for opportunities to develop and pounces on them when they occur."
For example, "the HP investment might have resulted from a very attractive price, which Buffett considered to undervalue the company," Kass added. "It also possesses a highly regarded and respected brand name with a 'moat' protecting its market share in its laptop computer and printer businesses."
Prior to the Occidental move, Berkshire raised its stake in Chevron from $4.5 billion to $26 billion, Kass noted, as Buffett expects high oil prices to continue in the current inflationary environment. But there's more.  Kass told Kiplinger that even if oil prices level off or decline, a stake in Chevron is better than sitting in cash or equivalents: "Chevron has a large stock buyback program and pays a cash dividend of 3.5%. That makes it a relatively safe cash alternative. Instead of earning essentially zero on Treasury bills, why not earn a dividend yield and a buyback yield that combined probably come in somewhere in the high single digits?"
Buffett's Blunders
Amid the Berkshire spending spree, the Investor's Podcast Network's "We Study Billionaires" program tapped Kass for a historical perspective of Buffett – specifically to explain Buffett's "biggest blunders."
Here are some morsels: 
Berkshire Hathaway. In a 2010 appearance on CNBC, Buffett called Berkshire "the dumbest stock I ever bought." Berkshire at the time – early 1960s -- was operating textile mills in New England. Kass: "He bought Berkshire Hathaway sort of as a vindictive action to get even (entire backstory is part of the full interview), which he later regretted over the next several years, as the textile industry declined rapidly (production of goods largely moved to the South and eventually overseas for lower labor costs)."
Dexter Shoes. In his 2008 annual letter, Buffett described this investment as his worst, resulting in a $3.5 billion loss to shareholders. Kass: "He invested $433 million in Dexter Shoes in 1993 and went to zero. His mistake, though, was not paying $433 million in cash. His mistake was paying with 25,203 shares of Berkshire stock, which in 2008 was valued at $3.8 billion. Well, in 2022, it's valued at $13 billion. It's a $13 billion loss."
IBM. Projecting the future economy, and future technology, and how it will interact with your investment is very difficult, Kass noted, leading into his explanation. "IBM was the premier technology company of the 1950s and sixties, maybe early 1970s as well. And here's Warren Buffet in the year 2011 placing a huge bet on IBM. And between 2011 and 2016, I believe he invested something like $14 billion while not fully appreciating the risk that he was taking on. [This despite that] he always stresses that he tries to stay within his circle of competence."
Listen to the entire interview: Buffett's Biggest Blunders with David Kass.
Media Contact
Greg Muraski
Media Relations Manager
301-405-5283  
301-892-0973 Mobile
gmuraski@umd.edu 
Get Smith Brain Trust Delivered To Your Inbox Every Week
Business moves fast in the 21st century. Stay one step ahead with bite-sized business insights from the Smith School's world-class faculty.